Quick Facts:
Pros:
Refined handling and strong performance across multiple engine choices.
Luxurious and spacious cabin.
The base model features the best fuel economy amongst rival luxury SUVs.
The infotainment system is user-friendly.
Cons:
The optional third-row seats are cramped and better suited for children only.
Blind spots are created by the wide roof pillars and small mirrors.
Entry and exit are inhibited by the wide doorsills.
The gesture system often reads unintended hand movements.
Vehicle Type: Midsize five-passenger luxury SUV.
Price Range: $58,900 - $82,150, before any options.
Powertrain: 335-horsepower, 3.0-liter turbocharged six-cylinder engine, and an eight-speed automatic transmission are standard on the base model
It's available with standard rear-wheel drive (sDrive40i) or optional all-wheel drive (xDrive40i).
The xDrive50i model features a 456-horsepower 4.4-liter twin-turbo V8 and standard all-wheel-drive.
The performance-oriented M50i has 523 horsepower from a 4.4-liter turbo V8 and all-wheel-drive.
More Photos
See more 2020 BMW X5 Photos.
---
Overview: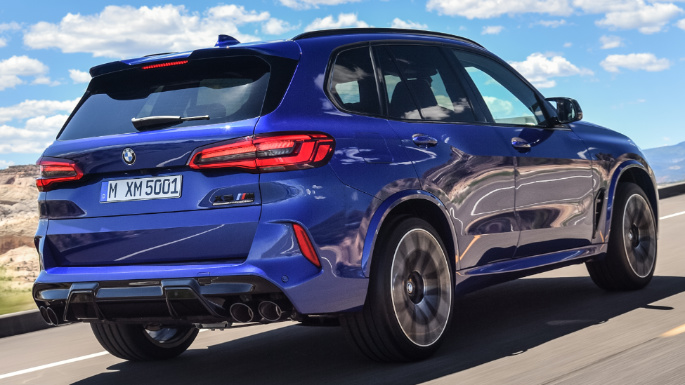 The 2020 BMW X5 is a midsize family luxury SUV that competes against the Mercedes-Benz GLE, Porsche Cayenne, Range Rover Sport, and Audi Q7. This fourth-generation version was introduced in 2019.
The 40i trim levels offer an optional third-row seat; however, this latest feature is fairly cramped and offers little room for adults, especially in comparison to the Lexus RX 350L and Cadillac XT6. These rival crossover models are also less expensive than the new X5.
Compared to previous X5 models, BMW has redesigned the X5 with a bigger touch-screen (was 10.2 inches, now it is 12.3 inches), and the Apple CarPlay system has become a standard feature.
BMW has upgraded the technology and made more features standard with the 2020 version of the X5. The intuitive tech features include an upgraded infotainment system, navigation, 10-speaker stereo system, HD Radio, and Bluetooth. The iDrive system offers vivid graphics and responds faster to inputs and can be controlled by either tapping or swiping the larger screen or using the touchpad and knob on the center console.
Previous model features that were optional have become standard with the launch of the 2020 BMW X5. These features include adaptive cruise control, pedestrian detection, forward collision warning, rear cross-traffic alert, automatic emergency braking, blind-spot monitoring, and lane departure warning.
The xDrive40i and the xDrive50i are still fairly similar to previous year models and have not seen any major changes for 2020. This is especially the case with the exterior design of this SUV; while there are some slight changes to the overall design and exterior styling, the changes are minimal and not easily noticed.
The 2020 X5 M50i and the X5 M sport models have stronger engines and better driving performance compared to the 2019 models. They also have an upgraded suspension system and well as upgrades to the wheels, exhausts, and brakes.
In particular, the M50i trim has been offered for the first time in 2020, and it is powered by a twin-turbo, 4.4-liter V8 engine. It offers an impressive 523 horsepower.
There is 33.9 cubic feet of cargo space available when the second-row of seats are upright. That is a lot more cargo space compared to other luxury midsize SUVs, although still slightly less than the Volvo XC90 and the Land Rover Discovery.
The 2020 BMW X5 is considered one of the most fuel-efficient luxury midsize SUVs. The sDrive40i gets an EPA-estimated 21 mpg whilst driving in the city and 26 mpg whilst driving on the highway. The fuel economy does fall away with the more powerful V8 models, such as the xDrive50i and the M50i.
On the road, handling has also seen improvement with air springing offering more comfort and better steering around the corners. Off-roading has also been improved with more clearance and deeper wading, and for load carrying, there is automatic self-leveling.
Overall Score: 8/10
---
Safety Features: 9/10
The National Highway Traffic Safety Administration has given the 2020 X5 an overall safety rating of four stars out of five. It received a rating of five stars in the side crash test and earned four stars in the frontal and rollover evaluations.
All 2020 X5 models come standard with forward-collision warning, pedestrian detection, a rearview camera, blind-spot monitoring, lane departure warning, automatic emergency braking, rear cross-traffic alert, and adaptive pivoting LED headlights.
Additional safety features that are have become standard include driver, passenger, front head, rear head, and front side airbags, as well as 4-wheel ABS and electronic stability control.
---
Value: 7/10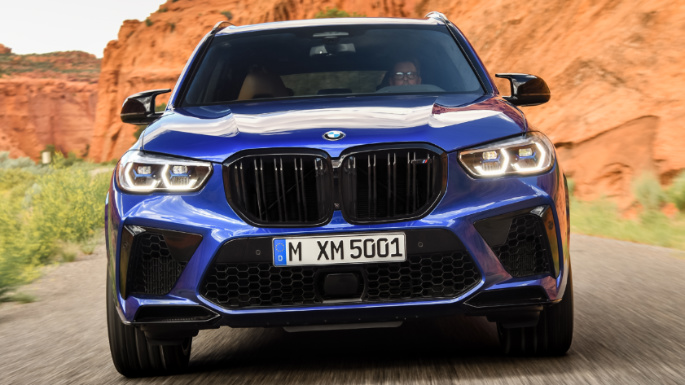 Comparatively, the BMW X5 is priced fairly high in the market; however, the build quality and capability of this SUV do make it worthy of the higher price tag.
The consistent BMW hallmark features, such as the durable leather, soft-touch materials, and tight gaps in all the interior panels, help maintain the value behind the BMW brand.
Added value is received with the four-year/50,000 mile basic and powertrain warranty that new BMW owners will receive, together with four years of roadside assistance.
---
Tech Features: 8/10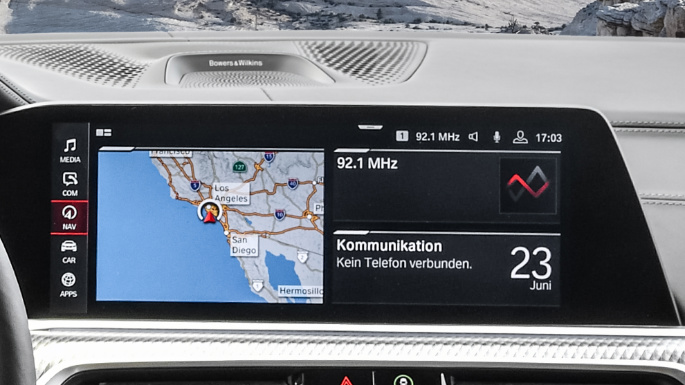 BMW's latest iDrive infotainment system is one of the most advanced and offers a combination of menus, voice and gesture control, and handwriting recognition. Unfortunately, reviews have shown that the system responds to unintended hand gestures too.
Apple CarPlay is available; Android Auto is not an option yet.
Standard tech features include a 12.3-inch touch screen, speaker stereo, satellite radio, Bluetooth, HD radio, navigation, proximity keyless entry, automatic climate control, push-button start, and a panoramic moonroof.
There are additional features that you can choose to add. Some of these features are a Wi-Fi hot spot, wireless device charging, and quad-zone automatic climate control.
---
Practicality: 8/10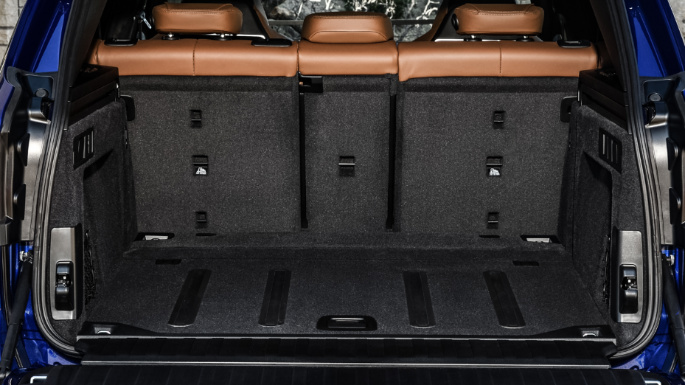 Entry into this SUV is not always easy for taller occupants with the seats being set in from the door, but once you are in, there is a lot of room around the front seats and great head, shoulder, and knee room for the passengers in the rear seats.
There is a large cargo area that offers 33.9 cubic feet of cargo space when the second-row of rear seats are upright and 72.3 cubic feet available when the rear seats are down.
The armrest bin can hold a few water bottles and the deep pocket holds an induction charger in the front of the shifter, but access to this is a problem if you are using the cupholders.
---
Styling & Design: 7/10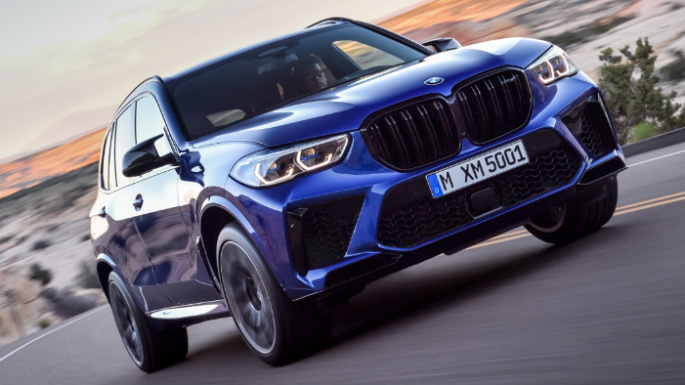 Not a lot has changed on the exterior of the 2020 BMW X5 versus the 2019 version.
The two-piece tailgate is a signature X5 feature that has existed since the first model originated two decades ago.
The xLine features a satin aluminum trim as well as skirts with black wheel arches. The M Sport has body-color wheel arches and a slightly tweaked front bumper as well as a set of unique wheels.
The general exterior dimensions are similar to that of the Mercedes-Benz GLE-Class, Porsche Cayenne, and Audi Q7.
---
Driving Experience: 8/10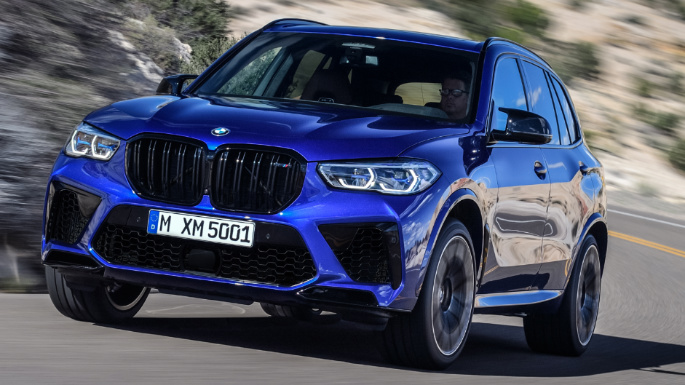 The 2020 X5 is one of the fastest non-performance SUVs available, regardless of whether you opt for the xDrive40i or the V8. The six-cylinder xDrive40i offers substantial power and is responsive enough for daily traveling.
There is an optional off-road package that can be chosen that further enhances the capability of the X5 to travel on any roads and trails.
Unfortunately, some driving reviewers found some issues with the overall steering and handling of the X5. The steering does not offer the driver much feel for the road, and driving around turns can feel soft and unstable.
The eight-speed automatic transmission offers smooth and quick gearshifts, and the adaptive air suspension provides a comfortable ride and absorbs the bumps of the road.
---
Fuel Efficiency: 7/10
The sDrive40i gets an EPA estimate of 21 mpg in the city and 26 mpg for highway driving. In comparison to other luxury midsize SUVs, like the Audi Q7, it is one of the most fuel-efficient SUVs.
The efficiency rating does, however, drop with the V8 turbocharged models. The M50i and the xDrive50i are rated at 16 mpg for city driving and 22 mpg for highway driving.
There is no 2020 X5 hybrid model, although the 2021 X5 range does include a plug-in hybrid, the xDrive45e.
SUV models that currently offer hybrid variants include the Volvo XC90, Lexus RX 450h, and the Porsche Cayenne.
---
What's it Going to Cost Me?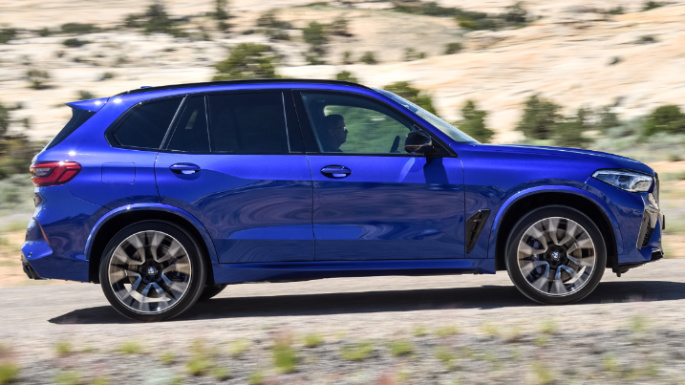 The BMW X5 sDrive40i enters the market with a starting price of $58,900. This model is considered the base model and offers a 335-horsepower turbocharged six-cylinder engine with eight-speed automatic transmission. The sDrive40i is a rear-wheel drive and includes standard features such as the iDrive infotainment system, Apple CarPlay, ten speakers, Bluetooth, five USB ports, and a digital gauge cluster.
Additional standard features that accompany the base model sDrive40i are 19-inch alloy wheels, adaptive air suspension, synthetic leather interior, heated front seats, a power tailgate, and dual-zone automatic climate control.
The standard driver assistance includes parking sensors, automatic emergency braking, forward collision warning, lane departure warnings, rear cross-traffic alert, and pedestrian detection.
Paying an additional $1,050 for the Convenience package will include a Wi-Fi hot spot, quad-zone automatic climate control, as well as wireless device charging.
The $2,300 Premium package offers remote start, gesture control for the infotainment system, and a head-up display.
If budget is not a constraint, then paying $5,600 for the Executive package will allow you to enjoy soft-closing doors, heated and cooled cupholders, hands-free parallel park assist, rear sunshades, and a surround-view parking camera system.
Over and above the popular package options, you can individually select ventilated and massaging front seats, a 20-speaker Bowers & Wilkins sound system, night-vision camera system, genuine leather upholstery, leather-wrapped dashboard, heated steering wheel, heated front armrests, heated rear seats, lane-keep-assist, M Sport brakes, 20-inch to 22-inch wheels, and semi-autonomous traffic jam assist. These optional extras range in price from a couple of hundred dollars to a few thousand dollars.
The BMW X5 xDrive40i starts at $61,200 and includes all of the base model's standard features as well as AWD capability. There is also an available four-wheel steering system and off-road driving modes for the adventure enthusiast.
The BMW X5 xDrive50i starts at $76,150. The 456-horsepower twin-turbocharged V8 engine offers a lot of power and all-wheel-too. The 50i model incorporates all of the base model standard features as well as genuine leather upholstery, a Wi-Fi hot spot, a 16-speaker Harman Kardon sound system, wireless device charging, and quad-zone automatic climate control.
Entering at $82,150, the BMW X5 M50i boasts a 523-horsepower engine version of the 50i's twin-turbo V8. In addition to all of the base model standard features, the M50i adds restyled bumpers, a harder M Sport adaptive suspension, and 20-inch wheels. There is also an upgraded steering wheel, rear differential, exhaust, and brakes that are related to M Sport features.
Our best pick amongst the X5 trim options is the entry-level X5 40i, mostly because this model will suit most new car shoppers. It is well-equipped with a host of safety features, and it offers more than enough technology and cargo space for any BMW or SUV driver.
This, coupled with strong engine performance and rear-wheel drive or all-wheel drive, means you will be able to travel almost anywhere. The fuel-economy will also help you save a few bucks, whereas the higher-performance trims will have you spending more on fuel.
The higher-performance engines are great, but they are not really necessary for everyday driving and may limit you to where you can drive. The sDrive40i will also suit the budget better compared to the more expensive and higher-performing X5 models above it. Not to mention the insurance is more affordable for the base model too.
---
More Photos
See more 2020 BMW X5 Photos.