The Enclave is a four-door, midsize family crossover SUV. It is made by Buick, a near-luxury brand owned by General Motors. It shares a platform with other GM vehicles including the Chevy Traverse. The Enclave was first introduced in 2008 when it replaced two previous Buick SUVs in the Rendezvous and Rainier. It is currently in its second generation. It sits atop Buick's crossover lineup, with the compact Envision and subcompact Encore below it. Competitors to the Enclave include other luxury three-row family crossovers like the Acura MDX, Lexus RX L, Infiniti QX60, Mazda CX-9, Dodge Durango, Lincoln Nautilus and Volvo XC90.
2018 - Present Buick Enclave (2nd Generation)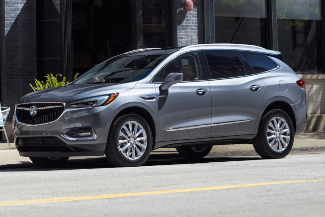 Thanks to the debut of the Buick's compact Envision crossover shortly before the release of this second-gen Enclave, Buick made the new Enclave larger and more luxurious. It now has a 120.9-inch wheelbase and a total length of 204.3 inches, a width of 78.8 inches and height of 69.9 inches. Previously weighing near 5,000 pounds, this generation topped it at 5,100 pounds.
The Enclave was now constructed on a GM platform that it shared with the three-row Chevy Traverse and the shorter Cadillac XT5 and GMC Acadia (unlike the previous generation, GMC made this generation of Acadia smaller than the Traverse and Enclave).
The new Enclave's design is less egg-shaped than its predecessor and now features an upscale and profile. The exterior design is more aerodynamic and also featured the new Buick mesh grille with chrome wings.
The new engine for this generation was a 3.6-liter V6 putting out 310 horsepower and paired with a nine-speed automatic transmission.
Front-wheel-drive is standard and intelligent AWD is optional. The latter featured a twin-clutch rear differential, making it a switchable AWD system. The new generation offered four trims, including the Base, Essence, Premium and ultra-premium Avenir.
The Base trim offered a fairly loaded interior with captain's chairs in the second row, power front seats, climate control with three zones, a rearview camera and six-speaker sound system. Outside, the Base trim featured remote start, power liftgate, roof rails, LED lights and 18-inch wheels. This trim came only with front-wheel drive. The Essence trim included an option for AWD. Inside, it featured leather upholstery with a choice of three colors. Optional equipment included 20-inch wheels and a panoramic sunroof. The Premium trim also offered FWD as standard with available AWD. Interior options offered even more upgrades with a 10-speaker Bose sound system, power-adjustable steering wheel, ventilated front seats, heated rear seats and a third row of seats that are power-folding. This allowed for a nearly completely flat floor for more convenient hauling. A number of additional safety features were also available on this trim, such as auto-braking, front and rear parking sensors, following distance indicator and more.
The final top trim of the Enclave was the Avenir trim, meaning "future" in French. The Avenir is considered a luxury subbrand of Buick that the automaker introduced on certain models starting in 2017. These vehicles feature additional exterior upgrades, Avenir logos and badging and an optional tech package featuring improved suspension and adaptive cruise control among others.
2008 - 2017 Buick Enclave (1st Generation)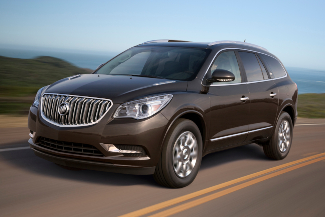 The first generation of Enclave came out for 2008; it was built in both the United States and China.
It offered seven-passenger seating as standard with two captain chairs in the second row. However, a second-row bench seat was an option and increased the seating capacity to eight passengers. The Enclave came standard with front-wheel drive; all-wheel-drive was an option. It was built on the GM Lambda platform, which is shared with the Chevy Traverse, GMC Acadia and Saturn Outlook.
In its first year, the Enclave offered a 3.6-liter V6 engine putting out 275 horsepower, paired with a six-speed automatic transmission. This engine was upgraded for the 2009 model to a 288-horsepower, 3.6-liter direct-injected V6. The upgraded engine gave the Enclave a wider torque curve and increased fuel efficiency.
The Enclave was rated at 17 mpg in the city and 24 mpg on the highway for FWD models. AWD models got 16 mpg in the city and 22 mpg on the highway.
The Enclave garnered accolades for its large cargo area. It was also praised for its quiet and well-designed interior. On the flip side, it was criticised for weighing almost 5,000 pounds and for the six-speed automatic transmission's hesitancy in downshifting.
The Enclave received a facelift in 2013, which included a slightly redesigned exterior with a chrome grille and LED exterior lights as well as Xenon headlights. The interior added some luxury touches as well, including softer materials on the dash, chrome and wood accents, a touchscreen infotainment display and blue ambient lighting.
Safety features were also upgraded to include seven airbags and blind spot monitoring. At the time, the front-center airbag was a first in the industry.