The GMC Yukon is a full-size SUV that has changed significantly over its three decades of existence. Closely linked to the Chevrolet Suburban on which it's based, the Yukon has evolved from a sporty two-door, off-road-oriented model to a large, luxurious, and pricey people mover.
There have been five generations of the nameplate, and it's been at the top of the GMC lineup since its introduction. Newer models are generally better appointed than the equivalent Chevrolet lineup, while less so than the Cadillac Escalade.
---
2021 - Present GMC Yukon (5th Generation)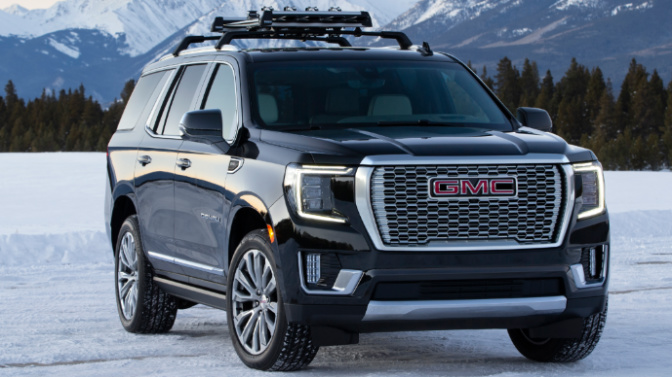 The 2021 Yukon, which arrived in summer 2020, represented the most significant changes to the model since it moved to a four-door setup.
A new frame added independent rear suspension for the first time, allowing for a fold-flat third-row seat and more interior space, as well as an improved ride. The wheelbase was increased by almost 5 inches, but the overall length stayed relatively the same.
Styling, particularly on the exterior, grew even bolder. A new off-road-oriented AT4 model was added that boasts more rugged looks, comes only with four-wheel-drive, and includes magnetic ride suspension.
A new interior was installed with features such as a 10.25 touchscreen infotainment system, as well as a digital instrument panel that was also fully configurable. A push-button shifter also replaced the old column shifter.
The 5.3-liter and 6.2-liter V8s were refined slightly, and all models got a 10-speed automatic transmission. New for this generation, was a 3.0-liter six-cylinder turbodiesel engine that provides diesel power for the first time since 1999, although likely with greater efficiency than that old V8 model.
The more upscale Denali trim continued to get modified exterior styling, plus a unique interior design than the standard Yukon models, a first for the nameplate.
---
2015 - 2020 GMC Yukon (4th Generation)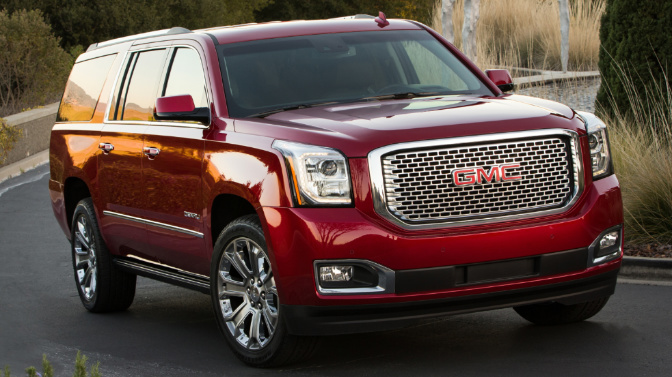 The fourth-generation Yukon gained even more bold styling and extravagant features to elevate it past its Chevrolet cousins and compensate for its ever-increasing price tag.
For 2015, the Yukon got a vastly different front end than the Tahoe and Escalade, with more chrome and a bigger grille. Even so, it was made even more aerodynamic than the outgoing model, with more efficient engines to improve fuel economy.
The 5.3-liter V8 produced 355 horsepower but used a six-speed transmission and engine refinements to increase fuel economy.
Inside, a new interior stepped up quality even more, now sharing no components with the GM truck line. The second and third-row seats folded down when not in use, rather than having to be hauled out as on earlier models; when folded, however, they still didn't lie flat as they did on the Yukon's main rival, the Ford Expedition.
New features included magnetic ride control, laminated front glass, and a standard Bose audio system. All models also came with an 8-inch touchscreen infotainment system to control audio and navigation functions, as well as numerous USB charging ports around the cabin. A wifi hotspot was also available, as well as heated and ventilated seats and a head-up display.
The Denali versions were now powered by a 420-horsepower 6.2-liter V8 and an eight-speed automatic transmission. They continued to have more chrome and different exterior trim than the standard Yukon, as well as upgraded wood and leather inside. Later, the Denali would get a 10-speed automatic.
---
2007 - 2014 GMC Yukon (3rd Generation)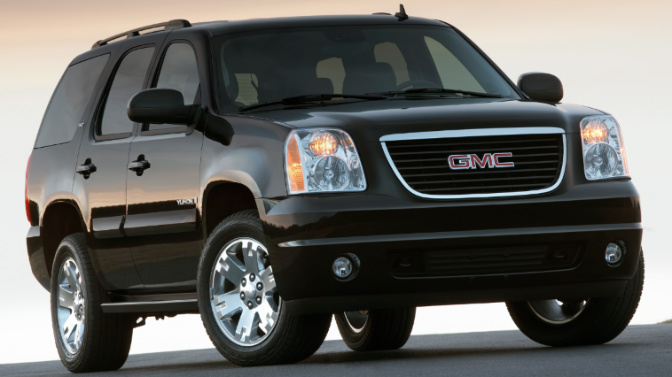 The Yukon and Yukon Denali lines would receive another comprehensive redesign for 2007. For the first time, the Yukon models received different front ends and taillights from the Tahoe to further differentiate the styling.
Inside, higher-quality materials and more wood trim were added to improve a criticism from the previous model. New engines were added, including a 4.8-liter V8 with 295 horsepower, a 5.3-liter with 320 horsepower, and a top 6.2-liter with 380 horsepower for the Denali.
Models were initially launched with a four-speed automatic, but a six-speed version was quickly added to improve fuel economy. Efficiency was a major objective for this generation in the wake of escalating fuel prices, so the new Yukon was more aerodynamic and utilized technology such as cylinder deactivation.
In 2008, a hybrid version was added, using a 6.0-liter V8 and two electric motors for a combined output of 379 horsepower. It only lasted through 2009.
The Denali version was given more upscale trim and more chrome on the outside, as well as the 6.2-liter V8. Power-folding rear seats and a backup camera were new features. Side curtain airbags were available for all models, but side torso airbags weren't added until 2010 when blind-spot monitoring also became available. Stability control was now standard across the line.
---
2000 - 2006 GMC Yukon (2nd Generation)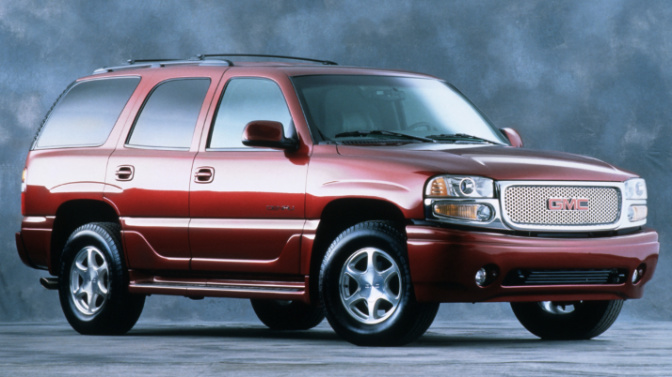 The Yukon was completely updated for 2000, riding on a new chassis and boasting a new third-row seat option to combat the Ford Expedition (the Yukon Denali wouldn't be revised until 2001). It was significantly longer, too, to accommodate the third-row seat option, even if there wasn't nearly as much space there or behind it as in the Suburban and Yukon XL, which now more closely identified externally with the standard-length Yukon.
New features included GM's OnStar telematics system, standard front-seat side airbags, automatic headlamps, and a new standard 4.8-liter V8 with 270 horsepower. A 285-horsepower 5.3-liter V8, along with a power sunroof, and Autoride suspension system were new options.
Later additions would include stability control and a tire pressure monitoring system, as well as satellite radio, Bose audio, and a navigation system.
The Yukon Denali returned for 2001, now more differentiated than standard models with two-tone body cladding, more chrome, and a billet chrome grille that later identified all GMC Denali models. It was also powered by a 6.0-liter V8 with 320 horsepower, later upgraded to 325 horsepower. It was now also available as a Yukon XL.
---
1992 - 1999 GMC Yukon (1st Generation)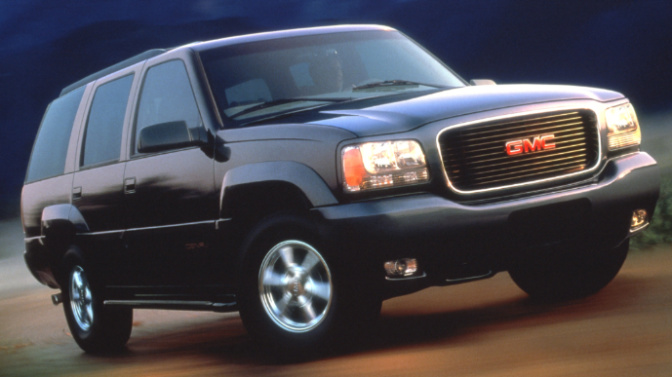 The GMC Yukon was introduced for 1992 as a twin of what was then called the Chevrolet K5 Blazer. It was launched only as a two-door SUV and competed primarily with the Ford Bronco and replaced the K5 Jimmy that was last redesigned for 1973.
Based on the also-new for '92 Chevrolet/GMC Suburban models, it was nearly two feet shorter than those vehicles, but still longer and wider than the S-15 Jimmy, GMC's compact SUV.
The only engine at launch was a 200-horsepower, 5.7-liter V8 mated to a four-speed automatic, although a 6.5-liter V8 turbodiesel with 180 horsepower was added for 1994. Rear-wheel-drive was standard, with four-wheel-drive available.
The Yukon was largely unchanged until 1995 when a four-door model was added and related to the new Chevrolet Tahoe. Nearly a foot longer with a six-inch longer wheelbase, the four-door Yukon created a new niche for a vehicle that was larger than popular models like the Ford Explorer and Toyota 4Runner, but far less bulky than a Suburban.
It was at this time the Yukon got more creature comforts to make it more of a family vehicle. The 5.7-liter V8 was retuned in 1995 to add 55 horsepower, while dual airbags were added, and the power steering system revised.
Heated front seats, rear air conditioning, and a push-button automatic four-wheel-drive system became options.
A new Yukon Denali was introduced for 1998 that differed from upscale Tahoe models with chrome wheels, wood trim inside, and a long list of luxury amenities. It would form the basis of the Cadillac Escalade in 1999.
The 2-door Yukon was dropped for 1997.