Starting Out:
It may seem like buyers on a tight budget have little choice when looking to buy a used car. Some dealerships prey on these customers with high interest rates and subpar vehicles. But a little research reveals a wealth of models, all of which represent strong choices. And with modern cars lasting longer than ever before, buying something with higher miles and more years under its belt isn't the risk it once was.
With all used cars, it's essential to get as much documentation as possible, such as a vehicle history report from Carfax, as well as any prior service records. Even in this price range and with some cars with high mileage, there are numerous good choices for a range of shoppers.
Here's a look at our top picks for affordable cars plus links to where you can find them in your area.
2006-2011 Honda Civic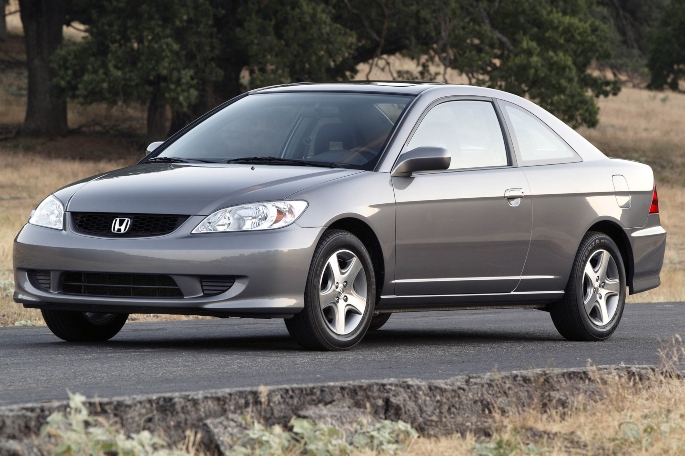 A benchmark among compact cars, the Honda Civic is one of the most praised vehicles on the market and among the top picks for a used car available for under $5,000. The 2006 Honda Civic marked the tenth generation of the model and represented some new thinking in terms of design and interior space, all of which was a radical departure from its more conservative predecessors. Available as a coupe or sedan, the redesigned Civic gained a significant amount of interior space, a more modern dashboard design, new features such as side curtain airbags, and top safety ratings. Most versions used a fuel-efficient 1.8-liter four-cylinder with 140 horsepower and either a five-speed manual or five-speed automatic transmission.
While all models were more enjoyable to drive, the sporty Civic Si trim was even more so, with a 197-horsepower engine and a six-speed manual, along with various steering, suspension, and other sporty upgrades. It was available as a sedan as well as a coupe with little impact to practicality.
There's a Civic for every price point and every driver, making it an excellent choice for the heart and the head. That's why many people think of the Honda Civic as a top pick when it comes to a first car or inexpensive wheels with excellent longevity.
2003-2007 Honda Accord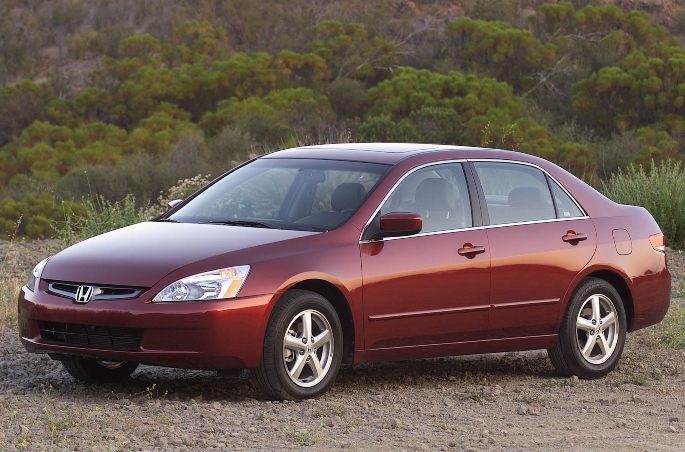 Kelley Blue Book, Consumer Reports, Autotrader -- these are just some of the publications that evaluate used cars based on reliability and owner satisfaction. The Honda Accord is regularly on the list for best new cars and best used cars. And part of that reason is that the Accord is such a complete package.
There is an Accord for every buyer, available as a coupe or sedan, four-cylinder or V6, automatic or manual transmission. But the Accord is hardly a jack of all trades, master of none. It's excellent to drive, thanks to a four-cylinder that's efficient or a V6 that is smooth and powerful. There's also a V6 Hybrid model offered from 2005 to 2007, which isn't very good on the MPGs like a Toyota Prius is, but it's fast and relatively efficient.
The Accord's virtues lie in that it's an excellent vehicle for four people; comfortable to live with, reliable, and popular. That means there are plenty of them on the used car market, and they're still desirable. Newer versions may be more technologically advanced or powerful, but it's hard to go wrong with any Honda Accord.
2002-2006 Toyota Camry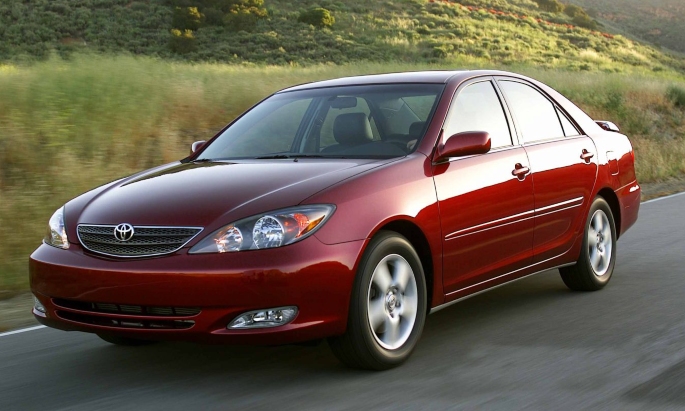 The Toyota Camry has long been one of the most popular cars in the US, thanks to a reputation for refinement and longevity. There are plenty to choose from at used car dealerships. Some of the most plentiful out there were made from 2002 through 2006, and it's easy to see why.
Toyota made the Camry bigger in 2002, with a large interior and more standard features. Buyers could choose between a fuel-efficient four-cylinder or a smooth, Lexus-like V6 engine. The interior also had high levels of quality, and numerous publications lauded the Camry. That's what also makes it an excellent used car for less than $5,000.
Some Camrys of this era may look a little rough these days, but they still boast numerous safety features such as anti-lock brakes and side airbags. And their ease of use makes them ideal as first cars or temporary ones.
2005-2010 Scion tC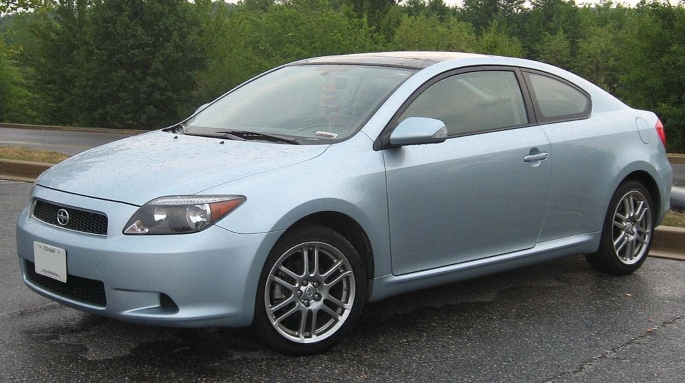 Toyota has made a name for making compact cars with excellent durability, but models like the Yaris and Corolla are commonplace. Those interested in something different can look at the Scion tC. Scion was Toyota's short-lived "youth" division, and the tC coupe may look like a young person's car on the outside. But it's a very spacious vehicle that can accommodate five passengers in a pinch and most of their luggage.
Its 160-horsepower four-cylinder engine performs better than most compact cars, although the Scion still isn't exactly fast. But it's also more refined than most compact vehicles, with respectable gas mileage and without a punishing ride. All models even received a panoramic moonroof, a novel feature for 2005.
While plenty have seen hard use and even some distasteful modifications, it's easy to take comfort in dependable Toyota components that should make the $5,000 pricing seem well worth it.
2006-2011 Nissan Versa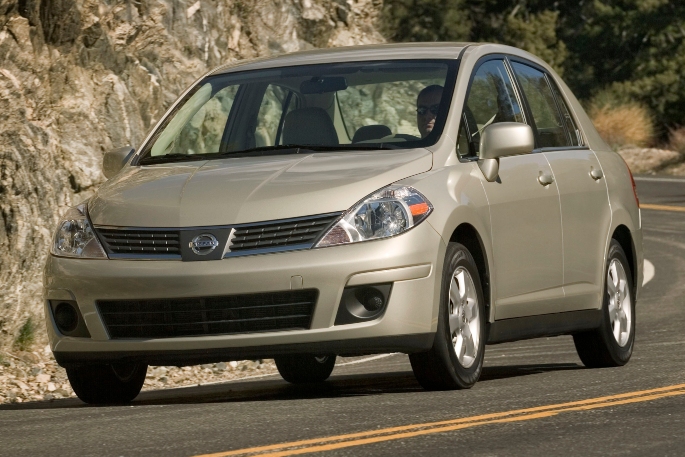 Small cars don't have to be punishing, and the first-generation Nissan Versa isn't. More plush, refined, and spacious than most other subcompact sedans or hatchbacks, the Versa boasts comforts that were uncommon when it debuted and are still unusual now.
All models use an adequate 122-horsepower four-cylinder engine, with some even offering a six-speed manual. It isn't a sports car by any means, yet the Versa delivers a comfortable ride, excellent visibility out of its tall windows, and even a rear seat that's roomy enough for a pair of adults. Fancier trim levels offer features like alloy wheels, a body kit, keyless entry, and push-button start.
Most Versas, however, are a little sparsely equipped. Still, it's an excellent alternative to a Toyota Yaris or even a larger compact sedan or hatchback with higher mileage. While it may not be the first name that comes up when shopping for used cars, the Nissan Versa is a very respectable choice.
2008-2011 Subaru Impreza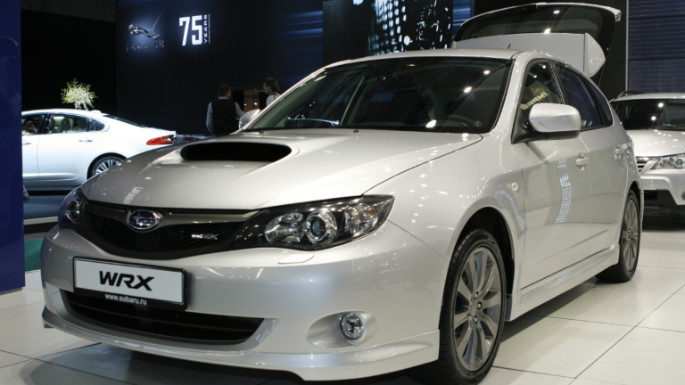 All-wheel-drive sedans aren't very common, but every modern Subaru sedan, wagon, and SUV comes with this technology included. While most people aware of Subarus will think of an Outback or Forester, clean examples are hard to come by for less than $5,000. A lesser-known model is the Impreza, a compact sedan and hatchback that comes standard with all-wheel-drive and offers impressive practicality. It may not do the off-roading a Jeep might, but it still provides more all-weather performance than most people need.
The Impreza boasts a strong four-cylinder engine, though it is not turbocharged like the related Impreza WRX. The Impreza's all-wheel-drive and hefty curb weight is reflected in the secure way it drives and its impressive safety record, with six airbags on every model. While there are some 2012 and 2013 models with more modern features, they can be in rough shape for $5,000, so it's best to look at versions from 2008 to 2011 that are also comfortable and as spacious as their most popular rivals. Fuel economy isn't as good as most compacts because of the all-wheel-drive, and the durable interior fabrics and other materials aren't exactly plush.
But there's a reason for the high price of used Subarus: loyalty. The automaker's fans are loyal and tend to drive these cars for a long time.
1999-2005 Mazda MX-5 Miata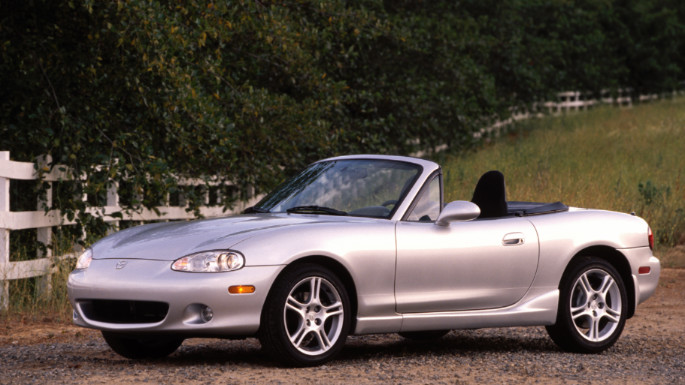 Used sports cars that cost less than $5,000 are often unadvisable purchases. That's where the Mazda MX-5 Miata comes in. Launched back in 1989 as a modern take on a classic British sports car, but with Japanese dependability, it's quickly become the most popular vehicle of its type.
Second-generation Miatas, sold from 1999 through 2005, are plentiful. They're modern enough that nearly all of them come with air conditioning, power windows, and door locks, and enough amenities not to feel primitive. The four-cylinder engine, which had from 142-155 horsepower over its production run, is more fun to drive than one would expect. Many Miatas also come with a five- or six-speed manual transmission, although automatics are available, too.
Many special editions and appearance packages were released over the years to make the Miata feel more special than most cars at this price point. But the real enjoyment comes from putting the soft top down and enjoying the drive in a genuinely affordable sports car.
2004-2013 Mazda 3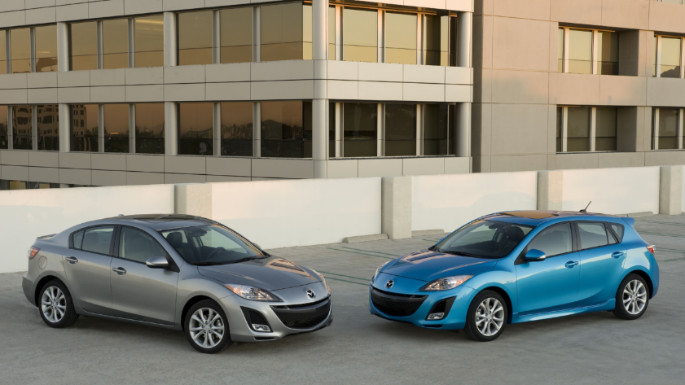 Just like the Miata, the Mazda 3 represents more fun for the money than just about any car in its class. Available as a sedan or hatchback, with a manual or automatic transmission and various engines, the Mazda 3 offers a lot of choice along with a spacious interior. It blends its practicality with more driving excitement than most cars of this price, making it a sensible choice that's also a little offbeat compared to the more popular Toyotas and Hondas.
Second-generation models made between 2009 and 2013 gained more refinement, and some are more fuel-efficient. The Mazda 3 has a reputation for reliability, and they're excellent vehicles for average commutes or taking a side trip down a twisty road.
2010-2013 Kia Soul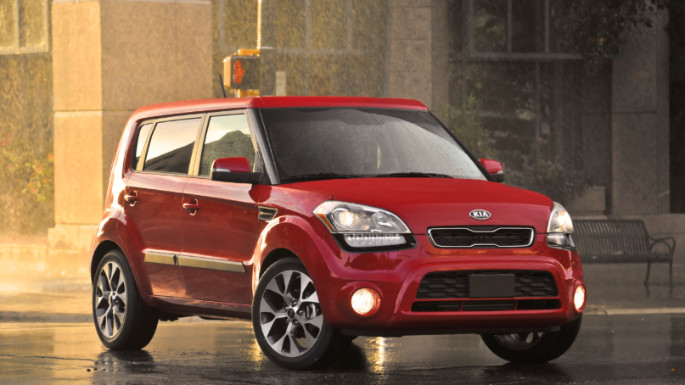 Style isn't always a given when it comes to practical cars for little money. The Kia Soul breaks with that trend -- a style statement that looks like a lot more than merely basic transportation.
It wraps its tall, boxy shape with dramatic styling and bright colors, while the interior offers tall windows and funky upholstery. The Soul comes with lots of equipment for what is essentially an economy car. Standard features include a full complement of airbags, air conditioning, and provisions for connecting an MP3 player or charging a smartphone. Other options are an automatic transmission, alloy wheels, exterior graphics, and some models even have keyless entry with push-button start, navigation, and automatic climate control.
No version is particularly quick or fun to drive, even with the standard manual transmission, and some larger hatchbacks surpass its fuel economy. But the Kia offers a flexible interior that can easily switch between people space or cargo space. And its fun style makes it easier to love than the typical economy car.
2007-2011 Hyundai Elantra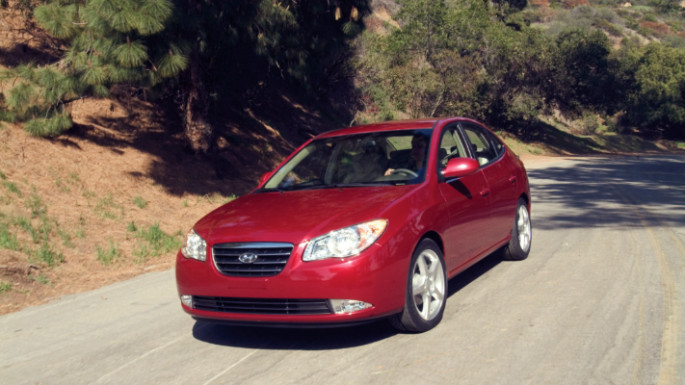 Hyundai's current models are known for having technology and style that exceed many rivals, but it wasn't long ago that the automaker was trying to shake off a low-rent image. That's what makes a compact sedan like the Elantra a great value today.
The 2007 to 2011 models may not be as stylish or responsive to drive as the Honda Civic, but they boast surprising refinement. Better still, they come very well equipped, with standard features like six airbags, a tilt-adjustable steering wheel, and even anti-lock brakes. Starting in 2008, all models also received electronic stability control as standard, long before it was mandated, making the Elantra one of the better choices among used cars for new drivers. It's still worth seeking out better equipped SE and Limited models, however, which had things like alloy wheels, leather upholstery, Bluetooth phone connectivity, and a USB port.
The other benefit of the Elantra is that they have always retained less value than a similarly aged Civic or Toyota Corolla, meaning examples out there on the used market tend to have fewer miles than rivals. It's possible to get one in better-than-average condition for $5,000 or less.
2005-2010 Volkswagen Jetta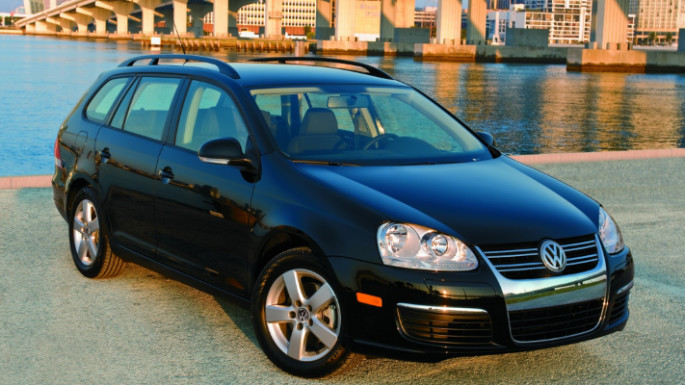 The Volkswagen Jetta is about as close as one can get to a luxury car at this price, without breaking the maintenance budget. Volkswagen built the fifth-generation Jetta to a high standard, more in line with an Audi or BMW, rather than a mainstream compact sedan rival. Interior materials, handling, and steering are more responsive than its competitors while also being spacious inside for four adults.
There were turbocharged models and wagons available, but the most common used examples are sedans powered by a 2.5-liter five-cylinder engine. The 2008 and newer variants boasted a 20-horsepower upgrade, but at 170 horsepower, it still wasn't quick. The Jetta earned excellent safety ratings for its time, with six standard airbags and electronic stability control. The VW badge still lends itself to a more upscale image than some other small cars, even on a 15-year-old vehicle.
2008-2011 Ford Focus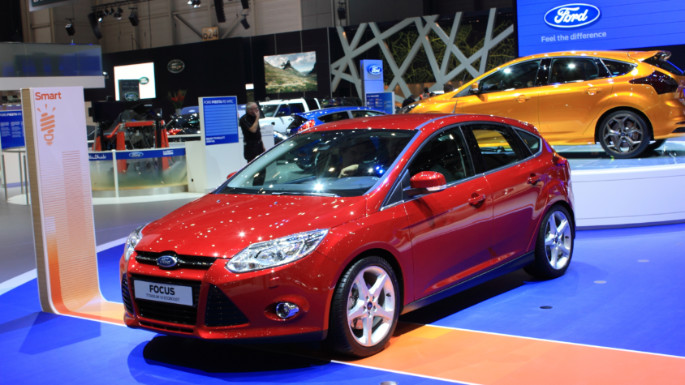 While some used car shoppers may turn away from buying an inexpensive American-brand car for a higher quality foreign competitor, the Ford Focus is the exception. Thanks to a great chassis and updated technology, it represents a better choice than similarly aged domestic models from Chevrolet, Dodge, and Pontiac, and others.
Some recent Focus models fall into the $5,000 price category, but many experts say the most dependable ones are the second-generation models built from 2008 through 2011. As one of the most popular new cars during the Great Recession, the Focus sedan and coupe featured equipment found on more expensive vehicles. Many versions feature Ford's Sync system for voice control of phones and music players, as well as alloy wheels and leather upholstery. It may have lost some of its youthful vitality over the years, but the Focus remained one of the more confident and responsive vehicles in the compact car class. It also included standard side and curtain airbags.
Given its popularity, it's still easy to find a Focus of this age in relatively good condition -- even a few low-mileage examples.