Pickup trucks enjoy enduring popularity in America, and why not? They're the ultimate utility vehicle with room for cargo in the bed, towing capacity, optional off-road ability, and passenger room when you buy a crew cab model. If you want to beat the depreciation curve by looking for the best used trucks under $ 25,000, then you're making a smart move. The moment you drive a new vehicle off the dealer's lot, it begins to depreciate. Many new pickup trucks lose up to 30 percent of their value just in the first year alone.
That same depreciation on new vehicles is a boon for you when you're shopping for a used truck. While you might have room in your budget for the base model, if you catch a mid or top-level trim model a few years older, you can save as much as 50 percent from the truck's original sticker price. Let's take a look at some of the top used pickup trucks that you can find for under $25,000.
1. Nissan Titan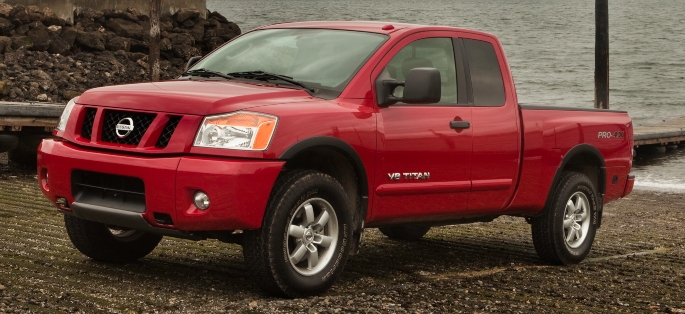 The Titan is somewhat of a lesser-known model amongst the domestic brands, but it offers an alternative to those monster-sized heavy-duty trucks. If you go for the Titan XD, then you can get a reasonably recent model with good towing capacity and a diesel engine for under $25,000. However, you'll be looking at the regular cab, which can accommodate three passengers via a split front bench seat. The Titan XD with the 5.0-liter turbodiesel V8 is capable of towing up to 12,640 pounds. You can also get a 5.6-liter gas-powered V8, which makes 390 horsepower, but much less torque than the diesel at 394 versus 555. If you're looking more at a four-door, crew cab truck, then you might consider the four-wheel-drive 2011 Titan PRO-4X with a 5.6 liter V8. And if you're not looking for a 4x4 model, the 2015 Titan SV that still has a ton of desirable features like heated leather seats and a premium sound system. An average price for these older models is around $20,500.
2. Toyota Tundra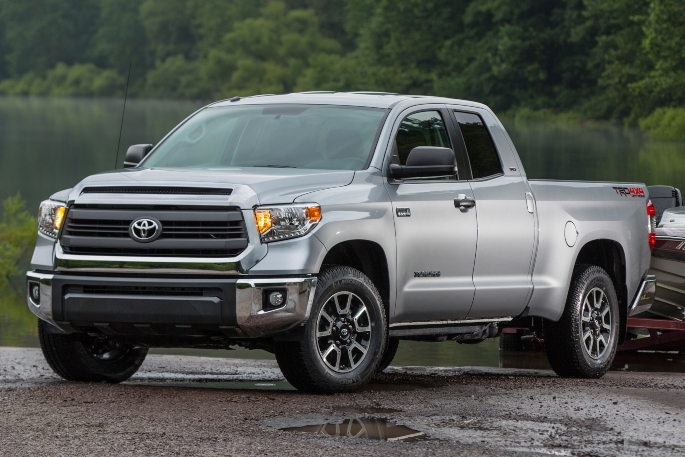 The Tundra is in a lot of best-of lists when it comes to used pickup trucks. If you consider an older model like the 2015 Tundra SR5, you'll be looking at a 381-horsepower V8 and towing ability of 10,300 pounds when properly equipped. You have some options when looking at the 2015 Tundra. The SR trim level offers a fold-down front bench seat standard, which can accommodate three people. Other trims offer front bucket seats, and the double cab Tundra has rear doors for easier access to the rear seats. The Tundra features a rather sizeable 145.7-inch wheelbase, but that also means you'll get a 78.7-inch truck bed. The other big perk of the Tundra is undoubtedly the excellent Toyota reliability. The Tundra has five-star crash ratings and is recommended by Consumer Reports. An average price for this year of Tundra is around $22,000.
3. Ford F-150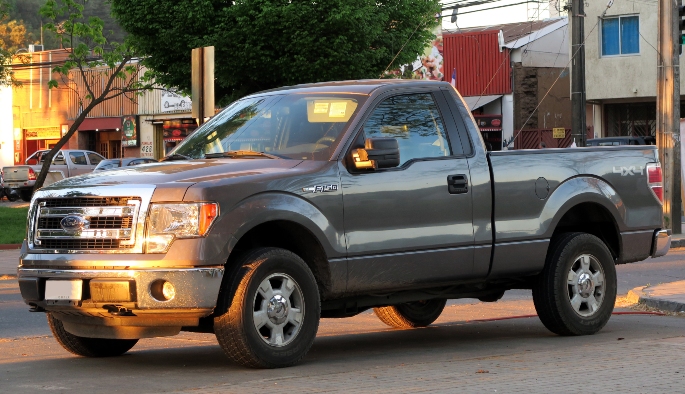 The Ford F-150 is and has been the top-selling truck in America for a long time. It inspires an army of loyal customers who keep returning to its strong capability and reliability. Because the F-150 holds its value so well, you'll have to go back to 2013 to find well-equipped models selling under $25,000. If you look at the 2013 XLT trim, you'll get a 5.0-liter V8, Bluetooth, and two-wheel drive. If 4WD is your preference, then you'll likely need to go back a little further with a 2011 F-150 FX4, which also packs a V8, plus a sunroof and leather seats. Another option is the 2013 SuperCrew, which offers enough interior room for five adults. You'll generally have a few options for engines, including the V8 mentioned above as well as a V6 and turbocharged V6. A six-speed automatic transmission is offered across the full range of trims. An average price for models mentioned is around $21,500 or less.
4. Ford Ranger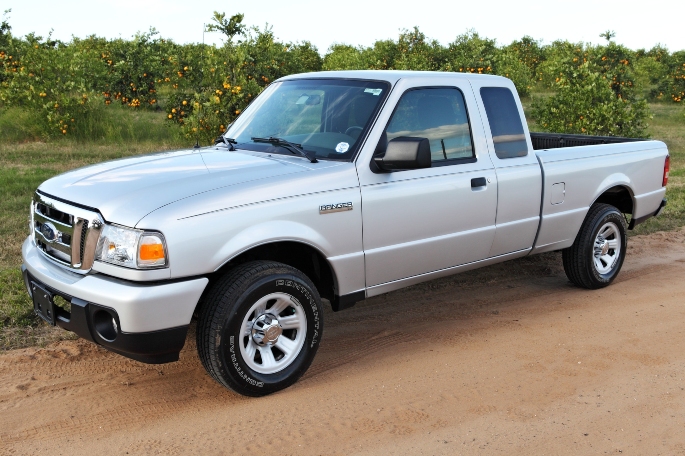 The Ranger has recently been reintroduced after being out of production since 2012, which means that it's pretty easy to find older models for well under $25,000. The 2011 Ranger XL offers an average price of under $15,500 and reasonable fuel economy as its 2.3-liter engine with a five-speed manual returned figures of 27 mpg on the highway and 22 mpg in the city. Though you might run across some models with high mileage, there are plenty with low mileage under 50,000. Some features of the Ranger XL include traction control, side airbags, air conditioning, tow hitch and ABS brakes. As usual, you'll generally pay more for 4WD Rangers, but the 2WD versions tend to give you the most overall value. The 2019 Ford Ranger MSRP is as low as $24,300 to start for the XL trim, which gets you the 2.3-liter EcoBoost engine and a 10-speed automatic transmission. By the time the 2020 models come out, you'll likely be able to get this trim for even less.
5. Honda Ridgeline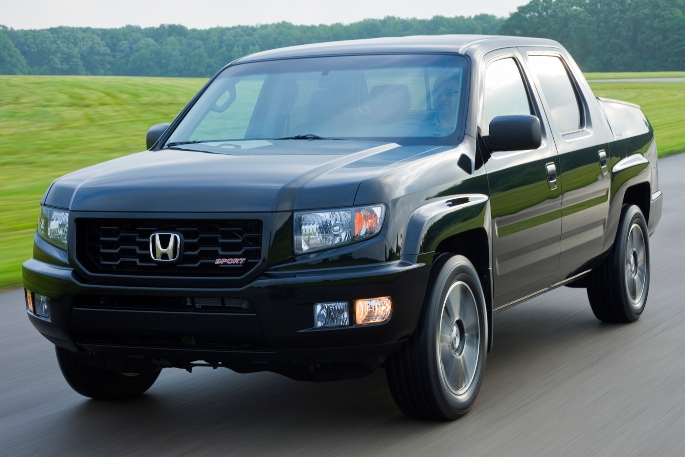 Honda's entry on this list may not be the most conventional pickup truck, but it has plenty of fans and is recommended by Consumer Reports. The reason it's not conventional is that it's designed with a unibody chassis like a car, whereas most trucks are built with body-on-frame construction. The four-wheel independent suspension, coupled with the unibody construction gives it an incredibly smooth ride and sharper handling. If you're looking at trucks under $25,000, you'll be looking at the 2014 Ridgeline, which offers a four-door design and seating for five passengers. The large rear doors make getting into the back seat easy and convenient. A 122-inch wheelbase makes the Ridgeline quite easy to maneuver, but also means that it only has a 60-inch truck bed. However, the bed is deep, with an 8.5 cubic-foot locking trunk underneath the bed floor. The only choice of engine here is a 3.5-liter V6, which makes 250 horsepower and allows for 5,500 pounds of towing ability. An average price for a 2014 Honda Ridgeline Sport 4WD is right around $23,100.
6. GMC Sierra 1500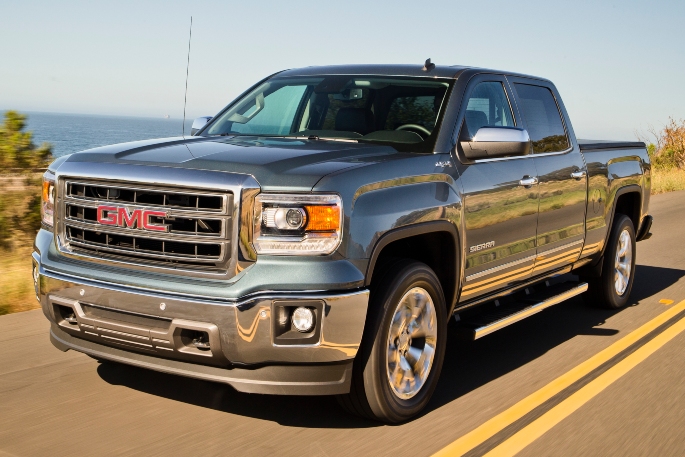 The Sierra is more or less the same truck as a Silverado, but it has a distinct look and clientele that will only buy GMC. You won't have to go back too far to find models priced under $25,000. A 2015 model will offer four-wheel-drive and a 4.3 liter V6 that produces 285 horsepower for an average price of $21,500. If you need a little more truck, you can go back to the 2014 model year to look at an extended cab 4WD for around $22,700. This model offers a V8 engine, a 143.5-inch wheelbase and 62 cubic feet of volume in the truck bed. The towing capacity for this configuration is 11,900 pounds. Although the Sierra offers three engine choices in the V6 mentioned above, plus two V8 options, if you want four-wheel drive, you'll probably be looking at the 5.3-liter engine versus the 6.2. Other features on this year of Sierra include stability control, ABS brakes, front park assist and a tire pressure monitoring system.
7. Toyota Tacoma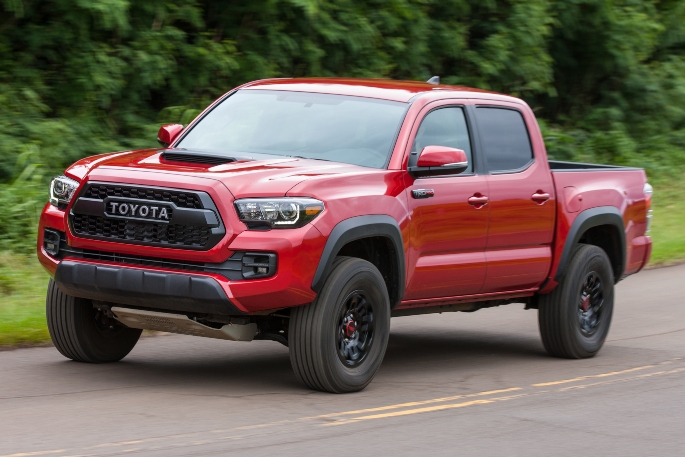 If you're looking for a reliable midsize pickup truck, then it's hard to find something that fits the bill more than the Tacoma. You won't even have to go too far back to find one under $25,000. The 2017 Tacoma SR has an average price of around $21,000. It offers a 159 horsepower engine, a rearview camera, Bluetooth compatibility and traction control. The Tacoma comes in a lot of different configurations, but one of the most useful is undoubtedly the Crew Cab. If you look at a 2017 SR Crew Cab, you probably won't have to pay more than $24,000 as long as you get the two-wheel-drive version. A choice of two engines is available, including the four-cylinder above and a 278-horsepower V6. Six-speed automatic transmissions are standard, but a manual transmission was available until 2018. When properly equipped, the Tacoma can tow up to 6,400 pounds. Like the Tundra, you'll also get strong Toyota reliability and good crash ratings from the NHTSA and IIHS.
8. Nissan Frontier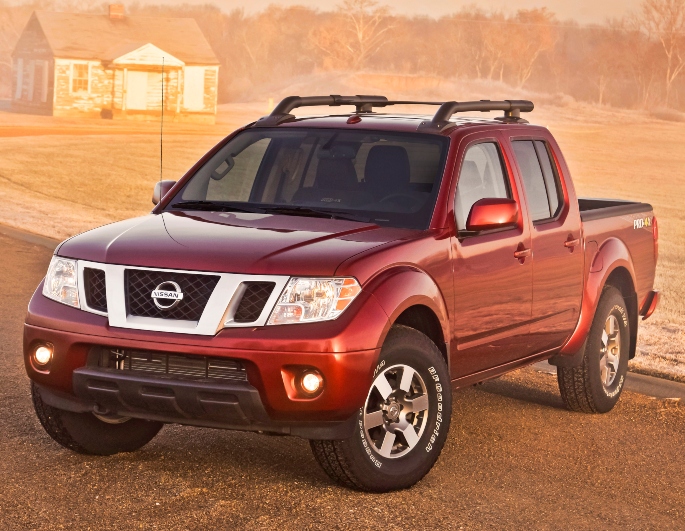 Another choice in the midsize market is the Nissan Frontier. These can easily be found under $25,000 and even under $20,000 depending on the options, trim and model year. For the lower price point, you might be looking at a two-wheel-drive 2013 Frontier SL model with heated leather seats, a 4.0-liter V6 engine making 261 horsepower, plus Bluetooth capability. For something closer to $25,000, you might be looking at the 2016 Frontier King Cab PRO-4X 4WD model. That is Nissan's dedicated off-road version of the Frontier, and it offers a luxury interior and a compact 125.9-inch wheelbase. The truck bed is on the small side at 34 cubic-feet, but it can tow up to 6,300 pounds when properly equipped. Two engines were offered on the 2016 Frontier, including the 2.5-liter four-cylinder and a 4.0-liter V6. The latter is the choice engine for the PRO-4X. Some other features on the PRO-4X include cruise control, power locks and windows, off-road shocks, skid plates, and 16-inch alloy wheels.
9. Chevrolet Silverado 1500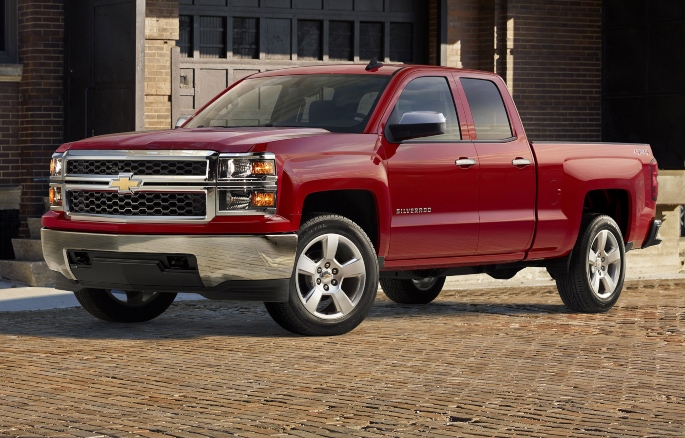 The Chevy Silverado is very similar to the Sierra, but with some different exterior styling. It's also quite an affordable entry in the full-sized truck category. Looking at the 2015 Silverado LS, you'll get a V8 engine with 355 horsepower, plus interior space for six passengers. The 2WD version can be had for under $21,500. Another version is the 2015 Extended Cab LT 2WD, which is a base trim, but still well equipped. The Extended Cab LT has a 143.5-inch wheelbase and 61 cubic feet of bed space, with a maximum towing capacity of 9,200 pounds in this configuration. Three engine choices were available in the 2015 Silverado 1500, including a 4.3-liter V6 with 285 horsepower, a 5.3-liter V8 with 355 horsepower and a 6.2-liter V8 with 420 horsepower. Most of these came with six-speed automatic transmissions. Other features in this model year of Silverado 1500 included a backup camera and 4-inch touchscreen display.
See Chevrolet Silverado 1500 Listings
10. Ram 1500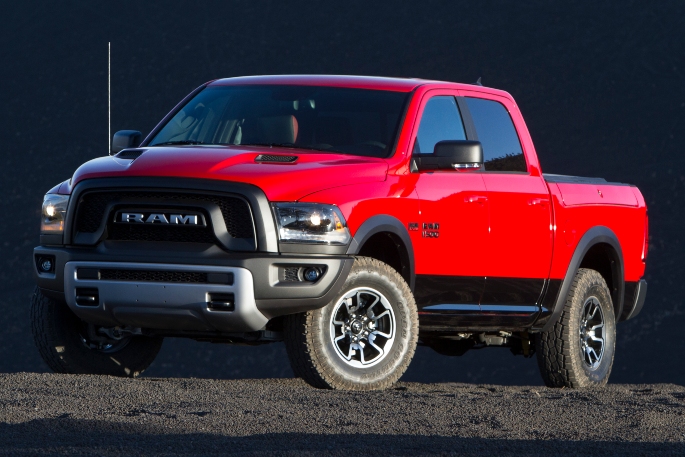 The Ram 1500 is a top-selling pickup in many markets for good reasons, as it offers a lot of options and you don't have to go too far back in history to get one under $25,000. Take a look at the 2015 Ram 1500 Crew Cab SLT 2WD for a price point just under $25,000. This hefty truck can fit six people in its four-door cabin, and it has plenty of niceties like air conditioning, keyless entry and cruise control. A wide range of engine choices was available for the 2015 Ram 1500, but to stay under $25,000, you'll generally be looking at the 3.6-liter V6 with 305 horsepower. This engine was mated with an eight-speed automatic transmission. The Ram 1500 is a big truck with a 140.5-inch wheelbase and 229 inches of overall length. The truck bed allows for 50 cubic feet of storage, and a properly equipped truck can tow up to 7,480 pounds. The Ram 1500 for this model year generally enjoyed good crash ratings from the NHTSA and IIHS.
11. Chevrolet Colorado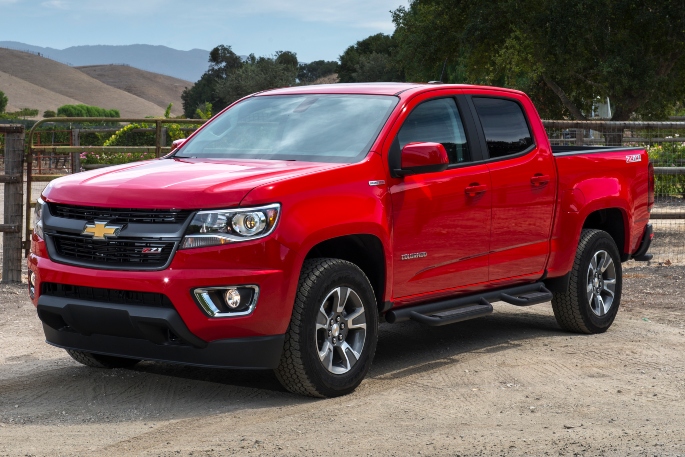 The last truck on this list is Chevy's entry in the midsize market. The Colorado is just a bit smaller than the Silverado, but it offers plenty of options in equipment, plus pretty decent gas mileage at 17 mpg in the city and 24 mpg on the highway. Just under $25,000 could get you a 2017 Colorado Crew Cab LT 2WD model. This configuration allows for five passengers in a four-door layout. The Colorado offered both a V6 and four-cylinder in this model year, but to keep the price under $25,000, you'll want to look at the 2.5-liter four-cylinder. It comes paired with a six-speed automatic transmission. The standard equipment on a Colorado is very up to date considering the model year. Some features include a rear camera parking system, six-speaker audio system, and tilt steering wheel. The Colorado generally has good crash ratings by NHTSA and IIHS, although its headlights were rated poorly.