Quick Facts:
Pros:
Athletic handling makes it entertaining to drive.
Boasts an excellent basic warranty.
Excellent fuel economy.
An attractive cabin with a comfortable ride.
Cons:
The sedan has limited cargo space.
No telescoping steering wheel.
Collision-avoidance technology is not included.
Few standard features on base trim.
Would we buy one? We'd strongly consider it.
Vehicle Type: Five-passenger subcompact car.
Price Range: From $15,750, excluding a $925 destination charge, to $16,690, before options.
Powertrain: All models come with a 1.6-liter four-cylinder engine that makes 120-horsepower, paired with a continuously variable automatic transmission.
Front-wheel-drive is standard.
Competitors: Hyundai Accent, Honda Fit, Toyota Yaris, Chevrolet Sonic, and Nissan Versa.
More Photos
See more 2020 Kia Rio Photos.
---
Overall Score: 7/10
Safety Features: 6/10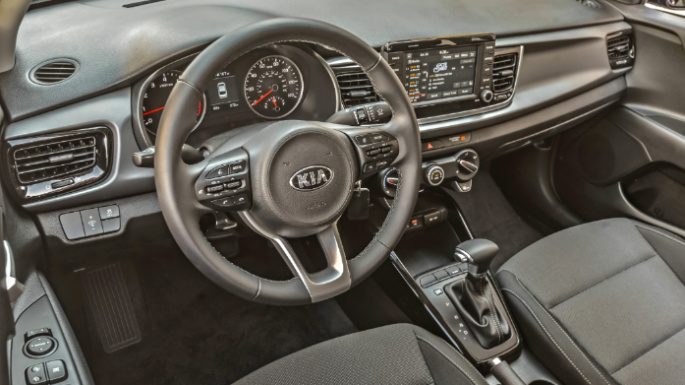 The IIHS awarded the 2020 Kia Rio their highest rating of 'Good' across five crash tests and their second-highest rating of 'Acceptable' in the small overlap front passenger-side crash test. They also named the Kia Rio a 'Top Safety Pick' in its class. The S trims received a 'Good' rating for their headlight illumination. However, the other models received a 'Poor' rating. Properly equipped, the Rio gets a 'Superior' rating for front crash prevention.
Unfortunately, a rearview camera is the only advanced safety feature that comes standard with the 2020 Rio. Automatic emergency braking and forward-collision warning are some of the few optional advanced safety features, part of the S trim's $800 Technology Package. Collision-avoidance technology is also an option and is relatively inexpensive.
In comparison, the Honda Fit offers more advanced safety technology than the Rio.
---
Value: 8/10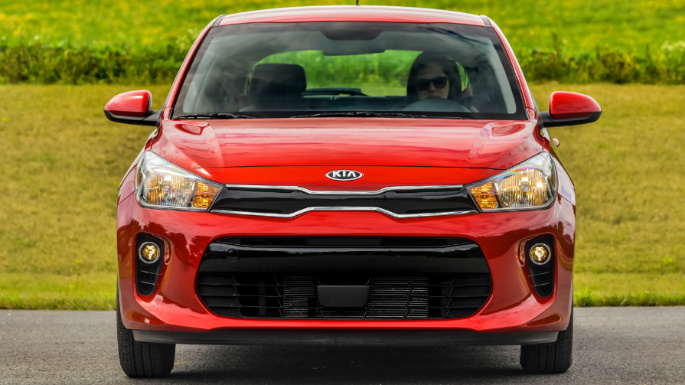 According to many reviews, two of the 2020 Kia Rio's strengths are the affordable asking price and solid build quality. Its value reigns supreme within the subcompact car class, with a lower price than most rivals.
The 2020 Kia Rio comes in two trim levels: the base LX trim and the S trim. There are two body styles; a sedan and a hatchback.
The Rio LX sedan has an MSRP of $15,750. The S trim sedan starts at an MSRP of $16,390, and the S hatchback comes in at $16,690.
An S Technology Package is available for $800 and adds on active safety technology and other valuable features.
Kia has a very well-established reputation for its basic warranty coverage and almost matches its rival, the Hyundai Accent, which is at the top of its class. The Rio's powertrain warranty covers 10/years/100,00 miles.
---
Tech Features: 7/10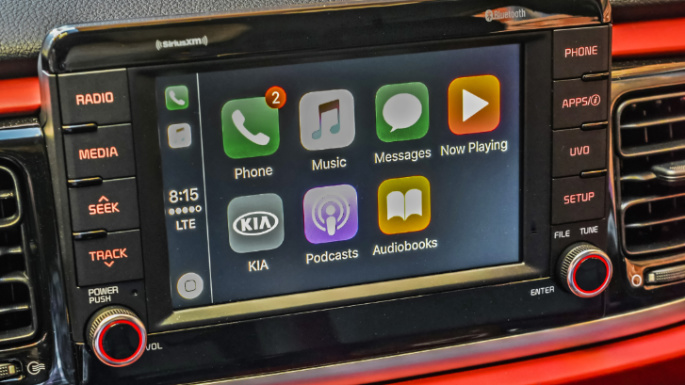 The 2020 Rio has added an upgraded infotainment system to the base Kia Rio LX trim. This system includes a 7-inch touchscreen, Apple CarPlay, Android Auto, and a six-speaker audio system. The updated infotainment system is user-friendly, and you can control it using the touch or physical controls.
Bluetooth, Siri Eyes Free, air conditioning, power windows, and a USB port are also standard tech features. Stepping up to the Rio S trims will add on remote keyless entry, cruise control, LED headlights, SiriusXM satellite radio, a center armrest, and a folding rear seat.
The $800 S Technology Package is available for the S trims and includes an upgraded infotainment system, adaptive headlights, and a 3.5-inch trip computer.
The Honda Fit and Toyota Yaris are one step above the Rio with their list of standard safety and tech features; however, the Kia Rio comes standard with Android Auto and Apple CarPlay.
---
Practicality: 7/10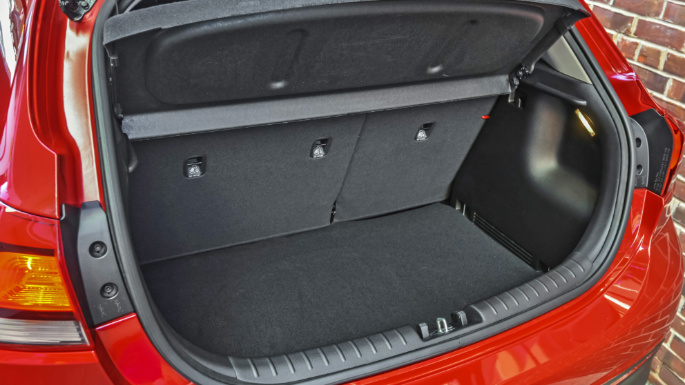 The 2020 Rio can seat up to five passengers and offers roomy front seats. One downside is the tilt-only steering wheel, making getting comfortable more difficult for tall drivers.
The rear seats are slightly cramped, which you can expect from a subcompact car; however, in comparison to the Toyota Yaris, it does offer more rear-seat passenger space and 33.5 inches of legroom.
The Rio may look small, but don't let its size fool you as it's a spacious little car, especially in its hatchback form. There are 13.7 cubic feet of cargo space in the sedan with the available 60/40 split-folding rear seats allowing for better flexibility. The S model hatchback offers 17.4 cubic feet of cargo space behind the rear seats and 32.8 cubic feet when its standard 60/40 rear seats are folded down.
---
Styling & Design: 6/10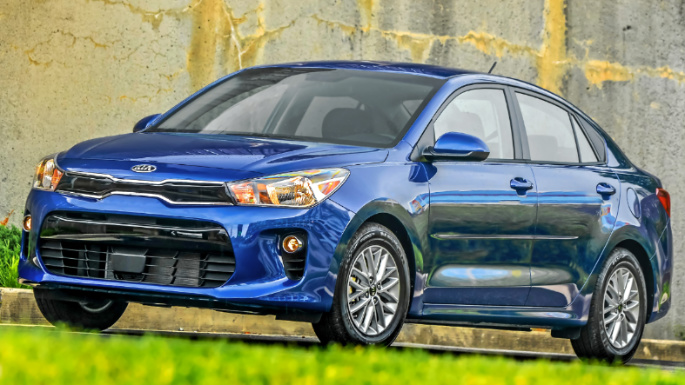 Both body styles share the same front end, with large headlights and a wide, pinched grille. From the rear and the side, the hatchback has a sportier look compared to the conventional sedan.
A few years ago, Kia dropped its steel wheels and replaced them with plastic hubcaps. You may find this somewhat frustrating since the plastic hubcaps do not hold up well to curbs or in bad weather conditions.
While we are talking about plastic, there is a lot of hard plastic in the cabin. Still, it has been nicely textured, and the overall interior appearance offers sophisticated styling for a subcompact car.
The Kia Rio has remained steadfast on practicality instead of luxury. There are no expressive interior hues; instead, you will find a simple black or gray trim.
---
Driving Experience: 6/10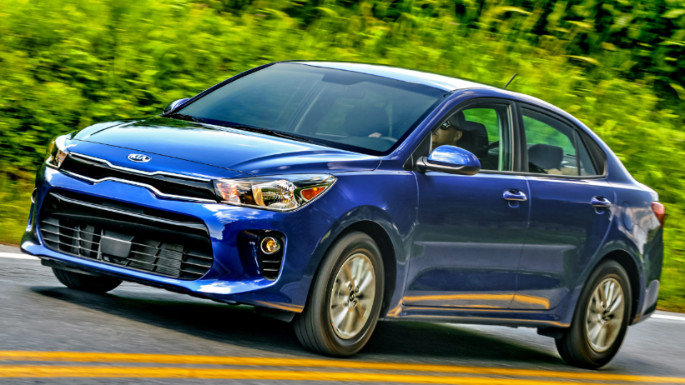 2020 introduced a new engine, which is down 10-horsepower and seven-pound-feet of torque compared to last year. This means you will experience less thrill and slightly slower acceleration, but you may enjoy how quiet the engine and transmission are. The continuously variable automatic transmission also keeps the new engine in a sweet spot for power delivery.
The Rio's ride is comfortable and a lot smoother than the Hyundai Accent's ride. This could be because the Accent has 17-inch wheels, whereas the Rio has 15-inch wheels, which tend to soften the ride better with the taller sidewalls.
You may find the handling short of impressive; however, the thick steering wheel rim and the accurate response time help the car feel sturdy on the bends.
The hatchback's rear drum brakes may remind you that you drive a budget-friendly car, but the suspension system soaks up bumpy roads with ease and maneuvers well around corners.
---
Fuel Efficiency: 9/10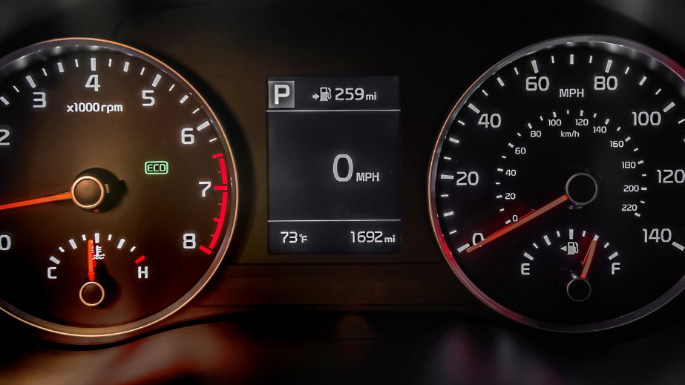 The new engine and transmission combine well to improve the overall fuel economy of the Kia Rio.
The 2020 Rio has some of the best fuel economy figures in the subcompact class, a great avenue that allows it to overtake its rivals. The 2020 model year features better fuel economy compared to previous versions.
The Rio has an EPA rating of 33 mpg city, 41 mpg highway, and 36 mpg highway using regular fuel. This fuel economy rates the Rio among the greenest new cars on the subcompact car market (at least those without a hybrid powertrain). It may have less power for its 2020 model year, but it has more fuel efficiency.
---
More Photos
See more 2020 Kia Rio Photos.