Quick Facts:
Pros:
Surprisingly refined on-road dynamics.
Distinctive, semi-retro styling inside and out.
Almost unstoppable off-road.
Cons:
Gets expensive with options.
Hefty curb weight blunts performance.
Similarly capable Discovery offers more interior space for passengers.
Vehicle Type: A two or four-door midsize SUV with seating for up to seven passengers.
Price Range: From $47,450 to $101,750, including destination charge.
Powertrain: A turbocharged 2.0-liter four-cylinder engine with 296 horsepower and 295 lb-ft of torque, an eight-speed automatic transmission, and four-wheel-drive.
A turbocharged 3.0-liter six-cylinder with a mild hybrid system with 395 horsepower and 406 lb-ft of torque, with an eight-speed automatic and four-wheel-drive.
For 2022, a supercharged V8 engine will also be offered. It makes 518 horsepower and 461 pound-feet of torque and it will also be hooked up to an eight-speed automatic transmission.
More Photos
See more 2021 Land Rover Defender Photos.
---
Overview: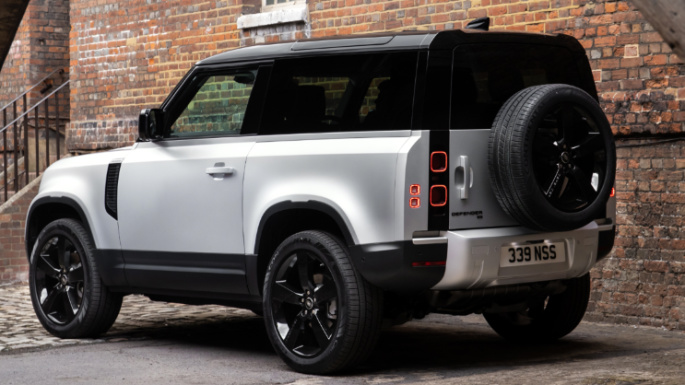 After a two-decade pause, Land Rover brought the legendary Defender back to the United States as an all-new model in 2020. The four-door Defender 110 was first to return, and it's joined for 2021 by the shorter, two-door Defender 90. A new X-Dynamic trim also joins the 110 lineup.
Each Defender is available in one of three primary trim levels: Base, X-Dynamic, and Defender X. Beyond that, most of the trims are broken down into Base, S, SE, and HSE equipment levels. Last year's Defender 110 First Edition model has been discontinued for 2021, while the Defender 90 now offers a First Edition variant.
Two powertrains are on offer for 2021, with a third joining the ranks in 2022.
The base 110 comes standard with a 2.0-liter turbocharged inline-four that makes 296 horsepower and 295 pound-feet of torque.
The Defender 90 First Edition and 110 SE and higher trims get a 395-horsepower turbocharged six-cylinder with a 48-volt mild-hybrid electric boost system to improve fuel economy and reduce emissions.
2022 models will also offer a 5.0-liter supercharged V8 that makes 518 horsepower and 461 pound-feet of torque.
All engines come paired with an eight-speed automatic transmission and permanent four-wheel drive.
The Defender will appeal to buyers who want the ultimate in off-roading capability and a nostalgic ride without giving up modern luxury and creature comforts. It most directly competes with the Jeep Wrangler, Lexus GX 460, Lexus LX 570, Mercedes-Benz G-Class, Porsche Cayenne, Toyota Land Cruiser, and the upcoming Ford Bronco. It can also be considered a rival to Land Rover's own Discovery and Range Rover Sport.
The Defender's calling card is its ability to blend plush on-road comfort with hardcore off-road capability. The increasingly plush SUVs offered by Land Rover make the Defender the brand's most dedicated off-road model, too.
Overall Score: 7.6/10
---
Safety Features: 7/10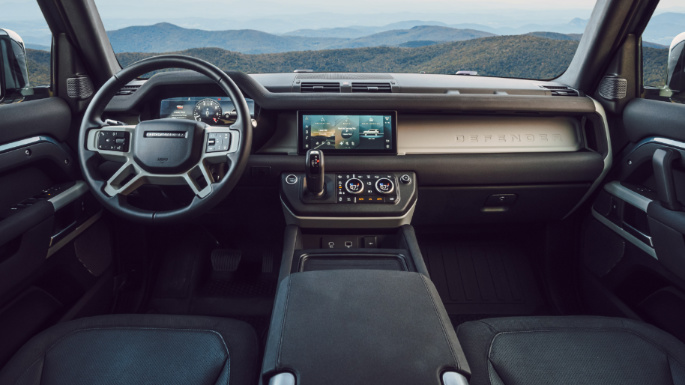 Standard safety gear includes automatic emergency braking, blind-spot monitoring, a 3D surround-view camera system, cruise control with a speed limiter, a driver attention monitor, lane keep assist, front and rear parking sensors, and traffic sign recognition. Available features include adaptive cruise control, a clear exit monitoring system, and rear cross-traffic alerts. The clear exit system warns passengers when an oncoming car could be dangerous when exiting the vehicle.
Neither the Insurance Institute for Highway Safety (IIHS) or the National Highway Traffic Safety Administration (NHTSA) has crash-tested the new Defender.
---
Value: 7/10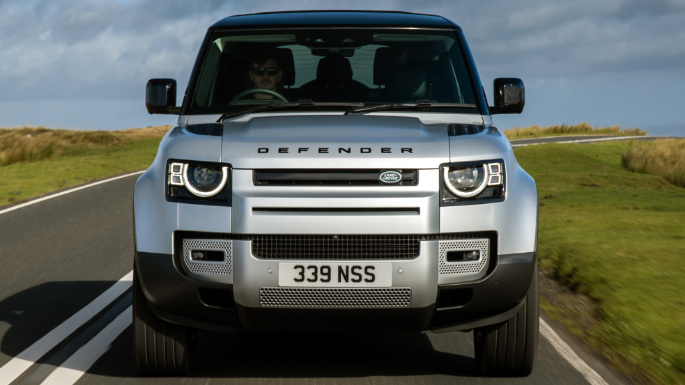 The Defender starts at just under $50,000 before destination and any options. From there, prices climb up to almost $85,000 for the Defender X trim and then to a bit over $100,000 for a four-door 110 withg the V8 -- a significant amount of money for a vehicle that's intended to wade through streams and get muddy and dusty off the pavement.
That wide price spread means the Land Rover not only competes with well-equipped versions of the Jeep Wrangler and upcoming Ford Bronco but also dedicated off-road models such as the Lexus GX 460 and Toyota Land Cruiser.
Adding features makes the Defender even more expensive, and while it's relatively well-equipped out of the box, the base engine warrants an upgrade. However, it's still significantly less expensive than the very capable and very luxurious Mercedes-Benz G-Wagen.
Though it competes in a segment with rugged off-road vehicles, the Defender is, by far, the plushest and most luxurious. That will justify the price for many but will be unnecessary for others.
---
Tech Features: 8/10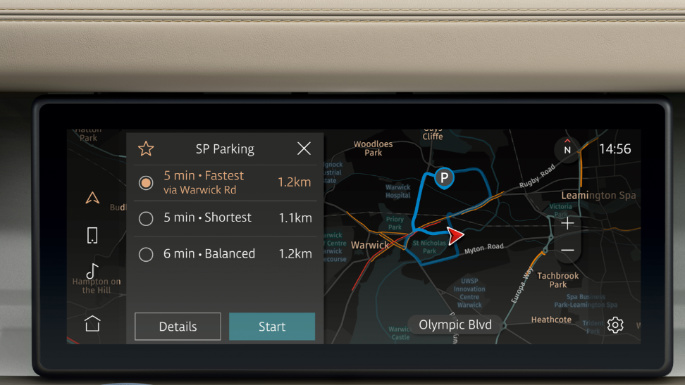 The Defender comes standard with a 180-watt, six-speaker audio system, a 10-inch touchscreen infotainment system, HD radio, Apple CarPlay and Android Auto connectivity, a built-in navigation system, a 12-volt outlet in the cargo space, a hotspot, wireless device charging, and keyless entry with push-button start. Available features include a Meridian sound system, SiriusXM satellite radio, an interactive driver display that replaces the physical gauges with a digital screen, and a head-up display.
Land Rover's efforts to simplify its infotainment system have paid off. The Defender's interface is easy to use, even when the vehicle's in motion, and menus are straightforward. The whole system is intuitive and operates smoothly, and a significant improvement over the company's previous systems.
---
Practicality: 8/10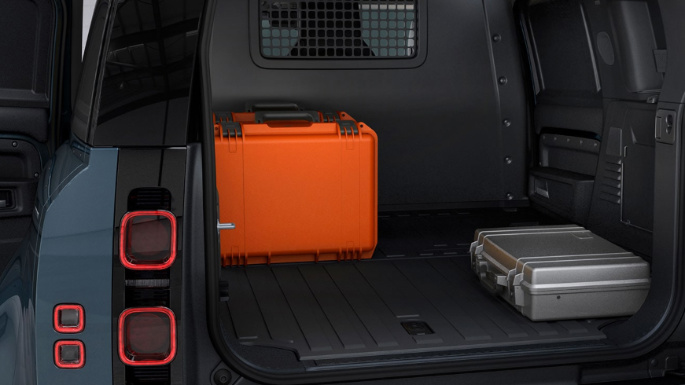 The Defender offers a wealth of storage and cargo options, many thoughtfully placed and cleverly designed. The cargo area is large, and the vehicle's tall roof makes loading large items a breeze. The Defender's tall ride height may be an impediment to some, but the sizable cargo area more than makes up for it. Land Rover says the Defender can tow a maximum of 7,716 or 8,201 lbs., depending on the engine and other optional equipment.
Up at the front of the passenger area, the Defender is full of small-item storage and useful spots to stash gear. The dash has a long bin that even runs behind the infotainment screen, and the floating center console area offers plenty of space for smartphones and other small items.
The ability to take up to seven people, or a load of gear, and even a trailer way off the beaten path is a benefit that shouldn't be taken lightly. Whether that benefit is enough to justify the upcharge for buyers or not is yet to be seen. And the third-row seat itself is sorely lacking for legroom, and the cargo space left behind it is minuscule. A jump seat between the front seats allows six-passenger seating, although an adult sitting there won't be happy for long. The Lexus LX 570 and Toyota Land Cruiser have more space for three rows of people, as does the Land Rover Discovery.
---
Styling & Design: 9/10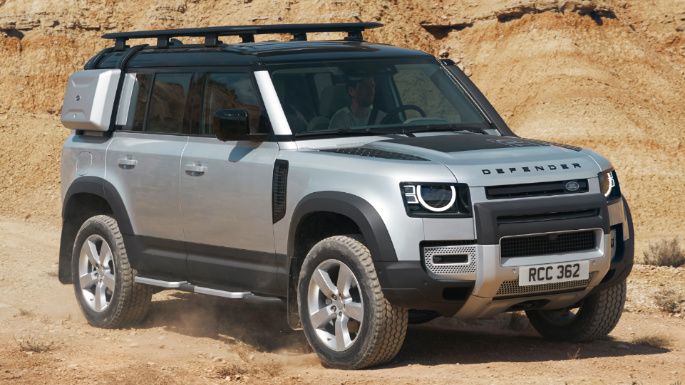 Land Rover has managed to design some of the old Defender's vintage charm while also updating the look to be modern and even futuristic from some angles. The result is a clean, cohesive package with modern touches and rugged-looking styling that keeps it faithful to its predecessor, much in the way Jeep has managed that on the Wrangler for decades. Outward visibility is excellent, especially in tight spaces and off-road, where the Defender's camera system helps wipe out blind spots and give a great view of the surrounding terrain.
Inside, the Defender is modern, spacious, and unwaveringly useful. Storage and other necessary components are integrated with the cabin in smart ways to minimize distraction and maintain the interior's utilitarian feel. That said, the seats, especially in higher trims, are covered in upscale leathers and textiles that are fitting for a vehicle of the Defender's price tag and historical overhead.
The dash and front cabin area are tidy and uncluttered, and most controls are well within the driver's reach. While large, the infotainment system's touchscreen is located a bit far away to be reachable for shorter drivers but is mounted into a recess in the dash in a thoughtful way. The shifter and four-wheel-drive controls are mounted high on the dash but are tightly clustered together in a way that might make them difficult to use at a glance.
---
Driving Experience: 9/10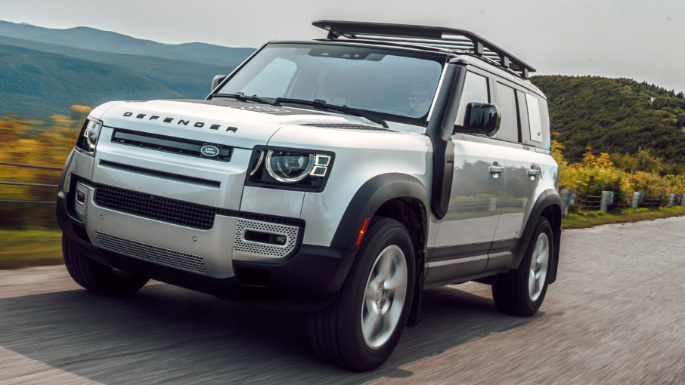 The Defender is more refined, calmer, and cushier than it has any business being. Full stop. It's well behaved on the highway, surefooted off-road, and comfortable enough to be an only vehicle for most families. It lacks much of the agility of the Porsche Cayenne and Range Rover Sport, but it's more competent in the corners than the Jeep Wrangler.
With the optional turbocharged 3.0-liter six-cylinder, the Defender is willing and capable, but not thrilling or quick. Along with the eight-speed automatic gearbox, the engine makes a happy companion for almost any driving tasks, and shifts are timed well to get the most out of the engine. While adequate, the turbocharged four-cylinder engine doesn't have the surplus power of the six-cylinder, which might be useful when the vehicle is pulling a trailer or loaded up with cargo and passengers.
---
Fuel Efficiency: 7/10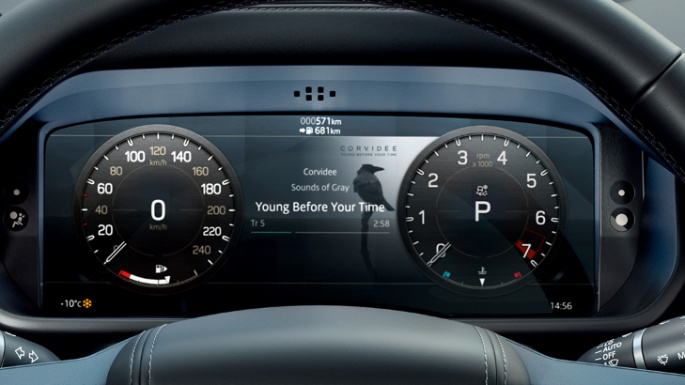 The Defender 90 and 110 equipped with the turbocharged 3.0-liter six-cylinder delivers EPA-estimated fuel economy of 17/22/19 mpg city/hwy/combined. The four-door Defender 110 fitted with the turbocharged 2.0-liter four-cylinder is rated at 17/20/18 mpg.
---
What's it Going to Cost Me?
The base Defender 90 has a starting price of $47,450 after a $1,350 destination charge, while the Defender 110 starts from $51,850. It comes standard with a turbocharged 2.0-liter four-cylinder engine, four-wheel drive, a twin-speed transfer box, electronic air suspension, hill launch assist, LED headlights with automatic leveling, 18-inch wheels, a leather-wrapped steering wheel and gearshift, dual-zone climate controls, ebony fabric upholstery, eight-way semi-powered front seats, a 10-inch touchscreen, HD radio, navigation, and a trailer stability assist package.
The Defender 110 X-Dynamic has a starting MSRP of $66,850. It comes standard with a turbocharged 3.0-liter six-cylinder, the Land Rover Terrain Response 2 package, a panoramic moonroof, signature LED daytime running lights, 20-inch wheels, 12-way heated front seats, a Meridian sound system, SiriusXM satellite radio, and an interactive driver display.
The Defender 110 X starts at $84,350. It comes standard with a black contrast roof, orange brake calipers, special badging, premium interior lighting, cooled front seats, vintage tan/ebony Windsor leather and textile upholstery, a driver assistance package, and a head-up display.
---
More Photos
See more 2021 Land Rover Defender Photos.