Autolist rating: 5/5
But would we buy it? Yes
Price range: $40,625 - $45,170, before options but including destination
Key takeaways
Seventh-generation ES is all-new for 2019.
Comes with either a 302-horsepower V6 (ES 350) or the 215-horsepower hybrid (ES 300h).
Sharper interior and exterior design set this generation apart from more boring predecessors.
A well-rounded luxury sedan that does everything well.
Missing all-wheel-drive and an intuitive infotainment system.
---
What is it?
The ES is a midsize luxury sedan from Lexus, Toyota's luxury brand. This 2019 model is the first year in the model's seventh generation. Lexus gave it a thorough and aggressive makeover versus the outgoing generation.
The ES is loosely based on the Toyota Avalon. It's front-wheel drive and it slots between two rear-wheel-drive sport sedans in Lexus' lineup -- the smaller IS and the larger GS.
The ES competes against a disparate group of fellow luxury sedans, but its closest competitors are the Acura TLX, Genesis G80, Volvo S60, Lincoln MKZ and Buick Regal and Lacrosse. It's one of Lexus' longest-running sedans (behind the full-size LS); it's also Lexus' most popular sedan by sales and its third most popular vehicle overall.
There are two versions of the Lexus ES. The base is the ES350, which starts at $40,625. It has a 3.5-liter V6 engine that makes 302 horsepower and 267 pound-feet of torque. It's paired with an eight-speed automatic transmission.
Buyers can add to the ES 350 the F Sport package for the first time on this model. This setup doesn't boost the car's power but it does add larger 19-inch alloy wheels and tires, unique suspension tuning, active noise control, and various minor trim pieces and upgrades inside and outside the car.
The ES 300h -- the model we tested -- is a hybrid. It starts at $42,335 and has 215 total horsepower from an electric motor and a 2.5-liter inline four-cylinder engine and the transmission is a CVT automatic.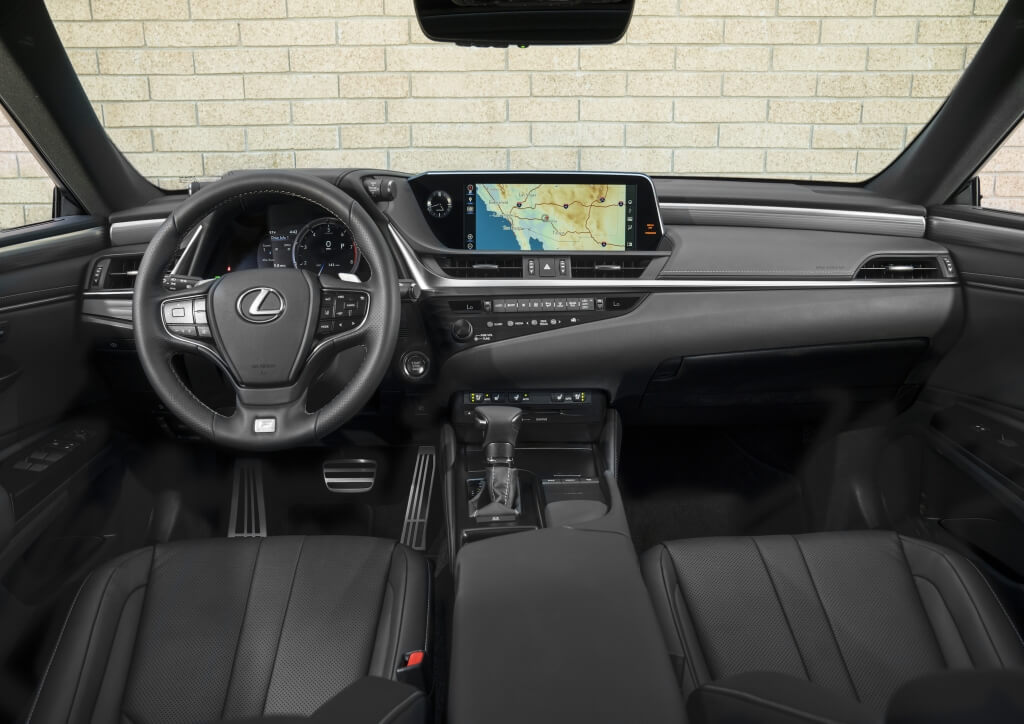 ---
What's good
TLDR: Aggressive styling, sips fuel, comfy and reliable.
Actual styling. The previous ES models (all of them) have been excellent cars but never exciting to look at. But this new ES changes that since Lexus has been injecting more aggressive styling into its vehicles for several years now. This was the final missing piece for what was already an excellent luxury experience.

Fuel economy. Our hybrid test model is rated by the EPA at 43/45/44 mpg city/highway/combined. That's excellent for a large luxury sedan like this. In our week of testing (mostly highway miles), we averaged 45.6 MPG, so the real-world results actually match the expectations.

Comfort. Whether it's in the front seats or the (spacious) rear seats, this is a very serene vehicle to ride or drive in. The seats are comfortable and there's no wind or road noise to speak of. It's exactly what you want out of a luxury car.

Reliability. Lexus regularly ranks at the top of many industry reliability and owner satisfaction surveys -- and it has for years. This isn't a fluke; the company works hard to inject its vehicles with sublime reliability that will keep owners happy for years. It's hard to put a price on that kind of peace of mind.
What's bad
TLDR: Harsh ride, tepid adaptive cruise, FWD only.
Ride quality. Blame the thin sidewalls on our test car for this one but the ride was a bit too harsh on this ES 300h. Bumps and rougher roads rattled the car's occupants too much for a luxury experience. This made for an odd disconnect between the rest of our time in the car. If you're interested in an ES, test drive models with different wheel/tire packages to make sure you're getting the comfort you're looking for.

Adaptive cruise control. We're glad this feature is standard on all trim levels of this new ES but man is this setup conservative. We can't think of another vehicle on the market today that keeps as much distance between itself and the vehicle in front of it. This causes countless cars to cut in between us when in traffic -- causing the system to just create more space. So we skipped using it altogether unless the freeways were relatively clear.

No all-wheel-drive option. Many of the ES' competitors offer AWD at least as an option but not the Lexus - it's front-wheel-drive only. Adding this feature would expand the appeal of the ES in areas where nasty winters have a big impact on the kinds of cars people buy. Not to mention its performance street cred.

Infotainment setup. We don't love the interface Lexus uses for its infotainment system. It's a touchpad mounted in the center console that controls the large screen in the dashboard. Despite using it for several years across nearly its entire vehicle lineup, Lexus still hasn't perfected it and there are a variety of systems on the market that perform better and that are more intuitive.
---
5 stars of execution
Safety Features? YES
Every Lexus ES comes standard with a wide variety of active safety features. This might seem like a no-brainer considering it's a luxury car but you'd be surprised how many luxury brands (particularly the Germans) don't offer this standard.
These features on the ES include pre-collision warning and braking with cyclist and pedestrian detection, lane-departure warning and assist and adaptive cruise control.
Value? YES
Compared to many of its rivals and given the amenities that come standard even on the base model, the ES isn't a bad deal.
The gas-powered ES 350 starts at $40,625 (including destination) and comes with essentially everything you'd want in a luxury car (faux-leather seats, sunroof, 10-speaker stereo system, wifi, a stout powertrain, stylish interior and exterior and the aforementioned safety tech).
The best part about the ES is that every version -- from the base to the loaded hybrid -- looks more expensive than it is.
Efficiency? YES
As we mentioned, our ES 300h hybrid test model out-performed its EPA rating; in a week of mostly highway miles we averaged 45.6 MPG.
The gas ES 350 isn't quite as green but it's still rated at a respectable 33 MPG in highway driving -- better than most of its peers.
Driving experience? YES
This isn't a sport sedan -- Lexus offers the smaller IS and the larger GS for that. So if you go into the ES knowing it's aiming for comfort and civility rather than tire-smoking performance, you're going to be pleased.
As we mentioned, the ride is serene and the hybrid powertrain makes just enough power --215 horsepower to get by. The gas model's 301 horsepower will be a certain bonus.
We just wish the ride quality was better -- blame the thin tires on our tester.
Execution? YES
This is an excellent luxury sedan. It's remarkably well-rounded and offers luxury buyers everything they want or need in a sedan.
The size and styling make it seem like it should cost more than it does.
It won't handle like a rear-wheel-drive BMW, but it should appeal to a wide variety of shoppers.
Total Rating: 5 stars
---
What's it gonna cost me?
The base ES 350 starts at $40,625 and comes with the V6 engine and eight-speed automatic transmission, faux-leather seats, a sunroof, Wifi connectivity provided by Verizon, an eight-inch color display screen for the infotainment system, Apple CarPlay and Bluetooth connectivity, dual-zone climate control, three drive modes, the aforementioned active safety tech and 17-inch alloy wheels.
The ES 300h has all that plus the fuel-sipping hybrid powertrain for $42,435.
From there a variety of packages and a la carte options add on additional luxury goodies.
The $2,655 Luxury package adds perforated leather seats, wood accents in the interior, 10-way power front seats, heated and cooled front seats, acoustic side glass and rain-sensing wipers. This is the package we'd add to either model of the ES. We'd add to that the $500 panoramic moonroof upgrade since that's a bargain for letting all that light into the cabin.
The $3,650 Ultra Luxury package includes high-end semi-aniline leather seats, a power rear sunshade, a retuned suspension, hands-free trunk opener and more.
Finally, the F Sport package is available on the ES 350. For a total of $45,160, buyers get larger 19-inch alloy wheels, aluminum interior trim, active noise canceling, a sport-tuned suspension rear spoiler, larger digitial instrument panel and minor trim upgrades inside and outside the car.
---
Also consider
There are a wide variety of midsize luxury sedans on the market; some are more direct competitors than others. Yes, a BMW 5 Series or Mercedes-Benz E Class may be in the same general segment, but they're very different beasts and most people aren't cross-shopping those German models with this ES. Here are some other, more direct competitors to the ES:
Acura TLX: This is a more sporty alternative to the ES from Honda's luxury division, Acura. It has great styling and a choice of four or six-cylinder engines (plus optional AWD). But this generation of TLX is getting a bit old and it's not as well-rounded a luxury player as the ES.
Genesis G80: A nice alternative, especially since it comes standard in rear-wheel-drive and offers all-wheel-drive as an option. It's a nice size -- plenty big for nearly any need. But its actual luxury quotient still can't match the Lexus ES.
Volvo's S60: This is all-new for 2019 and early reviews are largely positive. It boasts great styling inside and out and comes with a sophisticated European flair. But concerns over Volvo's reliability have plagued the automaker recently.
We would skip the likes of Lincoln's MKZ and Buick's Regal and Lacrosse; they just can't compete.