The Mini Cooper is a subcompact hatchback. It is available in both two and four-door models, with a convertible version offered as well. The current version first appeared for 2014 and received some changes for 2019 and 2020.
The Mini hatchbacks compete with retro-inspired vehicles such as the Fiat 500 and Volkswagen Beetle, as well as some other subcompact vehicles such as the Toyota Yaris, Honda Fit and Chevrolet Sonic. The more performance-oriented Cooper S and John Cooper Works (JCW) models rival sporty versions of small cars like the Volkswagen Golf GTI and Honda Civic Si.
Recent updates to the Cooper include the availability of LED taillights, Apple CarPlay, and the addition of mobile device wireless charging. The Mini's infotainment system and trim options have also been slightly updated.
The Mini, designed by parent company BMW, is an iconic brand, and the original British Mini from 1959 heavily inspires the current hatchbacks. It is similar to the Volkswagen Beetle and Fiat 500 in the way it has retained its classic shape, feel and heritage.
Not at all old school are its sporty driving characteristics, technology options and quality interior, the new Mini brings the past and the present together in a way that few other vehicles can. It is not offered as a sedan, like many others in the class, but it is offered as a two-door, four-door, or convertible, which expands its appeal.
Exterior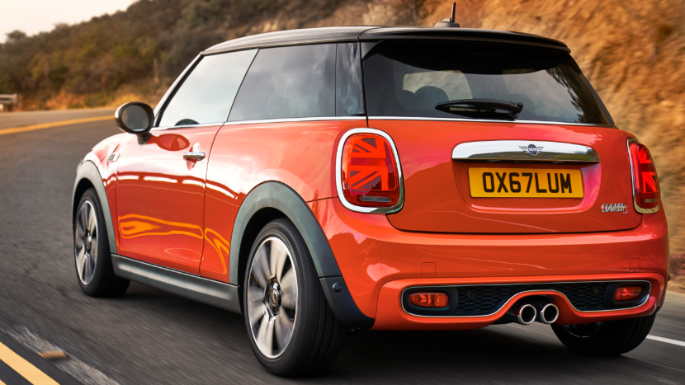 The Mini Cooper blends classic styling elements with modern touches.
Its large, round headlights are an unmistakable part of the Mini's identity. Projector beams and LED headlight options make the Cooper look and feel modern, even with its classic styling.
Numerous color options and combinations give the Cooper a playful and "cute" look. Dual color options for the body and roof are available with the iconic Union Jack and piano black also being available paint options for the Mini Cooper hardtop roof.
The Mini Cooper is one of the smallest vehicles sold in the U.S. today. The four-door version is slightly longer than the two-door and convertible, which gives the Mini a somewhat elongated and disproportionate appearance to accommodate an extra pair of doors and a modest increase in interior space.
The Mini's canopy is flat on top and upright. The rear window is not raked as heavily as some other hatchbacks in the class, allowing the Cooper more room for cargo space than some others.
Large 17 and 18-inch wheel options make the high-end Cooper JCW look fast and sporty. Standard wheel size on Cooper models is only 15 inches, tiny by today's standards, yet appropriate given the Mini's small stature. However, reviewers also say the smaller wheels improve the Mini's firm ride quality.
Interior Quality and Comfort
Almost all reviewers of the Mini Cooper praise its high-end interior feel. Testers note that fit-and-finish is well above average with quality materials used throughout the cabin. Switches and buttons are reported to have a good feel and positive feedback. Reviewers note that little feels or looks cheap.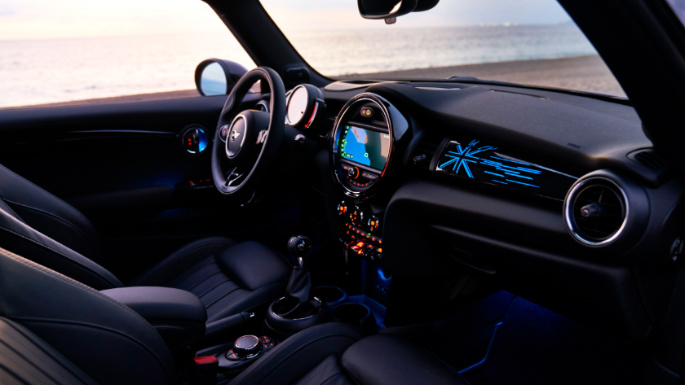 The rounded exterior design language translates to the interior, with the center console, steering wheel elements, and other places throughout the cabin containing circular elements and panels.
Comfort is only average, according to reviewers. Seats are noted to be comfortable, though narrow, with good lumbar support, adequate bolstering, and comfortable cushioning. Headroom and legroom are not surprisingly lacking compared to competitors, according to reviewers.
Though legroom is generally tight throughout the subcompact class, the Cooper still lags behind some rivals, especially for the rear seats. The four-door Mini Cooper helps mitigate some of the back seat tightness and entry but doesn't eliminate it. More traditionally shaped rivals like the Honda Fit are more accommodating in this regard.
Ride comfort detracts slightly from the comfort of the seats. The Mini Cooper is one of the sportier options in the class because of its suspension, and reviewers note that the ride can be harsh, especially in the more sporting Cooper S and John Cooper Works versions.
Utility & Practicality
Both utility and practicality are below average for the class, though the extra length afforded by the four-door models help.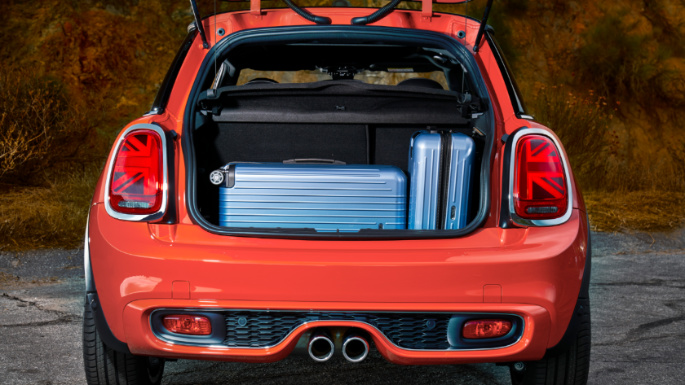 Two-door models give its buyers 8.7 cubic feet of cargo space, and four-door models offer 13.1 cubic feet of space with the rear seats in place. These figures are small, even for the subcompact class. With the rear seats folded down, the two-door Cooper increases cargo capacity to 34 cubic feet. The four-door offers up to 40.7 cubic feet of space. That is also on the low end of the class.
A flat cargo load floor with a floor that's adjustable for height is one trick the Mini uses to boost its practicality. Plentiful other storage compartments throughout the cabin are small but present.
Getting in and out of the Cooper is noted to be easy, especially for front seat passengers. Visibility, as pointed out by almost all reviewers, is much better than average and is one of the highlights of the car.
Technology & Infotainment
The Mini received an infotainment system upgrade for the 2019 model year and is based on BMW's iDrive infotainment system.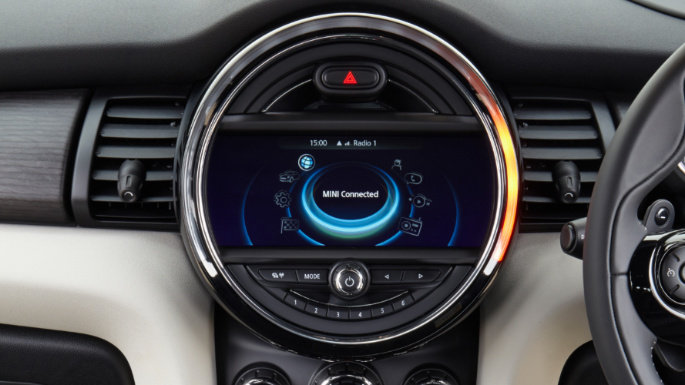 Testers note that the Mini Connected infotainment system is easy to use with a minimal learning curve and better than average voice controls. The base system comes with a 6.5-inch touchscreen display. Optional infotainment and technology features include satellite radio, a navigation system, Apple CarPlay, a 12-speaker Harman Kardon audio system, and an upgraded 8.8-inch touchscreen infotainment system. But Android Auto is not available.
Another notable feature is the various hues of the Mini's ambient interior lighting. It is customizable via the infotainment screen and adds more styling flourishes to the fun interior design that longtime Mini fans have come to expect.
Safety & Driving Assistance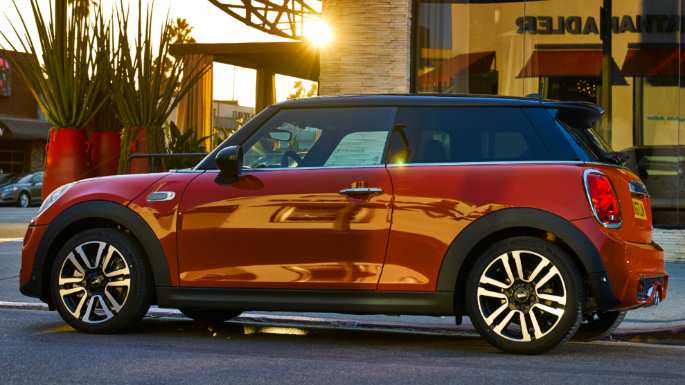 Safety and driving assistance are both average for the class.
The Insurance Institute for Highway Safety gave the 2019 Mini Cooper a Top Safety Pick award, and the National Highway Transportation Safety Administration gave the Cooper four out of five stars in crash test ratings. LATCH child safety seat anchors are standard on the rear seats, but they receive a low score from the IIHS due to its accessibility and difficult ease of use.
Standard safety features include traction control, stability control, a rearview camera, rear parking sensors on the convertible models, and automatic headlights.
Mini offers adaptive cruise control, automatic high-beam headlights and forward collision warning. Automatic emergency braking as part of their Active Driving Assistance suite which is not available on the base model.
Driving Experience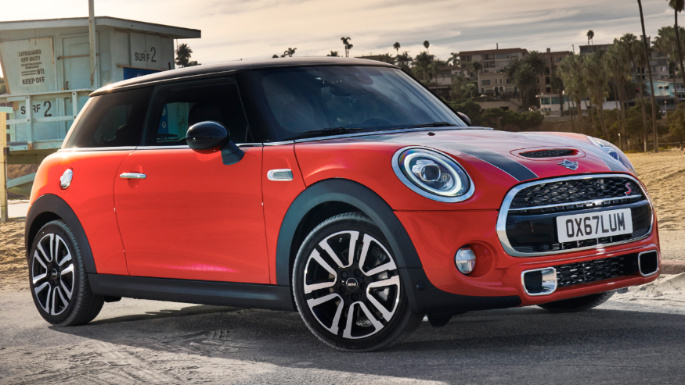 The Mini hatchbacks are almost universally reported to provide a fun and engaging driving experience regardless of trim level. The Cooper S and John Cooper Works variants are noted to be the most engaging to drive, according to reviewers.
The Mini hatchback and convertible models with two engine options, all of which come standard with either a 6-speed manual transmission or an optional 6-speed automatic transmission. The two-door and convertible models are also available as a John Cooper Works model with a more powerful version of the engine found in the Cooper S.
The Cooper trim gets a 1.5-liter turbocharged 3-cylinder which produces 134 horsepower and 162 lb.-ft. of torque. Cooper S cars get a 2.0-liter turbocharged 4-cylinder engine which produces 189 horsepower and 207 lb.-ft. of torque. Top John Cooper Works versions on the two get a 2.0-liter turbocharged 4-cylinder engine which produces 228 horsepower and 236 lb.-ft. of torque.
Even the base model, with only 134 horsepower, provides ample acceleration and handling which allow it to be one of the most engaging vehicles to drive, according to almost all reviewers.
The Cooper S and John Cooper Works variants aim higher. They can even outperform larger vehicles like the Volkswagen Golf GTI and Hyundai Veloster due to its smaller size and weight advantage. Testers universally praise steering and suspension and make the Cooper feel nimble and agile through corners. Both are noted to be sharp and responsive.
All are less impressed with the everyday driving dynamics. Most note that the automatic transmission can be sluggish and finicky on daily commutes, and the stop-start system is noted as more obtrusive compared to other similar systems.
The longer wheelbase of the four-door Cooper is noted to make the driving characteristics more livable on a daily basis. Testers note that the four-door soaks up road imperfections more readily and is less fidgety than the two-door while not sacrificing its fun-factor.
Fuel Efficiency
Fuel economy is good, especially in the base model equipped with the three-cylinder engine.
The base 1.5-liter engine returns an EPA-estimated 28 mpg city and 38 mpg in highway driving when equipped with the six-speed manual transmission. The automatic transmission returns slightly worse averages of 27 and 35 mpg city and highway.
The 2.0-liter engine in the Cooper S returns 23 mpg city and 32 mpg highway with the six-speed manual transmission. The automatic returns 25 and 32 mpg. The more powerful John Cooper Works model returns the same estimate as the Cooper S on the hatchback, with the convertible version getting 1 fewer mpg in city driving when equipped with the automatic transmission.
Pricing & Value
The Mini Cooper provides would-be buyers with a mixed bag of value propositions.
The base model four-door Cooper offers the most value, with an engaging driving experience, more comfort and space than the base two-door, and a starting price of around $23,500. Pair that with a better-than-average interior, fun styling and a more premium image than a mainstream brand and it could be considered a sound choice over a compact luxury car.
Performance seekers can find ample reason to get a Mini Cooper with any of its engines. All offer spritely acceleration, strong braking, and superior handling capability on par with many larger performance vehicles.
The standard 6-speed manual transmission only adds to enthusiast buyers' advantages and the robust John Cooper Works engine provides best in class performance.
The convertible option contributes to the Mini's fun factor if practicality is not a top priority. Conversely, the four-door options offer a much more practical approach for those who want to use the rear seats more often.
If ride comfort, the latest safety features, and best in class cargo capacity are priorities, the Mini Cooper will not provide a good value. A Honda Fit offers considerably more space for less money, but lacks the distinctive styling of the Mini and has a cheaper feeling interior.
Mini offers more practical models in the Clubman wagon and Countryman SUV.
Moving from the hardtop 2-door to 4-door versions of the Cooper costs $1,000. The automatic transmission option is a $1,250 upgrade on most models.
The Mini Cooper is available in three different trim options with three subtrims available as engine options:
Mini Cooper Classic:
The base model Cooper Classic 2-door hardtop comes standard with the 1.5 turbo engine and starts at $22,750, with destination fee included.
Upgrading to the Cooper S Classic with the larger TwinPower turbo 2.0 four-cylinder engine starts at $26,750, including destination, while the John Cooper Works Classic starts at $32,750, including destination.
The Cooper Classic Convertible starts at $27,750, with destination included.
Standard Cooper Classic features include 15-inch alloy wheels leather-wrapped steering wheel, USB port, leatherette seating, a 6.5-inch touchscreen infotainment system, a six-speaker audio system, Bluetooth, cruise control, ambient lighting, automatic headlights, automatic windshield wipers, and rear parking sensors.
Cooper S Classics come with larger 16-inch alloy wheels while JCW Classics come with 17-inch alloy wheels.
Mini Cooper Signature:
The Mini Cooper Signature 2-door hardtop comes standard with the 1.5 turbo engine and starts at $25,750, including destination.
The Cooper S Signature starts at $30,750, and the John Cooper Works Signature starts at $35,750, both with destination included.
The Cooper Signature Convertible starts at $30,750, including destination.
Standard Cooper Signature features include dual-zone automatic climate controls, heated front seats, proximity key, and a panoramic sunroof for Mini hardtop models.
Notable package options on Signature models include the Premium package, which adds satellite radio, a 12-speaker Harman Kardon audio system, LED fog lights and LED headlights, the Upholstery package, which adds leather seats, and the Touchscreen Navigation package, which adds an 8.8-inch touchscreen display, Apple CarPlay, wireless device charging, and a navigation system.
A head-up display is available as a standalone option.
Mini's optional Driver Assistance package adds adaptive cruise control, front parking sensors, and a parallel parking assist system.
Cooper S Signatures offer the choice of 16 or 17-inch alloy wheels while the JCW Signature comes with 17-inch wheels.
Mini Cooper Iconic:
The Mini Cooper Iconic 2-door hardtop comes standard with the 1.5-liter turbo engine and starts at $30,750, with destination included.
The Cooper S Iconic two-door hardtop starts at $34,750, including destination, and the Cooper JCW Iconic two-door hardtop starts at $40,750, including destination.
The Convertible Cooper Iconic starts at $35,750, including destination.
All package options from the Cooper Signature are standard on the iconic with larger 16-inch alloy wheels as standard on the base Iconic. The lone option is Mini's Driver Assistance Package.
Fully loaded, a JCW Cooper Iconic Convertible will cost about $48,000.
All Cooper S subtrims come with sports front seats, paddle shifters with the automatic transmission option, selectable driving modes, dual exhaust tips, and unique styling elements alongside each trim level's standard features.
All John Cooper Works subtrims come with sports seats, a sports steering wheel, tuned suspension, LED headlights, a choice of 17 or 18-inch wheels, a rear spoiler, and special exterior and interior design elements. The JCW model is not available on 4-door versions.
More Photos