This expert review is sourced from Autolist's sister company CarGurus. For the original article, please click here.
---
Overview:
You might have noticed that Americans have stopped buying cars. That trend hasn't gone unnoticed at General Motors, where, starting with the 2021 model year, just three sedans rema in on sale. They are the Chevrolet Malibu, the Cadillac CT4, and the Cadillac CT5.
Featuring a new nameplate attached to a restyled older car, the Cadillac CT4 is best described as a four-door Chevrolet Camaro, but with an extra layer of quality and sophistication. And while that layer is disappointingly thin, the car's base price is surprisingly low.
---
Look and Feel 7/10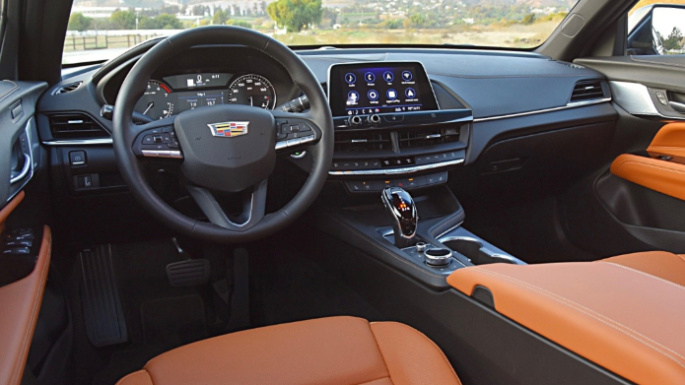 Restyled front and rear, and equipped with new wheel designs, the 2020 Cadillac CT4 distances itself enough from the old Cadillac ATS that many people might not notice its lineage. The resulting design looks terrific until you round either rear corner to view it from behind, where an intersection of different lines, angles, themes, and surfaces results in an incohesive and unfinished look. If nothing else, you can call it distinctive.
Cadillac sells the CT4 in standard Luxury trim. From there, you decide whether you want softer Premium Luxury, or firmer Sport or V-Series trim. Note that the 2020 Cadillac CT4 V is not the same as the upcoming Cadillac CT4-V Blackwing, which will significantly increase power and performance. Turbocharged four-cylinder engines and rear-wheel drive are standard, with optional all-wheel-drive.
Prices start at a remarkably low $32,995, while a V-Series with AWD kicks off at $45,595. Our test car had Premium Luxury trim, the standard turbocharged 2.0-liter four-cylinder engine, and AWD. To this, Cadillac added a navigation system, a Bose premium sound system, wireless smartphone charging, a Driver Awareness Package, and a Climate Package. The window sticker read $44,190, including a mandatory $995 destination charge
Draped in Black Raven paint (one of two free colors), rolling on attractive 18-inch split-spoke aluminum wheels, and featuring Cinnamon perforated leather, the test car looked tastefully upscale. And in terms of its controls and layout, the new interior is a vast improvement over the old ATS. All of the glossy black plastic and the fussy touch-sensing controls are gone from the dashboard, replaced by classy piano-key buttons, easily grasped knobs, and GM's corporate infotainment system.
As visually appealing as the car's cabin is, even a cursory examination of the interior reveals one reason Cadillac can sell a base CT4 for so little money. From flimsy door-panel storage pockets to glossy plastic seat-base coverings, there are several examples of inexpensive materials that are easy to accept at the base price but not where well-equipped versions of the car transact.
Plus, it smells like a new Camaro inside. Perhaps this should come as no surprise, given that it rolls off of the same Lansing, Michigan, assembly line and shares the Camaro's platform and standard powertrain. But the olfactory connection, combined with the CT4's driving dynamics, makes it easy to think of this Cadillac as a four-door Camaro.
---
Performance 7/10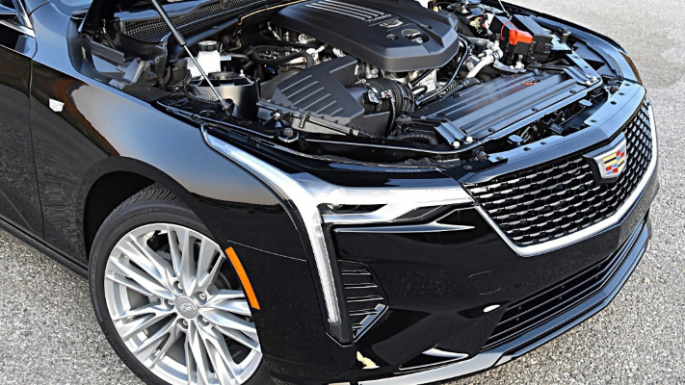 Cadillac employs a turbocharged 2.0-liter four-cylinder engine as the standard power plant for the new CT4. It whips up 237 horsepower at 5,000 rpm and 258 pound-feet of torque between 1,500 rpm and 4,000 rpm, which is plenty to motivate the test car's 3,455-pound curb weight. Donated by GM's full-size pickup trucks, a turbocharged 2.7-liter four-cylinder is also available, supplying up to 325 hp and 380 lb-ft of torque.
An eight-speed automatic transmission is offered with the base engine. The larger 2.7-liter turbo engine uses a 10-speed automatic. Drivers can select between Tour, Sport, Track, and Snow/Ice driving modes. These settings adjust transmission behavior, the torque split for the AWD system, and how the steering and brakes respond. A configurable MyMode is also available, and the CT4 V has an exclusive V-Mode.
Cadillac says the CT4's front-to-rear weight distribution is nearly 50:50, an implicit promise of impressive athleticism. Naturally, though, the car's driving character depends on engine choice and whether you choose Luxury or Premium Luxury trim, or the Sport or V-Series trim.
They all have variable-assist, rack-mounted electric power steering and Duralife brake rotors, but the Premium Luxury we tested sticks with what Cadillac says is a "ride and handling" suspension and self-sealing all-season tires. For maximum performance, you'll want the stiffer Sport or the adaptive-damping V-Series suspension tuning, as well as their run-flat performance tires, Brembo front brakes, and other tweaks meant to improve driving dynamics.
Our test car's acceleration proved speedy, the eight-speed automatic transmission transparently performing its tasks. But the engine sounds awful. You expect a loud, bleating groan from a four-cylinder engine installed in a more basic set of wheels, but when the badge outside says Cadillac, more isolation and refinement is a requirement. And Cadillac did not check this box in creating the CT4.
Drive with enthusiasm in Sport mode, and the transmission holds gears to keep the engine in the thick of its powerband. But the resulting soundtrack ruins the experience. Switch to manual shifting, and now you control the revs. And while downshifts are crisp, upshifts feel slushy. The feel and sound remind us of a continuously variable transmission (CVT). And no, that is not a compliment.
Furthermore, the Premium Luxury model's suspension allows too much body movement, especially in terms of excessive bounce from the rear end when passing over speed humps or dips in the road. Perhaps the CT4 Sport's firmer tuning solves this problem. If you upgrade to the CT4 V, the car has Magnetic Ride Control 4.0, a next-generation adaptive-damping suspension that is undoubtedly superior when it comes to ride and handling qualities.
In addition to the racket from the engine bay, plenty of road noise makes its way into the cabin unless you're traveling on a smooth, perfect road surface, like the blacktop covering the Dennison Grade, where California 150 dips down a mountainside into Ojai.
Here, the car clearly reveals its original mission to take on the best from Germany. Fast, precise steering and stout, easily modulated brakes contribute to the fun. The CT4's all-season tires get a little squishy at times, but the AWD helps pull the car past curve apexes and onto the next straight.
And then, as you press on the accelerator and engine revs climb, your smile turns into a grimace.
After driving all of the back roads between suburban Los Angeles and Santa Barbara, we cruised home along the coast on highway 101. Here, the CT4 shined brightly. Stable, secure, and remarkably quiet on the near-flawless concrete freeway, this Cadillac effortlessly slices and dices traffic. This environment is where we most enjoyed the CT4, the car hinting at what it could be if only its maker could eradicate the whiny engine note.
Over the course of 141.9 miles, the CT4 averaged 25.5 mpg, coming up just short of its official EPA fuel-economy rating of 26 mpg in combined driving.
---
Form and Function 5/10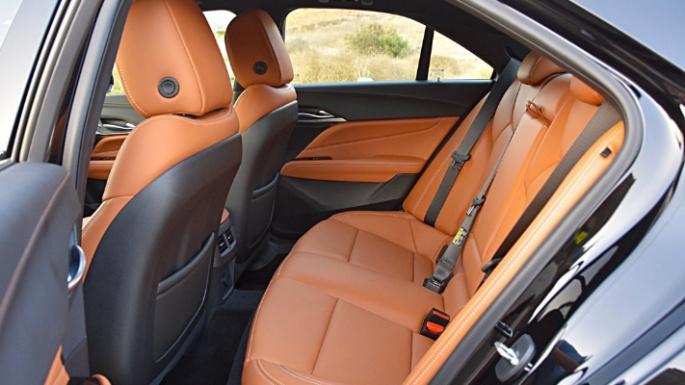 When Cadillac originally engineered the ATS, it wanted the compact car to compete head-to-head with the BMW 3 Series sport sedan in terms of its ride and handling. This objective required a RWD platform, which forced compromises in terms of passenger room and trunk space.
With the CT4, Cadillac does nothing to resolve this. But to be fair, the car's primary competitors, including the Audi A3, BMW 2 Series Gran Coupe, and Mercedes-Benz A-Class and CLA, aren't exactly paragons of comfort and utility.
Snug but supportive, and wrapped in soft, quality leather, the test car's front seats had 12-way power adjustment, helping the driver and front passenger alike to find a proper position. However, depending on how you sit behind the steering wheel, the center console may rub your right leg in an irritating manner.
A heatwave gripped Southern California during our time in the CT4, and the air conditioning blasted hard and cold, rapidly transforming the cabin into a blessedly cool sanctuary. Thanks to the optional Climate Package, the test car also had heated and ventilated front seats and an automatic heated steering wheel, an excellent addition for people who live where it gets cold in the winter.
Due to the small door openings, sharply angled roofline, and cramped quarters, getting into and out of the CT4's back seat requires deliberate planning. Once you've folded yourself into the car, comfort is adequate for short periods. It doesn't take long for claustrophobia to set in. However, the seat itself is supportive, and rear air conditioning vents help keep occupants cool.
Interior storage is decent, and the test car had a handy wireless smartphone charger on the center console. Trunk space, however, is stingy. With just 10.7 cubic feet of cargo space, an uneven trunk floor, a small opening, and a high liftover height, you'll need to pack carefully. Saving graces include enclosed trunk hinges and a grip to use to swing the lid shut.
---
Tech Level 9/10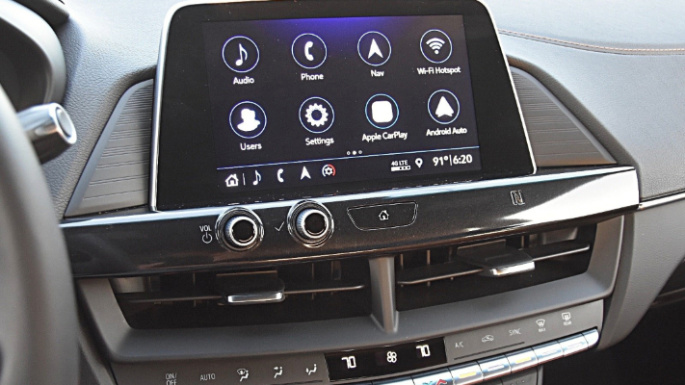 Original iterations of the Cadillac User Experience (CUE) infotainment system gave the practice of UX a bad name. Intended to make new Cadillacs look modern and sophisticated, CUE's design and implementation were disastrous from a driver-distraction standpoint. Gratefully, Cadillac has abandoned that approach with the new CT4, which has standard-issue GM technology powering its infotainment system.
Cadillac still refers to its latest infotainment technology as CUE, but this iteration truly does offer a satisfying user experience. It has an 8.0-inch touchscreen display with high-resolution graphics, a simple menu structure, and quick response to inputs. Dashboard knobs adjust stereo volume and tuning, and a large Home button takes you back to the main infotainment screen. Better yet, it has natural voice-recognition technology that accurately responded to our standard list of prompts without any issues. Redundant controls similar to what you'd find in the German competition reside on the center console, taking up unnecessary space.
Standard Apple CarPlay and Android Auto allow you to run smartphone apps, while Near Field Communication Bluetooth pairing simplifies your life. And the system also offers Cadillac Connected Services through OnStar, ranging from Teen Driver report card technology to a 4G WiFi hotspot, automatic collision notification, SOS emergency calling, and much more.
If there is a complaint to be made against CUE, the manual tuning operation makes no sense. Twist the knob to launch the tuning function, and it starts you off two SiriusXM satellite radio stations down from what you're currently listening to. Thus, if you want to switch from Alt Nation (channel 36) to SiriusXMU (channel 35), you need to remember that you will start on Lithium (channel 34). We do not understand the logic here.
Additional technology for the CT4 includes a head-up display, a larger 8.0-inch driver information display, and an interior air-ionization system. They are part of an appropriately named Technology Package that was missing from the test vehicle.
---
Safety 7/10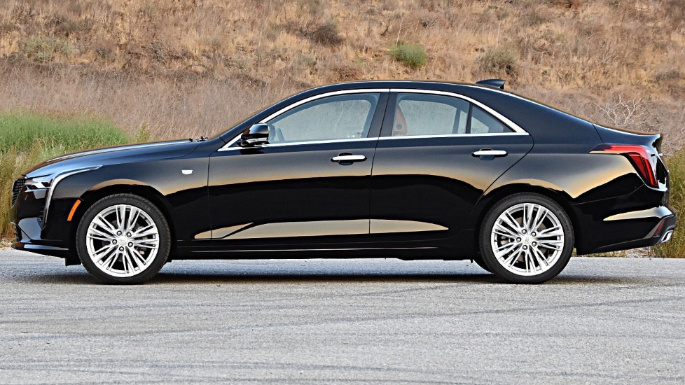 Another reason Cadillac can sell the CT4 for so little money is that it comes without any standard advanced driving-assistance systems (ADAS). If you want forward-collision warning or low-speed automatic emergency braking with pedestrian detection, you must upgrade to Premium Luxury, Sport, or V-Series trim. Then, once you've upgraded, you must select the Driver Awareness Plus Package and the Driver Assist Package to get the full set of ADAS.
The test car had the former but not the latter. As such, it offered lane-departure warning, lane-keeping assistance, blind-spot and lane-change warning, rear cross-traffic warning, and automatic high-beam headlights. It still lacked the Driver Assist Package's adaptive cruise control, all-speed automatic forward emergency braking, and a rear emergency braking system.
Given the test car's specification, we couldn't sample certain ADAS features. The lane-keeping assistance system works subtly, the blind-spot warning system is helpful when threading traffic, and the standard Safety Alert seat issues vibrations when the driver needs to pay special attention.
For example, when the CT4 approaches a school zone, the Safety Alert seat vibrates to get your attention. Naturally, you look down at the instrumentation and the infotainment screen to determine why the seat is vibrating. Lo and behold, Cadillac provides a message, explaining that you're approaching a school zone.
This entire approach should serve as a model for the industry. The Safety Alert seat tells the driver something needs extra attention, and then the car tells the driver why the seat is vibrating. Plus, as any parent can understand, school zone alerts are downright brilliant.
How well does the Cadillac CT4 protect you in a collision? As this review is written, the jury is out. Crash-test results are not available.
---
Cost-Effectiveness 3/10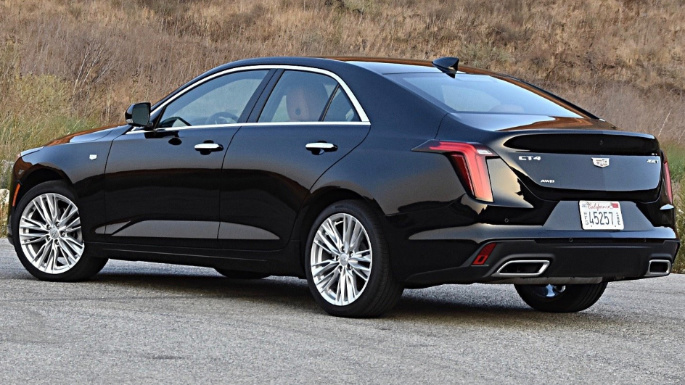 On the surface, the 2020 Cadillac CT4 appears to be a cost-effective way to purchase a legit luxury sport sedan. But the car's lack of standard features and lack of powertrain refinement make larger, better equipped, and more sophisticated certified used vehicles even more appealing.
Simply put, it's unclear, aside from the badges, what makes the CT4 a Cadillac. Primarily, the blame for this rests squarely with the standard turbocharged four-cylinder engine. It ruins an otherwise enjoyable driving experience. But Cadillac's "everything is optional" approach to equipment rapidly erodes the CT4's value equation, too.
Plus, Cadillac says the CT4 is aimed at younger buyers, but those willing and able to spend more for a luxury car likely seek the cachet associated with a competing brand. Unless Cadillac suddenly became cool again while we weren't looking, that's an unlikely scenario.
That leaves the CT4 to appeal to driving enthusiasts who can appreciate the car's balanced, rear-drive architecture and enjoyable driving dynamics. However, unless you're a dedicated "buy American" type, this also changes the competitive landscape to include the superior Genesis G70, which also offers significantly more value even if its base price is a few grand higher