Summary
The 2019 Chevy Traverse is a three-row, midsize crossover SUV which is currently in its second generation.
It competes with other crossover SUVs like the Ford Explorer, Mazda CX-9, Honda Pilot, Nissan Pathfinder, Volkswagen Atlas, Toyota Highlander, Subaru Ascent, and Kia Telluride, along with its GM siblings, the GMC Acadia and Buick Enclave.
Some reviewers note that the top trim levels of the Traverse edge into luxury SUV territory with its extensive amount of features, rivaling the Volvo XC90, Infiniti QX60, and Acura MDX.
The 2018 Traverse saw a complete redesign, so new features and design elements for 2019 model year are limited to an upgraded wheel option for a few trim levels.
Despite not adding any significant new features for 2019, the 2018 redesign places the Traverse squarely in the crosshairs of its competition.
It offers copious amounts of space, comfort, and family-friendly features. Its choice of trim levels, variety of price points, and plentiful standard features make the Traverse readily available for a wide range of demographics.
Exterior
The Traverse is a handsome and stylish SUV that falls somewhere between refined and conventional.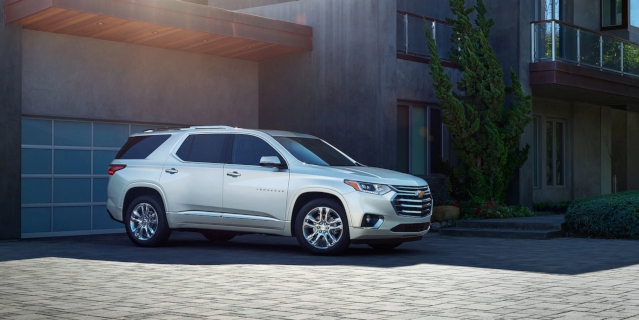 It is not as stoic and chiseled as its full-size sibling, the Chevrolet Suburban, but it also doesn't look aggressive and sharp like the Mazda CX-9 or the Toyota Highlander.
Like many other SUVs today, the Travers has a massive grille. Unlike most other SUVs, it doesn't look abnormal or out of place. Its fascia is well rounded and leads nicely into the side and rear bodywork.
The large C-pillar is the most prominent feature on the side of the SUV. The rear window has a concealed D-pillar behind the privacy glass, making it look smooth and continuous.
A large, squared canopy with soft edges adds to the Traverse's traditional appearance.
The Traverse does not look sporty or athletic. Even the 20-inch wheel upgrade is balanced out by the Traverse's overall size.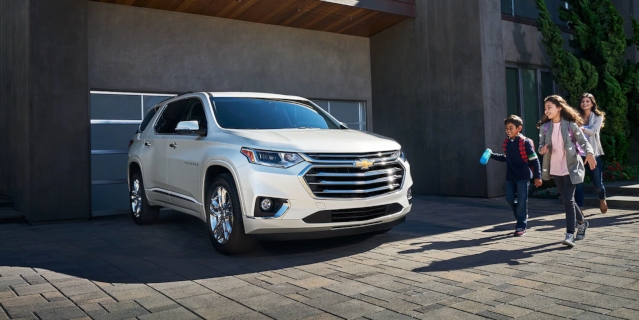 The Redline package and RS trim both replace chrome accents with black trim pieces, giving the Traverse a more sporty overall appearance for those who want it.
Interior Quality and Comfort
Reviewers praise interior comfort as one of the best in the class.
They note that the seats offer good support and comfortable bolstering with plenty of lumbar support. Heated and ventilated seating options on some trim levels add a touch of luxury for both the front seats and second-row seats.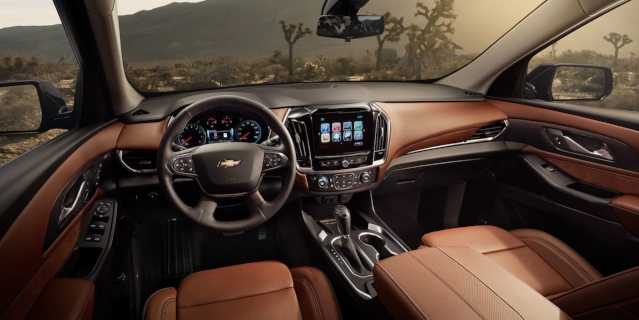 Interior space is best in class and adds to the overall comfort levels. Even the third-row seats can accommodate typically sized adults, which is not the case in most midsize SUVs. Legroom is best in class for both second-row seating and third-row seating, with plenty of headroom as well.
Interior noise levels suffer slightly from the V6 engine drone at higher speeds but are generally kept at a minimum, according to reviewers.
Interior quality takes a hit with reused parts from the General Motors parts bin. That aspect bothered many reviewers, especially on the higher trim levels.
Though some plastic trim pieces and cloth seating is expected on lower trim levels, reviewers expect more from the Traverse, considering that many competitors have more upscale interiors at comparable price points.
Utility & Practicality
Even with a locking rear differential on the High Country trim level of the Traverse, the only real area of utility lacking in the Traverse is its inability to do some serious off-roading.
The Traverse is large enough to accommodate seven adults, has a class-leading 98 cubic feet of storage capacity when the third-row seats are folded down and can tow up to 5,000 pounds when equipped with the Trailering package.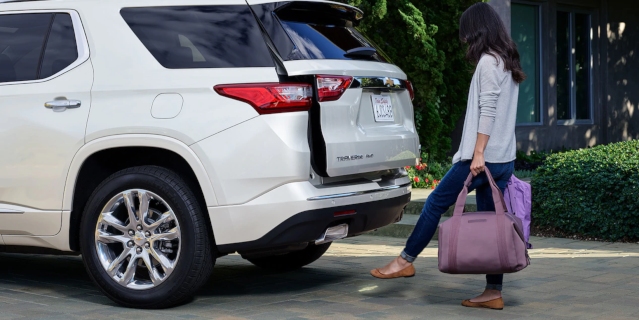 Even when all seats are folded up, the cargo area contains 23 cubic feet of space. Rear liftover height is acceptable, and the load floor is about average height for the class.
Getting in and out of the Traverse is more accessible than most reviewers expect. The SUV looks higher than it is. Reviewers note that climbing into the third row is also much more comfortable than expected with its SmartSlide second row.
Interior storage is average for the class with an adequate amount of cup holders and storage compartments scattered throughout the cabin.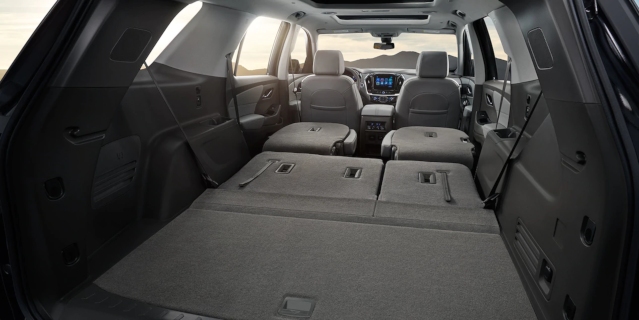 Technology & Infotainment
Technology and infotainment features are other areas in which the Traverse does well among its competitors.
A 7-inch touchscreen MyLink infotainment system is standard with an available 8-inch MyLink infotainment system upgrade on higher trim levels. Also standard are Apple CarPlay and Android Auto, a Wi-Fi hotspot, OnStar, Bluetooth, and voice controls.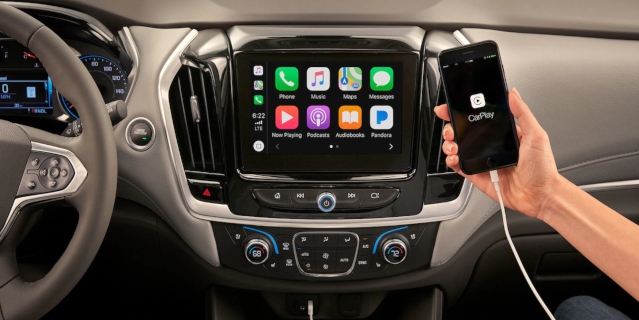 A 10-speaker Bose audio system, rear seat entertainment system, satellite radio, and navigation system are available on higher trim levels.
Notable technology features include a power liftgate, wireless smartphone charging pads, and tri-zone automatic climate controls.
Safety & Driving Assistance
Safety and driving assistance features are plentiful, but many are only available on the highest trim levels of the Traverse. These drive the price up quickly if added as optional extras.
Standard safety features include traction control, electronic stability control, a rearview camera, and Teen Driving System, which allows parents to set vehicle parameters, gather driving data, and even alert them when a collision is detected.
A full slate of driver assistance aids are available on the Traverse and include low-speed emergency automatic braking, lane departure warning; lane keep assist, rear cross-traffic alert, forward collision warning, emergency pedestrian braking, blind spot monitoring, and parking monitors.
A LATCH child safety seat system is standard.
Beyond the active safety features the Traverse offers, the NHTSA also awards it with a five-star overall crash test rating for 2019.
Driving Experience
The driving experience of the Traverse is more akin to a luxury SUV than a sporty one. Reviewers note that power is adequate, regardless of the engine choice, but the handling is lackluster and uninspiring.
The Traverse RS is the only trim which comes standard with a turbocharged 4-cylinder engine. All the rest of the trim levels receive a 3.6-liter V6 engine, which was mostly carried over from previous years but has been upgraded to make more power.
The 2.0-liter 4-cylinder turbocharged engine, only available on the RS trim, comes with 257 horsepower and 295 lb-ft. of torque.
The 3.6-liter V6 engine, equipped on all trims but the RS, produces 310 horsepower and 266 lb-ft. of torque.
All engine options are mated to a 9-speed automatic transmission and are equipped with an engine start-stop system that is unable to be turned off.
Most reviewers find the engine and transmission combination to work well especially in city driving.
The 2.0 liter 4 cylinder engine isn't as powerful as its V6 counterpart, but its additional torque gives it good off-the-line power. The V6's extra power also gives it the necessary punch needed to get it moving.
Acceleration is good for the class with a reported 7.1 second 0-60 mile per hour time.
All testers who drive the Traverse universally praises ride quality. It is comfortable and floaty, which testers note is better than almost every other SUV with which it competes.
That doesn't come without drawbacks. With the Traverse's excellent driving comfort comes a distinct lack of feel, handling ability, and prominent body roll, according to reviewers.
While no reviewers are surprised with this trade-off, it doesn't affect how most will use the SUV. Stop-and-go city driving and highway trips rarely require refined vehicle handling and won't affect many buyers' purchasing consideration, according to testers.
Steering wheel feel is noted to be slightly numb but easy to turn. Braking is smooth and linear with a solid feel throughout the pedal travel, according to testers.
Fuel efficiency
Fuel economy is near the top of the class when compared to its competitors.
The 2.0-liter turbocharged 4-cylinder engine provides an EPA-estimated 20 miles per gallon in the city and 26 miles per gallon highway.
The 3.6-liter V6 engine provides better fuel economy in highway driving at an EPA estimated 27 miles per gallon but fell short of the smaller engine in city driving with 18 miles per gallon.
Adding the all-wheel-drive option to the V6 engine lowers EPA estimates to 17 mpg in the city and 25 mpg on the highway. The 2.0-liter engine is not available with all-wheel drive.
Taking the Toyota Highlander Hybrid out of the equation, the Chevy Traverse falls just short of the Mazda CX-9, Subaru Ascent, and Honda Pilot for best in class fuel economy.
The CX-9 has it squarely beat with a 22 mpg city and 28 mpg highway fuel economy estimates. The Traverse matches the Ascent and Pilot in highway fuel economy at 27 miles per gallon, but loses out in city mileage estimates, bringing its overall rating down.
Pricing & Value
The Chevy Traverse presents a mixed bag of value propositions depending on the trim level selected.
The SUV presents a good value if buyers opt for the LS or LT trims. There are a host of standard features equipped on the lower trim levels with some not available on competitors. Several option packages are also available to add non-standard features.
Higher trim levels of the Traverse, notably the High Country trim, don't provide as good of value due to the relatively high price tag compared with the competition.
Regardless of which trim level buyers select, the Traverse remains a slightly better than average value as it provides best in class ride quality, some of the best passenger and cargo space in the class, and good fuel economy.
If buyers want an SUV that handles well and that comes with most safety features available on the market today, the Traverse will not present a good value. Even though plenty of safety features are available on the Traverse, they come at a premium price.
A nine-speed automatic transmission is the only available transmission option for all Traverse models. The 3.6-liter V6 engine is standard on all models except for the RS trim which is powered by the 2.0-liter turbocharged 4-cylinder engine.
Front-wheel drive is standard on all trim levels except the High Country and is the only available drivetrain option on the base model L and RS trims. All-wheel drive is available for an additional $2000 on all trims except for the base L and RS.
The Chevy Traverse is available in seven different trim options:
Chevrolet Traverse L:
The base Chevy Traverse L starts at just over $31,000 with destination included.
Standard features include LED daytime running lights, a 7-inch MyLink touchscreen infotainment system, Android Auto and Apple CarPlay, tri-zone automatic climate controls, HID Xenon headlights, OnStar, Teen Driver safety system, a 4G LTE Wi-Fi hotspot, and automatic start-stop system.
It should also be noted that the Traverse L can seat up to eight people because the second-row seat is a bench seat rather than split second-row captain's chairs. It and the next trim level up are the only trim levels to have this feature. All other trim levels can seat up to seven people.
Chevrolet Traverse LS:
The LS trim starts at just over $34,000 with front-wheel-drive equipped, including destination. All-wheel drive is optional and will bring the price up to $36,000.
The LS comes with all the features available with the L trim with the option to add all-wheel drive and a rear seat entertainment system, including tablet mounts.
Chevrolet Traverse LT Cloth:
The Traverse LT Cloth seating is available starting at just over $36,500 with front wheel drive equipped, including destination. Adding all-wheel drive will bring the price to around $37,750.
The LT Cloth is equipped with a power-adjustable driver's seat and roof rails.
This trim also adds some available package options which automatically include all-wheel drive.
The Convenience and Driver Confidence package comes with several notable safety features including blind spot monitoring, rear parking sensors, and rear cross-traffic alert. It also adds technology features such as a power liftgate, remote start, heated front seats, and the upgraded 8-inch MyLink infotainment system.
Also available is the Trailering package which adds a more robust cooling system and a trailer hitch.
Chevrolet Traverse LT Leather:
The LT Leather trim starts at $40,250 with front-wheel drive equipped and includes destination. All-wheel drive brings this price up to around $42,250.
All of the Convenience and Driver Confidence package features from the LT Cloth come standard on the LT leather. The Trailering package is still available as an extra as is a panoramic sunroof.
A premium package is available for the LT Leather which adds a 10-speaker Bose audio system, upgraded 20-inch alloy wheels, a top-down camera, and a rearview camera that shows in the rearview mirror while in reverse.
Chevrolet Traverse RS:
The Traverse RS is the "sporty" trim among Traverse models and can only be had in front-wheel drive and with the 2.0-liter turbocharged four-cylinder engine. It starts at around $44,250 with destination included.
The Premier package from the LT Leather comes standard on the RS along with distinctive black trim accents that make it look sportier than other Traverse models.
Chevrolet Traverse Premier:
The Traverse Premier starts at $46,750 with front-wheel drive and destination included.
The Premier adds features such as heated second-row seats, ventilated driver and passenger seats, LED headlights, and wireless smartphone and tablet charging pads.
The Trailering package is still available as well as a panoramic sunroof.
An upgraded Driver Convenience II package adds even more safety features to the regular package such as lane departure warning. Lane keep assist, automatic emergency braking with pedestrian detection, and forward collision warning are bundled here.
Opting for all-wheel drive automatically adds both the upgraded Driver Convenience II package and Trailering package.
A Redline package is also available on the Premier. That is essentially the RS trim with everything mentioned above.
Chevrolet Traverse High Country:
The High Country trim is the highest trim level offered on the Traverse and starts at around $54,300 with an upgraded all-wheel-drive system as standard. The all-wheel-drive system comes with a locking rear differential for added utility.
The High Country comes standard with all the equipment from the Premier trim along with some additional safety and technology features. These include adaptive cruise control, an automatic folding third-row, hands-free liftgate, and leather upholstery.
Fully-loaded, a Chevy Traverse High Country can top out at over $60,000.
More Photos
See more 2019 Chevy Traverse Photos.