Autolist rating: 3/5
But would we buy it? Probably
Price range: $73,995 - $97,265 , including destination
---
Key takeaways:
760-horsepower supercharged V8 and seven-speed dual-clutch transmission make this model one to remember.
Most powerful Mustang – or Ford of any kind – that the automaker has sold as a production car.
Combines terrifying power numbers with supreme approachability.
Could serve as both a daily driver around town and a full-bore track weapon on the weekends.
Starts at $74,000 (reasonable) and climbs to nearly $100,000 (far less reasonable).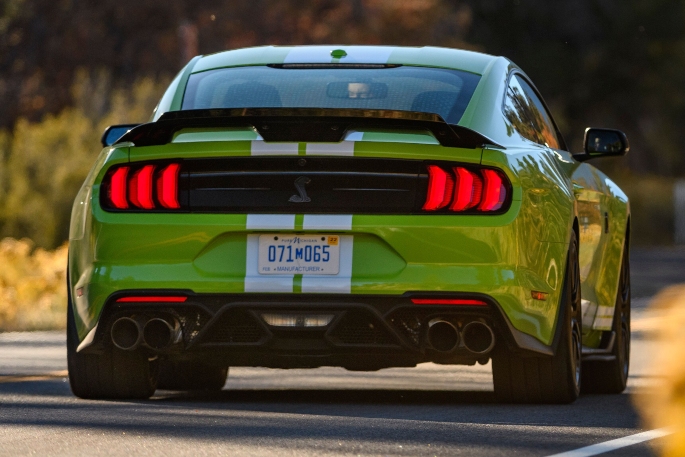 ---
What is it?
The Ford Mustang Shelby GT500 (quite a mouthful) is the most powerful Mustang Ford has ever offered (and indeed it's the most powerful production car the venerable automaker has ever made). Pushing out 760 horsepower courtesy of a supercharged 5.2-liter V8, this uber-Mustang sits atop of prolific range of Ford's iconic muscle car lineup; other models include the Shelby GT350 and GT350R, Bullitt, GT, and a pair of EcoBoost turbocharged four-cylinder models.
The GT500 pays homage to the original GT500 that was launched in 1967 and built for several years; there was also a GT500 iteration of the previous generation Mustang as well.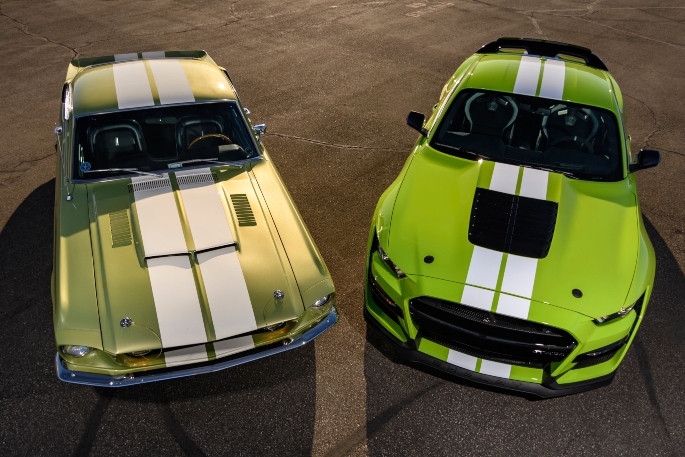 This new model comes with a single powertrain: the aforementioned 5.2-liter, V8 engine, and its supercharger (hand-built no less) that makes 760 horsepower and 625 pound-feet of torque. This immense power is routed to the rear wheels via a new Tremec seven-speed dual-clutch automated transmission with paddle shifters – the first such transmission put in the Mustang in the marque's history.
Ford says this GT500 will do 0-60 in a scant 3.3 seconds, the quarter-mile in 10.7 seconds, and has a 180-MPH top speed. Despite these impressive stats, this is also the heaviest Mustang Ford sells, weighing in at 4,171 pounds for the base GT500 without the optional Carbon Fiber Track pack; for reference, the GT350 with the Track Pack weighs 3,790 pounds and your average GT with the V8 engine and an automatic transmission weighs 3,733 pounds.
The GT500 starts at $73,995, and the Carbon Fiber Track pack adds another $18,500 to the price. This set of upgrades includes the 20-inch carbon fiber wheels that are wrapped in Michelin Pilot Cup Sport tires, carbon fiber instrument panel, a larger carbon fiber rear wing, Recaro leather seats, and it deletes that pesky rear seat that's always hogging weight.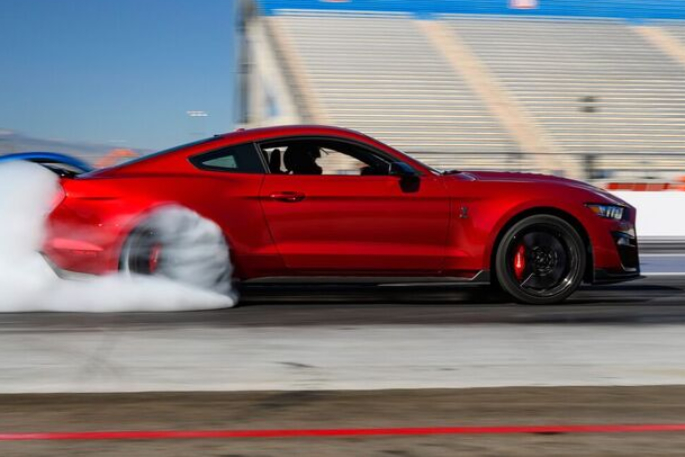 Compared to your 'standard' Mustang, the GT500 upgrades nearly every system that matters when it comes to going faster. The suspension geometry has been tweaked, there's a new power steering unit, and new lighter-weight coil springs on the front and rear suspension with MagneRide adaptive dampers.
The brakes are now Brembo six-piston calipers, and there are numerous body modifications aimed at more street presence, great downforce, and better cooling.
Inside, trim pieces have been upgrades to exposed carbon fiber, microsuede fabric on the door panels and optional Recaro seats, a 12-inch digital instrument panel, and an eight-inch touchscreen infotainment system with optional B&O stereo system.
---
What's good
TLDR: Loves curves as much as it does straights, looks great doing either
Powertrain: If Ford says this model is the most powerful road car it's ever sold, you know the powertrain is going to be a good one. This supercharged V8 and dual-clutch setup are a sublime pairing. The engine has all of the sound, feedback, and power you would expect given the Shelby GT500 badge, without being tedious or overly raw. The transmission is also a sweetheart (for the most part – see 'Minor Hiccups' below), ripping off ultra-quick shifts that are perfectly timed in automatic mode and perfectly quick in manual mode. While this GT500's horsepower rating certainly makes your eyes water, it's approachable, useful power rather than the kind that will bite your head off if you look at it weird.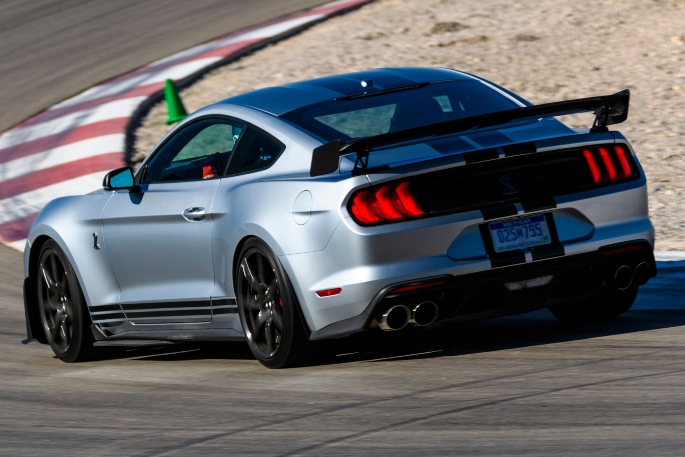 It can turn: Sure, 760 horses will quickly get you moving in a straight line, but that doesn't mean the car will handle curves (looking at you Challenger Hellcat). Ford knew this would be a concern going into the development of the GT500 and took pains to address it. The result is a car that will go a long way towards shaking the notion that muscle cars can't turn. This is thanks to smart suspension tuning (plus the standard damping system is the excellent MagneRide continuously adjustable setup), plenty of aero generating downforce and gobs of tire connecting the car to the ground (base tires are the Michelin Pilot Sport 4S while the Carbon Fiber Track Pack comes with ultra-sticky Michelin Pilot Sport Cups). It creates a Mustang that bearhugs the street or the track, allowing you to put down surprising amounts of power coming out of turns without worrying that you'll end up facing the wrong way (or upside down).
Looks the part: What's the point of owning a car so capable if it doesn't also look the business? While earlier generations of Shelby models looked a little gaudy in retrospect, this GT500 just looks mean – the good kind of mean. Exterior modifications are smartly executed to give this Mustang plenty of functional presence without looking like a goofy wannabe street racer or midlife crisis cliché.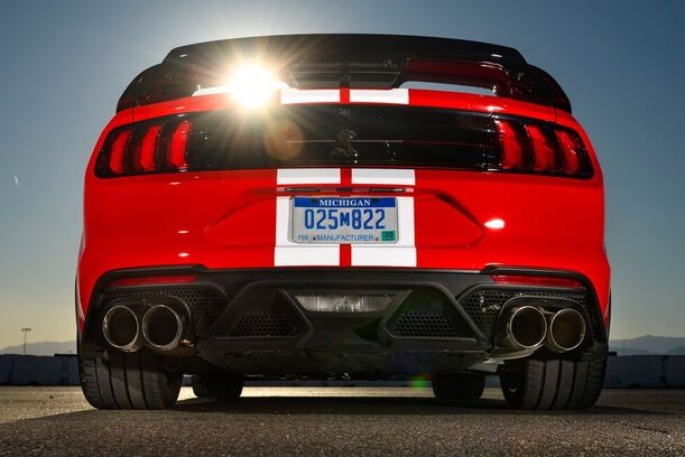 ---
What's bad
TLDR: Gets pricey with Track Pack, interior pieces subpar, slight tuning tweaks still needed.
Expensive: Yes, you read that right. This Mustang -- when loaded up with the options we tested -- can get within sneezing distance of the $100,000. That's a ton of money (though this is a ton of car). Despite all you get for your considerable money, we'd push buyers towards the base GT500 without the $18,500 Carbon Fiber Track Pack. While its additions are cool, they're ultimately not what makes the GT500 truly great; that stuff is already baked into the base model (if you can call it that). Still, the GT500's price tag – no matter the options – is put into perspective by the new midengined Corvette C8. Sure, base models of the C8 are down about 260 horsepower to the GT500, but the Chevy does start thousands of dollars cheaper.
Basic interior: The problem with most high-performance iterations of vehicles that start at much lower price points is the fast ones usually share much of the interior bits of the cheap ones. That's the case here with this GT500, which has an interior full of reminders that there's a $27,000 Mustang out there too. Yes, there are some significant upgrades like stellar Recaro racing seats and an all-digital instrument panel, but that still leaves plenty of pieces inside the GT500 that feel conspicuously subpar considering its asking price.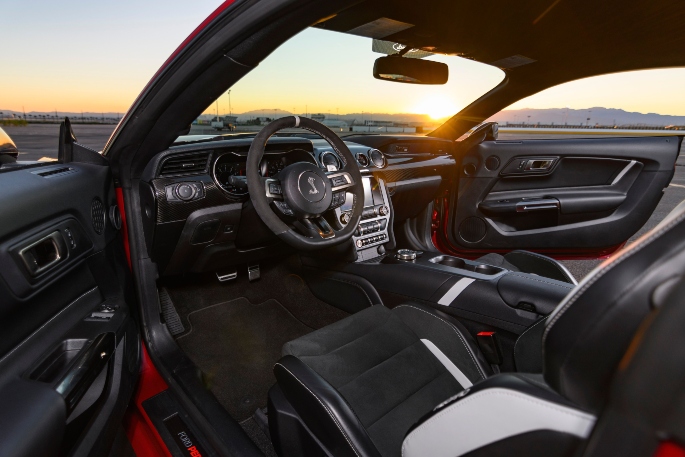 Minor hiccups: For all the well-executed elements of the GT500, there were still a few minor glitches in the overall performance. In street driving, when you eased off the throttle, the dual-clutch transmission would occasionally upshift (with a shudder) too early. There seems to be a scootch more programming needed to tell the gearbox what to do in these conditions. Also, the brake pedal tended to feel a little too spongy for our taste; we were left wanting a dash more firmness and feedback when really getting on them hard (though the massive Brembo brakes themselves were stellar and fade-free in repeated track laps).
---
5 stars of execution
Safety Features? NO
Likely owing to it being a driving-focused car, this Mustang isn't offered with the same type of standard safety tech as lesser Mustangs.

This includes adaptive cruise control, lane-keep assist, pre-collision alerts and automatic emergency braking, or rain-sensing wipers; blind-spot monitoring is only offered as part of the $3,000 tech pack.
Value? YES
The base version's $74,000 sticker – sans $18,500 Carbon track pack – is a much more reasonable asking price considering Chevy's fire-breathing Corvette Z06 starts at about $80,000.
Plus, this GT500 is arguably the most capable-yet-approachable Mustang that Ford has ever built.

But at a tick under $100,000, it's hard to justify the price of a loaded Mustang Shelby GT500, no matter the performance envelope.
Efficiency? NO
No one buys these cars to sip fuel. Quite the opposite. But for those who are interested, the EPA rates this Mustang at 12/18/14 MPG city/highway/combined.

While that's not the worst we've seen, real-world driving during our testing (not even on the track!) drained the tank exceptionally quickly; we'd expect less than 200 miles per tank under the normal-to-hard driving these owners will be doing.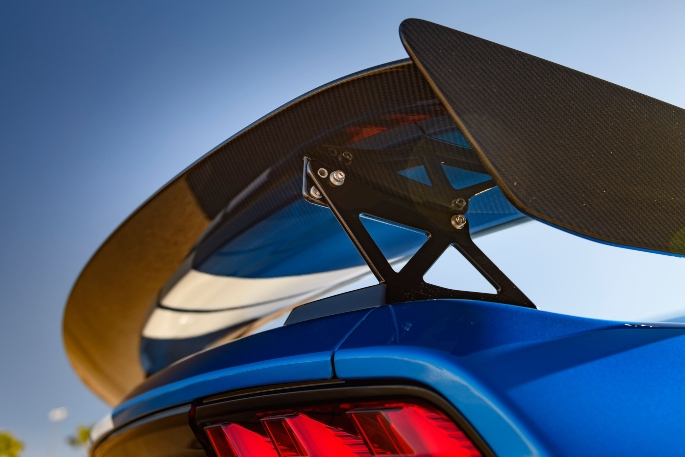 Driving experience? YES
The driving experience is the whole point of a car like this. And it succeeds in a very big way.

The handling on the street and the racetrack is exceptional. It's poised, confident, and predictable on the track and refined, comfortable, and engaging on the street. It's a win-win.
Execution? YES
Ford hit the mark with this GT500. It's the perfect complement to the GT350 in its Mustang lineup and a model that the brand should have no trouble selling out of.
It's impeccably comfortable, approachable, and well-mannered in daily driving, and it could easily serve as your sole mode of transportation.

Yet the very same car without any modifications is also a beast on the track – especially in capable hands who know how to trust its considerable grip – and will devour plenty of lesser cars on track day.
Total Rating: 3 stars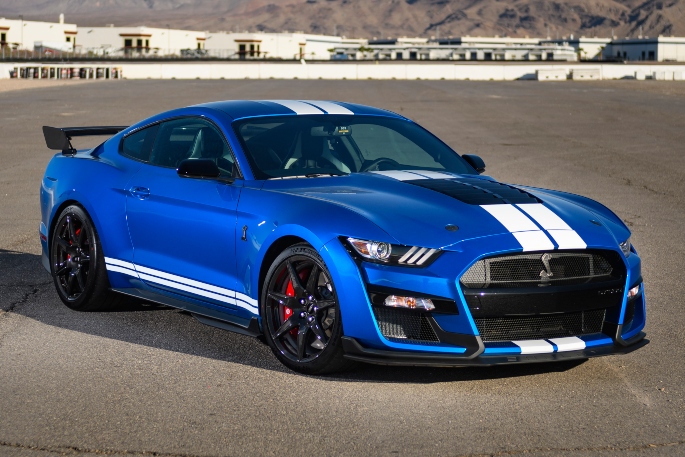 ---
What's it gonna cost me?
The base (if you can call it that) Mustang Shelby GT500 starts at $74,000. That starting price gets you the sublime powertrain (supercharged V8 and dual-clutch transmission), 20-inch alloy wheels, leather and suede seats, limited-slip differential, dual exhaust with multiple sound modes, Brembo brakes, rear spoiler, hood vents, Ford's Sync infotainment system, power driver and passenger seat, and a 12-inch digital instrument panel.
From there, buyers can choose one of two handling packages and a Technology package.
The lesser of the two handling packages is the $1,500 Handling Pack, which adds a Gurney flap on the rear spoiler for added downforce, and splitter wickers on the car's front splitter.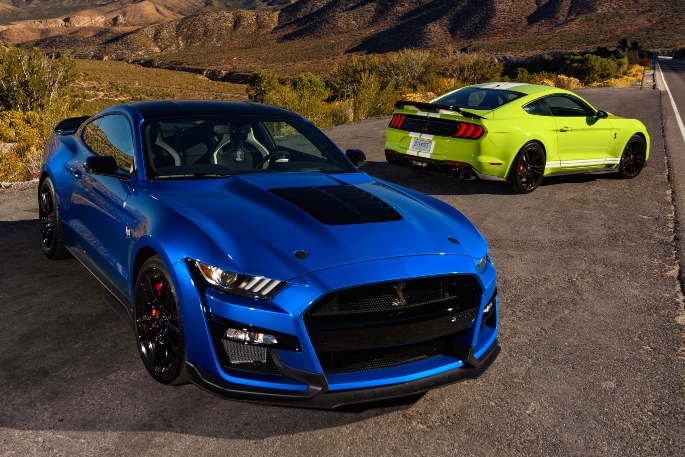 The $18,500 Carbon Fiber Track Pack (which cannot be combined with the Handling Pack) adds 20-inch carbon fiber wheels that are wrapped in Michelin Pilot Cup Sport tires, a carbon-fiber instrument panel, larger carbon fiber rear wing, and Recaro leather seats.
Buyers can also add the $3,000 Tech package, which adds a B&O sound system with 12 speakers and an in-trunk subwoofer, blind-spot monitoring with cross-traffic alerts, heated side-view mirrors with puddle lamps, a touchscreen navigation system, and memory settings for the power seats.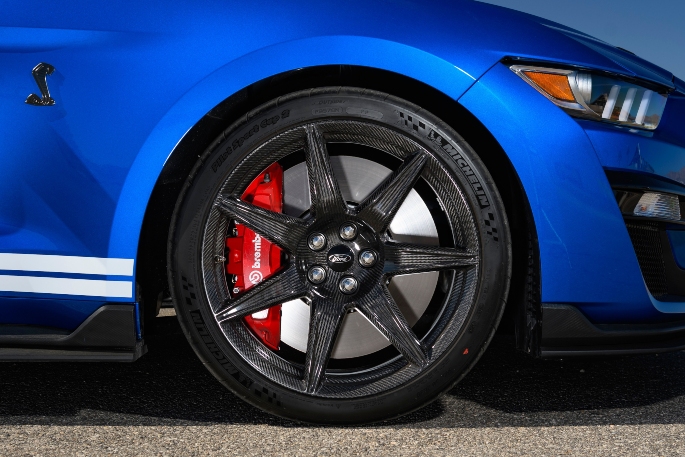 ---
Also consider
There's not a lot of true head-to-head competition at this price and power range.
Chevy's outgoing C7 Corvette Z06 is probably its closest competitor; it's front-engined, massively powerful, and offers heaps of grip on the street and the track. Choosing between the two is a no-lose proposition since they're both stellar but gun to our head, we'd probably opt for the Shelby GT500 simply because it's fresh.
There's also Chevy's Camaro ZL1, but with less power and almost $10,000 less asking price, it's a lesser car; comparing them feels unfair. If you're a Chevy fan and or you're keen to save the money, then, by all means, do so.
Dodge's Challenger Hellcat also comes to mind, but it absolutely couldn't keep up on the track and provided nowhere near the same levels of feedback and control.
Ford recently made some significant improvements to the 2020 GT350R, so how do these two models stack up? One engineer at the GT500 press launch likened the two models to the Porsche GT3 and GT2. The GT3 – like Ford's GT350R – the purist's car thanks to its naturally-aspirated engine and manual transmission. Yes, it's down on raw power relative to its sibling, but it is aimed at the buyer who is willing to give up some sheer grunt and get more control and feedback in return.
The GT500 – like Porsche's GT2 – is a numbers car, aiming to put the most power down to the road and track by any means necessary. This means forced induction and an automated manual transmission, a tradeoff for the more honest approach taken by the car's sibling.