Used cars are a great way to save some money while still getting a safe, reliable, and modern vehicle that's new to you. But which ones are best? We gathered up some of the top picks for a variety of different cars: midsize, compact, subcompact, luxury, coupes, and EVs. Read on to see which ones made the cut.
Midsize Sedans
1. Ford Fusion
The Ford Fusion has strong handling for a four-door midsize car. The seats in the Fusion are comfortable and the vehicle seats five. The cabin is roomy and entertaining with an available SYNC 3 user-friendly infotainment system. The trunk is large and has plenty of space to hold all your gear for any adventure.
The Fusion is offered in three four-cylinder-engine options: the 175-horsepower (HP) base, a 181-HP turbo-four, and a 245-HP turbo-four. The powertrain offered in the Fusion is a mixture of your chosen engine and either AWD or FWD drivetrains. Fuel economy in the Fusion depends on your choice of the engine but averages 20-23 MPG city and 29-34 MPG highway.
Used Ford Fusions range from $15,000-$25,000 dependent on year, mileage, trim, and powertrain.
Browse used Ford Fusion listings here.
---
2. Honda Accord
The Honda Accord is a fuel-efficient vehicle boasting 30 MPG city, and 38 MPG highway. The midsize Accord is equipped with a roomy interior, engaging handling, and ample trunk space. With seating for five, the Accord is offered with an FWD drivetrain and has a starting MSRP of $24,970 for the 2021 model year.
Used Honda Accords can be found from $10,00 to as much as $30,000 depending on the chosen model year and trim options. In 2021 the Honda Accord was ranked as number one for the best midsize car for families according to consumer reports.
Browse used Honda Accord listings here.
---
3. Toyota Camry
The Toyota Camry is another extremely fuel-efficient vehicle with 29 MPG city and 41 MPG highway. The drivetrain offered on the Camry is strictly FWD, and the vehicle has a seating capacity of five similar to Toyota's smaller Corolla. Standard features offered in the Camry are above other vehicles in its class, and the Camry was voted the best midsize car for the money in 2020 and 2021.
The infotainment system in the Camry is both Android Auto and Apple Car Play compatible and is ran from a touch screen 8-9 inch display dependant on trim level. Used Camry's can be found between $10,988 to $33,988 dependent on year, mileage, and trim level.
Browse used Toyota Camry listings here.
---
4. Chevrolet Impala
The Chevy Impala provides a comfortable ride for up to five people with ample space for each person. The interior of the Chevy Impala comes standard with a mixture of cloth and synthetic leather upholstery. The Impala is also equipped with an eight-way power-adjustable driver's seat. Upgrades from the 2019 to 2020 model year include genuine leather seats, heated and ventilated front seats, a power-adjustable front passenger seat, and a heated steering wheel.
The powertrain offered in the Impala is an FWD drivetrain paired with a 305 HP engine. The Impala achieves 19 MPG city and 28 MPG highway. The included infotainment controls are user-friendly and are both Apple Car Play and Andriod Auto compatible. A quality used Impala can be found from $23,998 to $29,998.
Browse used Chevrolet Impala listings here.
---
5. Nissan Altima
The Nissan Altima is a midsize car for buyers looking for a four-door vehicle with both AWD or FWD options. Used 2020 model year Nissan Altima's can be found for around $20,000 with low mileage and still under the original manufacturer's warranty. There were no significant changes to the Altima in 2020 from the 2019 model year, making the 2019 model a more budget-friendly option.
The Altima seats five and has a fuel economy rating of 28 MPG city and 39 MPG highway. The Altima provides a smooth ride quality and is equipped with comfortable seating. The interior cabin materials are adequate but not as extravagant as other vehicles in the same class.
Browse used Nissan Altima listings here.
---
6. Subaru Outback
The Subaru Outback offers an AWD-only drivetrain option that seats five with 32.5 cubic feet of cargo space behind its second row. The second row of seats folds completely flat to open up a maximum capacity of 75.7 cubic feet of cargo space.
With a complete infotainment redesign in the 2020 model year, the Outback presents itself as a new car and is spacious for all passengers. There is plenty of headroom in the rear seats and the interior has many high-quality trim level options. The Subaru Outback is offroad capable with AWD standard, and an X-mode making it off-road competitive with SUVs and crossovers.
The Outback averages 23-26 MPG city and 30-33 MPG highway dependent on whether you choose the 182-HP 2.5-liter four-cylinder boxer engine or the optional 2.4-liter turbocharged engine with 260 HP. A used Outback can be purchased for $11,777 to $23,799.
Browse used Subaru Outback listings here.
---
Compact Cars
7. Mazda Mazda3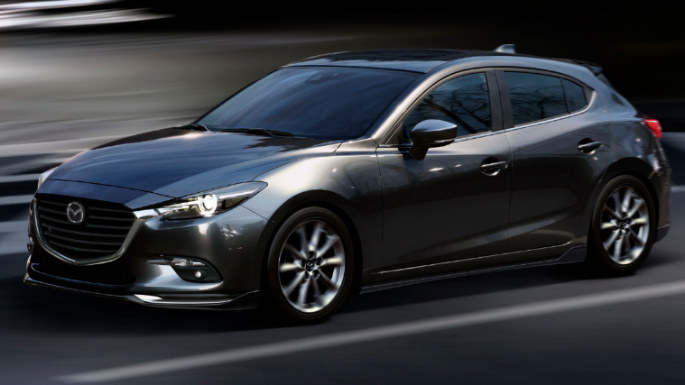 The Mazda 3 is a compact car that seats five and is offered in both AWD and FWD drivetrains. The base Mazda3 features premium interior materials that are soft to the touch, and more features are available in higher trims levels such as synthetic or genuine leather upholstery and heated front seats.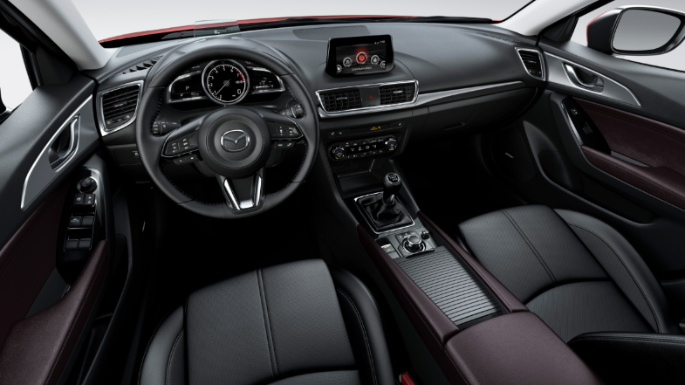 There are three engine options for the Mazda3, a 155-HP naturally aspirated 2.0-liter four-cylinder, a 186-HP 2.5-liter four-cylinder, and a turbocharged 2.5-liter four-cylinder engine that makes 227 or 250 HP, depending on whether you use regular or premium fuel.
The Mazada3 is offered in either a six-speed automatic transmission or a six-speed manual. Depending on the engine the Mazda3 gets 23-28 MPG city and 32-36 MPG highway. Used Mazda3's can be found for $13,892 for 2018 model years to $21,645 for 2021 models.
Browse used Mazda Mazda3 listings here.
---
8. Chevy Cruze
The Chevy Cruze is one of Chevy's best-selling compact cars. A long list of standard features plays a role in the Cruze's popularity along with its fuel economy. The Cruze achieves great gas mileage with 28-31 MPG city and 37-48 MPG highway dependant on if you purchase the 153-HP turbocharged 1.4-liter four-cylinder or the optional 137-HP turbocharged 1.6-liter four-cylinder diesel.
The drivetrain is only offered in FWD, and the transmission is automatic but differs for fuel type. Chevy sells the Cruz as either a six-speed with the gas engine or a nine-speed with the turbodiesel option. For being a compact car the Cruze has great space for all passengers and seats five. Used Chevy Cruze's can be found for $12,995 to $14,882.
Browse used Chevy Cruze listings here.
---
Subcompact Car
9. Hyundai Accent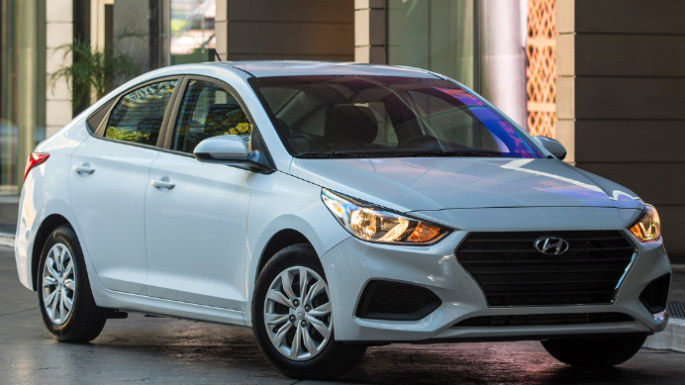 The Hyundai Accent is the only subcompact car on the list, but has above-average fuel economy and is surprisingly spacious. Being a subcompact vehicle the cargo space is lacking, and it has an underpowered engine, but it does seat five people comfortably. The Accent is a great option for buyers who enjoy small cars.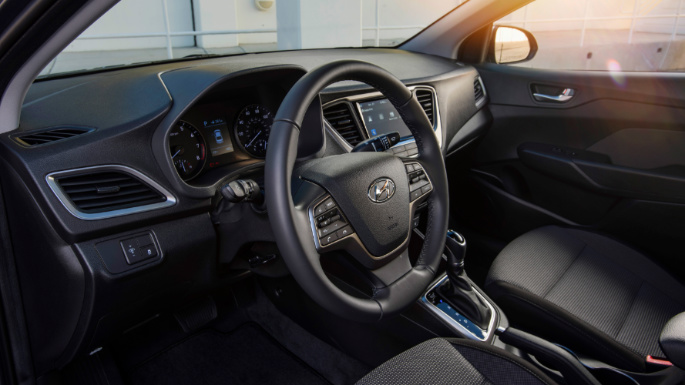 Offered in FWD with a 120 HP engine the Accent gets 33 MPG city and 41 MPG highway. A 2021 Accent has a starting price of $15,395 and a used option can be found for as low as $12,995 for a 2019 model year.
Browse used Hyundai Accent listings here.
---
Luxury Cars
10. BMW 328d XDrive
The BMW 328d is a mixture of luxury and sport. With seating for five, the 328d is offered with an AWD drivetrain. Features include sporty driving dynamics, supportive seats, and a spacious trunk. With a fuel economy rating of 30 MPG city and 40 MPG highway, the BMW 328d is fuel-efficient and has all of the common features you can expect from a luxury vehicle.
A used BMW 328d can be found for $24,995 and is ran by a turbo-diesel powerplant outputting 180 HP at 4000 RPM. The XDrive feature of the 328d is BWM's AWD system that has settings for snow, dirt, and pavement.
Browse used BMW 328d XDrive listings here.
---
11. Lexus ES 350
The Lexus ES 350 is a midsize luxury car offered in an FWD drivetrain with a 302 HP engine that seats five. The fuel economy for the ES 350 is 22 MPG city and 33 MPG highway. The cabin of the ES 350 is comfortable and quiet with excellent build quality utilizing high-end materials.
The infotainment includes an 8-inch display, three USB ports, Bluetooth, a CD player, HD Radio, satellite radio, a Wi-Fi hot spot, 10 speakers, and smartphone integration with Siri Eyes Free, Amazon Alexa, and Google Voice Control.
Used Lexus ES 350's can be found for $25,995.
Browse used Lexus ES 350 listings here.
---
12. Mercedes-Benz C300
The Mercedes-Benz C300 is offered in both RWD and AWD and is equipped with a standard 255-HPr turbocharged four-cylinder engine. It has a lot of power for accelerating quickly from a stop or cruising at high speeds. The C300 is built with a nine-speed automatic transmission that delivers quick shifts.
The interior is stylish and is built with high-quality materials as you would expect from any Mercedes-Benz. The C300 has an abundance of safety features standard and also has AMG variants.
The C300 is fuel-efficient for a luxury car with a 24 MPG city and 35 MPG highway. You can find a used C300 for $26,800.
Browse used Mercedes-Benz C300 listings here.
---
Electric Cars
13. Tesla Model 3
The Tesla Model 3 is the entry-level model to the Tesla model lineup. Offered in both RWD or AWD, the Model 3 is equipped with the electric vehicle's extreme acceleration. Sprinting from 0-60mph in 3.1 seconds, this four-door five-seater car outperforms most purpose-built sports cars.
The Model 3 has only been available since 2017 so it is considered a fairly new car, but as the entry-level option from Tesla, you can find a used Model 3 for around $35,000. The Model three boasts quick acceleration, sharp handling, optional mileage ranges, and optional interior upgrades. New Teslas are purchased online only, but used Teslas can be found at local dealerships.
Browse used Tesla Model 3 listings here.
---
Coupes
14. Dodge Challenger
The Dodge Challenger is a muscle car with a multitude of feature options. The Challenger can be purchased in an RWD or AWD drivetrain and has five different engine options. Engines ranging from the base model 5.7-liter Hemi V8 with 375 HP and 410 pound-feet of torque; to the 6.2-liter high-output supercharged Hemi V8 with 807 HP and 707 pound-feet of torque.
The Challenger is offered in both a six-speed manual and an eight-speed automatic. There are nine different appearance options and three performance options that can be added to any trim level and engine size. The Challenger seats five and has a user-friendly infotainment system. The second row is spacious, and the trunk is larger than other used vehicles in the coupe class.
Due to the varying package options, the prices for a used Challenger vary drastically, but you can find a used Challenger at a dealership above the base model for $24,385.
Browse used Dodge Challenger listings here.
---
15. Honda Civic Coupe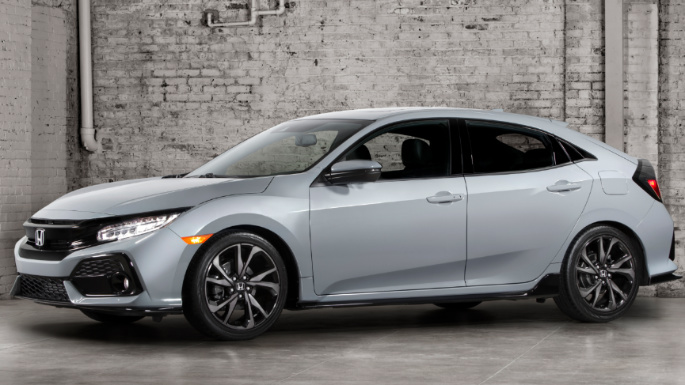 The Honda Civic Coupe is a compact car option that provides Honda quality in a smaller package. The Civic can be had in many different body styles. The standard sedan, coupe, hatchback, and a special Type-R edition. The Civic seats 4-5 depending on the body style and is equipped with an FWD drivetrain paired with your choice of a 158-HP 2.0-liter four-cylinder, a turbocharged 1.5-liter four-cylinder that produces 174 HP, or the performance-oriented turbocharged 2.0-liter four-cylinder engine with 306 HP found on the Type-R.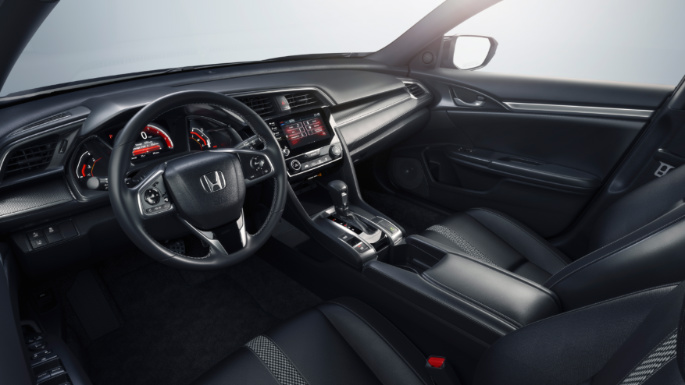 The Civic achieves a fuel economy of 22-32 MPG city and 28-42 MPG highway depending on the engine purchased. The Honda Civic has the option of an automatic or manual transmission, which is a fading option in the car world. A used Honda Civic costs between $13,599 and $23,998 according to Kelley Blue Book.