Honda introduced its first minivan, the Odyssey for the 1995 model year. It was initially built in Japan, but Honda later shifted productions to North American plants. The Odyssey is currently in its fifth generation.
2018 - Present Honda Odyssey (5th Generation)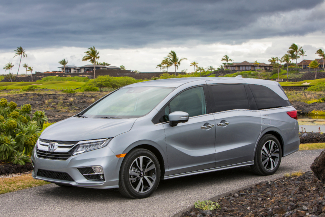 The 2018 model year brought many updates to the Odyssey including a choice between a nine- or ten-speed automatic transmission (the ten-speed is available on the high-end Touring and Elite trim levels). This generation's 3.5-liter, six-cylinder engine carries over from the previous generation but now makes 280 horsepower.
The five trim levels from the previous generations continue into this model.
Inside, the Odyssey adds 'Magic-slide' seats for the second row, giving parents plenty of flexibility for access to their kids. There's an entertainment screen for the middle and rear seats and an intercom-style cabin-talk system on the upper trim levels. There are 12-volt power outlets in both the front and rear cabin areas, USB charging ports, and a rear-view camera are standard with most trim levels.
Safety features include forward-collision warning and lane-departure warning for the EX-L trim levels and up.
The exterior was also redesigned to be sleeker and the body is slightly narrower, but a little longer.
2011 - 2017 Honda Odyssey (4th Generation)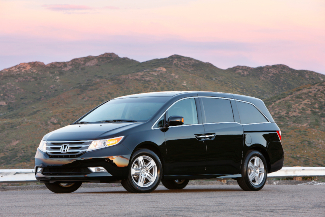 In 2011, Honda made significant changes to the Odyssey's exterior including a wider body and lowered roof line.
A Touring Elite version was added as the top trim level bringing the total to five trims: LX, EX, EX-L, Touring and Touring Elite.
Touring models offered a six-speed automatic transmission while the other trims used a five-speed automatic. A 3.5-liter V6 engine with 248 horsepower is standard on all Odyssey trims.
This generation includes the introduction of the lane-watch system with a camera in the passenger side rear-view mirror for improved blind-spot visibility.
Higher trim levels also came with a voice-activated navigation system with an XM Nav-traffic system.
For the 2014 model year, Honda gave the Odyssey a mild update. It subtly changed the headlights and taillights, added the six-speed automatic transmission to all trim levels and added new active safety features like forward-collision warning and lane-departure warning.
The 2014 models got an upgrade in the entertainment system that provided access to Pandora music and hands-free Bluetooth connectivity.
2005 - 2010 Honda Odyssey (3rd Generation)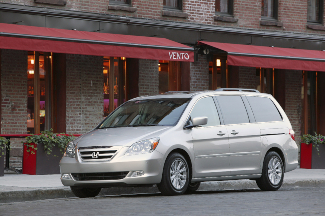 In 2005 Honda launched the third-generation Odyssey. It came with a 3.5-liter, six-cylinder engine which was initially rated at 255 horsepower, but lowered to a 244 horsepower from 2006 onward. Higher-end trims (EX and Touring models) received Honda's variable cylinder management system or VCM. The VCM allows the vehicle to run on 3,4, or 6 cylinders in certain conditions for increased fuel efficiency. All trim levels came with a five-speed transmission.
There are four trim levels on this generation of Odyssey: LX, EX, EX-L, and Touring. This Odyssey now seats eight passengers and adds a sliding second-row seat for easier configuration of the cabin. A power liftgate, adjustable pedals, memory seats and run-flat tires were added as options on certain trims.
1999 - 2004 Honda Odyssey (2nd Generation)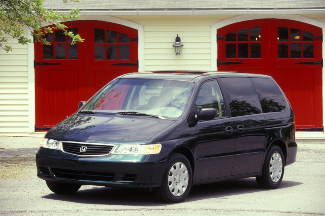 In 1999, the second-generation Odyssey grew significantly from the first generation. It also adopted conventional minivan doors that slide rather than the swing-out doors from the first-generation.
Not only did the body increase in size, but so did the engine. This generation saw the introduction of the 3.5-liter, six-cylinder engine with 210 horsepower instead of the smaller four-cylinder engine on the previous model. While it still continued to use the four-speed transmission from the previous generation during the first three model years, a more reliable, five-speed transmission was introduced in the 2002 model as well as an upgrade in horsepower to 240.
This generation continues with the two trim levels of the previous generation. Seating capacity for both trim levels is seven, but the sliding doors on the EX trim are power-operated. In 2002, added safety features include latch-style seat anchors for child seats, front-seat side impact airbags and anti-lock brakes. Traction control was also added to the LX trim line where it was previously only offered on EX trims.
1995 - 1998 Honda Odyssey (1st Generation)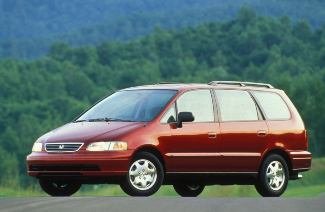 The first-generation Odyssey was Honda's first foray into the minivan market. This original model was based on the Accord platform and shared many components with that sedan. The Odyssey came with a four-cylinder, 2.2-liter, 140-horsepower engine and a four-speed transmission. In 1998, the engine was updated to a 2.3-liter, 150-horsepower version.
This original Odyssey deviated from the standard minivan format in that its rear doors didn't slide like most competitors but instead swung out like a traditional vehicle.
The interior was considered smaller than its competitors but offered plenty of seating with a third-row, fold-down seat that fit into a floor compartment for more cargo space. The LX trim level had seating for up to seven with its second and third-row bench seats. The EX fits six people, but its second row had removable captain's seats instead of a bench.
Only two trim levels were available: LX and EX. The EX trim included several features such as power door locks with keyless entry, power sunroof, and a six-speaker CD system. Later EX options offered body-colored mirrors and alloy wheels.