Autolist rating: 3/5 stars
But would we buy it? Yes
Price range: $50,895 - $78,095 before options, but including destination
Key takeaways
Arguably one of the most stylish luxury crossovers on the market today.
Those good looks are backed up by plenty of practicality inside.
Ultra-sharp handling might deter a few shoppers looking for more comfort.
Reliability remains Land Rover's Achilles' heel, so look into a warranty.
---
What is it?
First, some crib notes on Land Rover versus Range Rover. Range Rover is a luxury line of vehicles made by Land Rover. Making things confusing is that, at the top of that Range Rover lineup, there is a model also called the Range Rover. Then there's the Range Rover Sport, then this Velar and then the bite-sized Range Rover Evoque.
Also within the Land Rover lineup are the more utilitarian -- but still plenty luxurious -- Land Rover Discovery and Land Rover Discovery Sport.
This Range Rover Velar is the newest member of the Range Rover family, bringing with it immense styling inside and out.
There are three engines available for the Velar, spread across a variety of trim lines. All of them are paired with a standard eight-speed automatic transmission and all-wheel drive.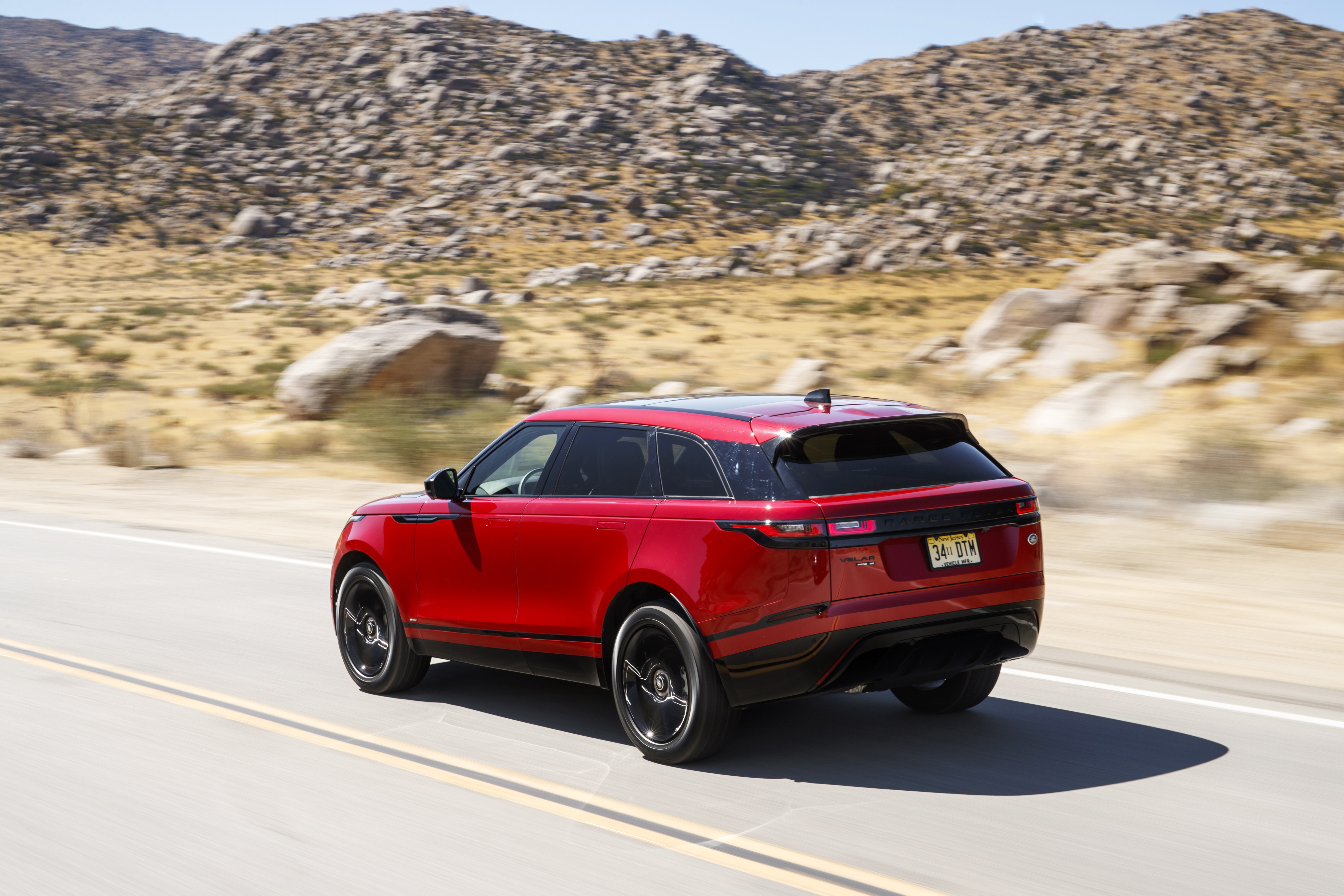 The base engine is a 2.0-liter, turbocharged four-cylinder unit that makes 247 horsepower and 269 pound-feet of torque.
There's an optional 2.0-liter diesel motor that's good for 180 horsepower and a healthy 317 pound-feet of torque.
At the top of the heap is the engine we tested, a 3.0-liter supercharged V6 that makes 380 horsepower and 332 pound-feet of torque.
There are a variety of trims available on the Velar, depending on the engine you choose. All three engines can be had in S, R-Dynamic SE and R-Dynamic HSE trims. (R-Dynamic is just a unique trim package with minor tweaks and cosmetic upgrades to the interior and exterior). The base four-cylinder engine also comes in a base Velar trim and the optional V6 engine can be had in a non-R-Dynamic SE version.
The price range for the Velar is wide, starting at $50,895 for the base Velar with the four-cylinder engine and topping out at $78,095 -- before options -- for the V6 model in the R-Dynamic HSE guise.
We tested a straight-forward Velar S with the optional V6.
The Velar competes with a range of luxury crossovers, including the Audi Q5 and SQ5, BMW X5 and X6, the Jaguar F-Pace (which is mechanically identical to the Velar, since Land Rover and Jaguar have the same parent company), the Mercedes-Benz GLC and GLC Coupe and the Porsche Macan and Macan S.
---
What's good:
TLDR: Good looks backed up by a great personality
The design. This Velar is among the most stylish crossover SUVs on the market today. In pictures, it looks bigger than it really is -- likely the result of the high beltline (bottom of the side windows) and dramatic proportions. Nevertheless, the sleek looks turn heads everywhere.

Interior tech. Not only does the Velar's style continue on the inside, but Range Rover added a healthy dose of gee-whiz interior gadgets too. Two display touchscreens sit in the center console; one screen changes its display depending on what you're using the hard buttons in front of it for. Pretty cool.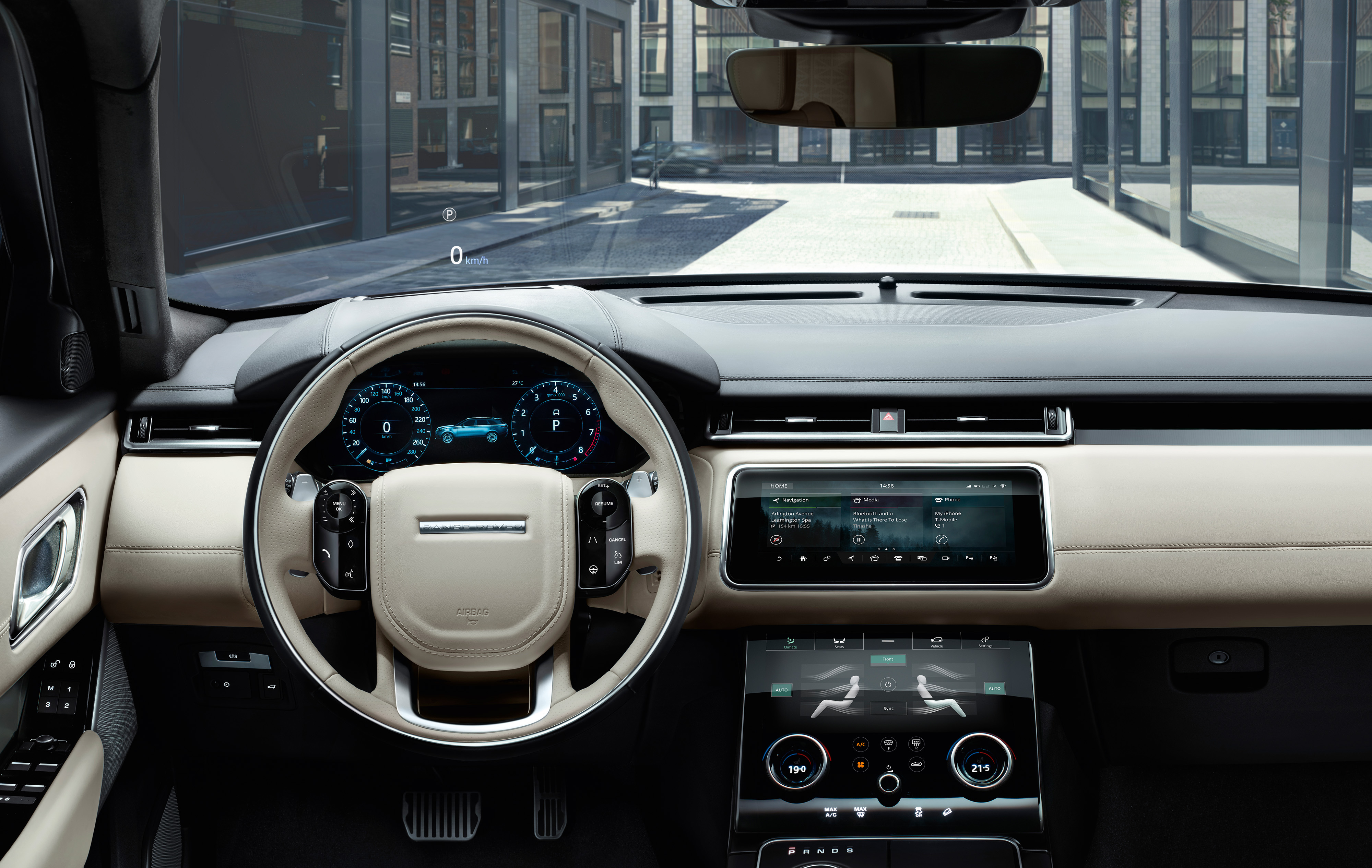 Responsiveness. The Velar we tested -- with the high-end supercharged V6 engine -- was definitely tuned for sport driving. Handling was precise and sharp, as was the suspension (a few passengers said the ride was too firm, likely a fault of the thin 19-inch tires). The Velar had plenty of power, though you did need to lean on the gas pedal a bit to get a full sense of what it could do.
What's bad:
TLDR: Penny-pinchers beware, confusing screens

Infotainment menus. Though we loved the slick presentation of the two touchscreens working in tandem in the dashboard, how they interacted with one another (i.e. which screen handled which function) was confusing. Also confusing were some of the many menus you had to navigate for simple tasks. Make sure you sit in the Velar and play with this system for a while to make sure you could live with it on a daily basis.

Nickel-and-diming. $1,000 for heated front and rear seats on a vehicle that starts above $50,000? What about an extra $2,000 for adaptive cruise control and blind-spot monitoring when those features are standard on a $27,000 Honda? No wonder our test model -- with the optional engine but light on other add-ons -- topped $70,000. That's a lot of money for what you get.
---
5 stars of execution:
Safety Features? NO
As mentioned, we were unimpressed by the fact that the 2018 Velar doesn't come standard with active safety features like adaptive cruise control or blind-spot monitoring. These are meaningful systems that are quickly becoming standard on crossovers costing thousands less than the Velar. At least it comes with lane-departure warning and pre-collision braking.
The Velar has yet to be crash tested by the National Highway Traffic Safety Administration or the independent Insurance Institute for Highway Safety.
Value? NO
Don't expect to get a lot of value from the Velar. Range Rover has a stylish hit on its hands, so you'll pay for this heady mix of form and function.
As mentioned, our lightly optioned V6 test model quickly ballooned to over $70,000. That's a lot of money for this relatively compact luxury crossover. Adding even more options can push the sticker to $80,000.
Efficiency? YES
The Velar matches or beats (barely) most of its competitors when it comes to fuel efficiency for the optional -- and more powerful -- V6 engine, which is rated by the EPA at 18/24/20 MPG city/highway/combined.
Things get even better with the Velar diesel -- it's rated by the EPA at 26/30/28 MPG city/highway/combined.
Driving experience? YES
The Velar proves you can have your cake and eat it too: not only is it one of the better-looking crossovers currently on the market, but it's a lot of fun to drive too. This is definitely a sport-oriented model, so prepare for a firm suspension and quick reflexes.
Execution? YES
Overall, we were impressed with the Velar. Beneath the good looks is a spirited personality and plenty of useful space for people and cargo alike. Missteps are few and far between with this crossover. One tip: do your homework on Land Rover reliability; when out of warranty, repairs can be costly.
Total Rating: 3 stars
---
What's it going to cost me?
As we mentioned, the Velar starts at $50,895 for the base model with the 247-horsepower, turbocharged four-cylinder engine.
This version comes standard with faux leather seats,18-inch alloy wheels, LED headlights, a 250-watt sound system with eight speakers, keyless entry, lane-departure warning, adaptive suspension and pre-collision braking.
The Velar S is $54,700 and adds 19-inch alloy wheels, a powered gesture tailgate, leather seats, 10-way seats with driver memory, an 11-speaker Meridian sound system, and navigation.
These features also come on the V6 model, which adds $9,500 to the four-cylinder's base price. The diesel engine adds about $1,500 to the price of a four-cylinder model.
Most trims can also be had with the R-Dynamic upgrade, which adds cosmetic goodies like unique front and rear bumpers with copper accents, front fog lights and larger wheels. Despite the name, there are no mechanical upgrades with the R-Dynamic package.
A fully-loaded R-Dynamic HSE with the V6 engine includes heated and cooled leather seats with massaging and 20-way adjustability up front, parking sensors, lane-keep assist, adaptive cruise control and a panoramic moonroof for around $78,000...and that doesn't include all of the options you could add.
If it were our money on the line we'd choose essentially the mode we tested: a Velar S with the V6 engine since we liked the power that it gives the vehicle. Be disciplined with the options and you'll stay under $70,000.
Or if you're on more of a budget, the Velar with the base turbocharged four-cylinder engine still comes with plenty of style and comfort and can be had for just over $50,000.
Also consider:
The Range Rover Velar sits in the middle of a brutally competitive luxury crossover segment, so there aren't many bad choices here. As we've said, few of its peers can top the Velar's style -- inside and out. In terms of handling, the smaller Porsche Macan is the model to beat. Audi's SQ5 is a more low-key choice, but it has a nice mix of power and refinement. Same for Mercedes' GLC and CLG Coupe.