The 2019 Volkswagen Jetta is a compact car which is currently in its seventh generation of production. It was fully redesigned in 2019, now based on the same platform as vehicles like the VW Golf and Audi A3.
Not only is the 2019 Jetta mostly new, but it is also offered with more standard features and more safety technology than the previous model, despite having a lower starting price.
Competitors include the Honda Civic, Toyota Corolla, Mazda Mazda3, Kia Forte, Hyundai Elantra, Chevrolet Cruze, Subaru Impreza, and Nissan Sentra.
The Jetta has been available in North America since 1980 and is one of the best-selling vehicles of all time. It has always been a great example of basic, efficient, affordable transportation.
The all-new Jetta is a welcome sight as many reviewers and the public alike believed that the previous generation Jetta was almost too basic. Affordability does not mean that something needs to feel cheap, and Volkswagen proves that to be the case, offering the most refined, feature-rich, and safe version of the Jetta ever.
Exterior
The 2019 VW Jetta has taken a considerable step away from what many would consider traditional Jetta styling of the past. Physically, the Jetta is also larger than its last generation, a trend that has continued for years.
The overall styling of the Jetta is conservative when compared to many other competitors. There is a general lack of sharp lines, oversized grille openings, or unnecessary form over function decisions. It looks like a reasonably traditional small sedan, a refreshing change of pace from many vehicles today.
The front fascia gives the Jetta a handsome and refined look. Its headlights provide a line that carries through to the grille and extends downward, giving the Jetta a laid back appearance. The grille is not overly large but is large enough to be the center of attention. Horizontal grille slats provide a flat appearance with a no-frills design.
The rear of the Jetta is similar to the front. Compared to other modern vehicles, the taillights and rear design are relatively conservative and nicely proportioned. The integrated rear tailpipes also give the Jetta a touch of class.
The Jetta's windows are generously sized when compared to some modern sedans. Its beltline does not rise as sharply as in many other vehicles, helping the interior feel more open and spacious. The Jetta does not try to mimic a coupe in its appearance as with many other sedans.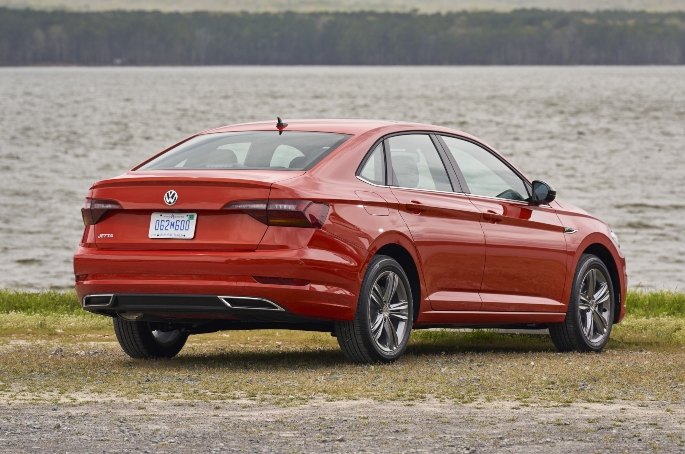 The base model comes with 16-inch wheels, but they are alloy wheels rather than steel wheels, a feature that comes with many other base model vehicles. Various 17-inch wheel designs are offered on higher-end models.
Interior Quality and Comfort
Most reviewers agree that the new Jetta has a much more upscale interior than the previous generation. But they still notice that many hard surfaces are present with plastic in many places it probably should not be used. Fit and finish are noted to be only average for the class. Still, most agree that interior quality is much better than the outgoing generation.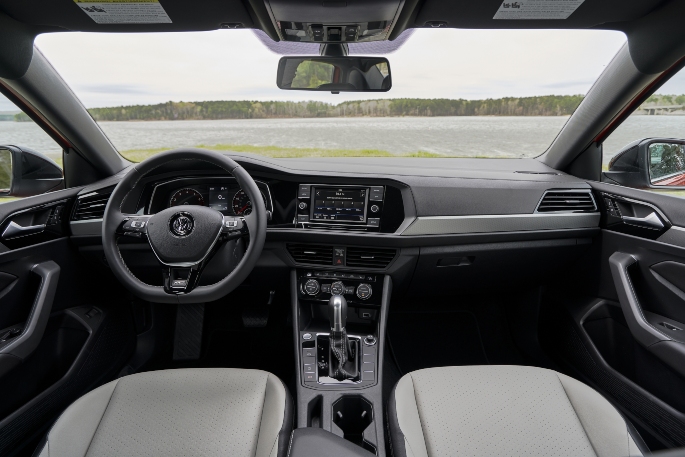 Leather and leatherette-covered seating are both available, bringing up the interior quality points awarded by reviewers. But cloth upholstery is standard on the base S.
Despite not boasting superior interior refinement, most reviewers agree that comfort levels make up for some of the missing quality points. Seats are noted to be comfortable and supportive, and cabin noise is said to be kept to a minimum.
Except for some front legroom shortcomings that some taller testers encounter, interior space is reasonable. Rear legroom is more than adequate and headroom is acceptable for the class.
One of the most significant advantages the interior of the Jetta provides is driver seat adjustability, which provides a great seating position, according to almost every Jetta reviewer.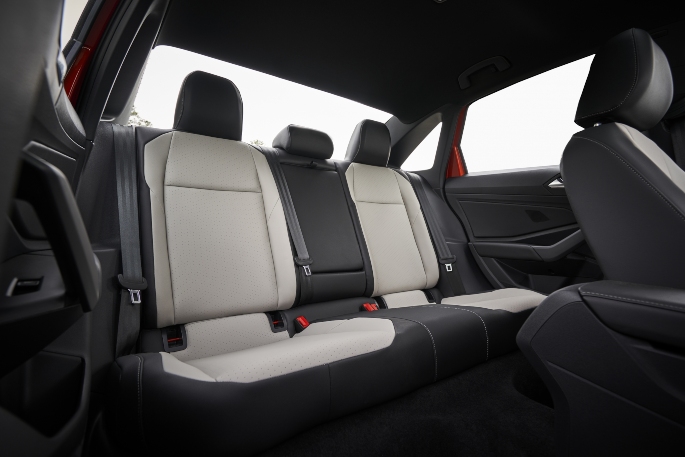 Plenty of convenience features such as heated seats, cooled seats, an easy-to-use infotainment system, and dual-zone climate controls add to driver and passenger comfort.
Utility & Practicality
Jetta utility and practicality are both better than average overall.
Even though the trunk space has been reduced by about two cubic feet for the new car, liftover height is low and the load floor is flat. The trunk opening is vast, and the rear seats can be folded down to provide an opening for wide items.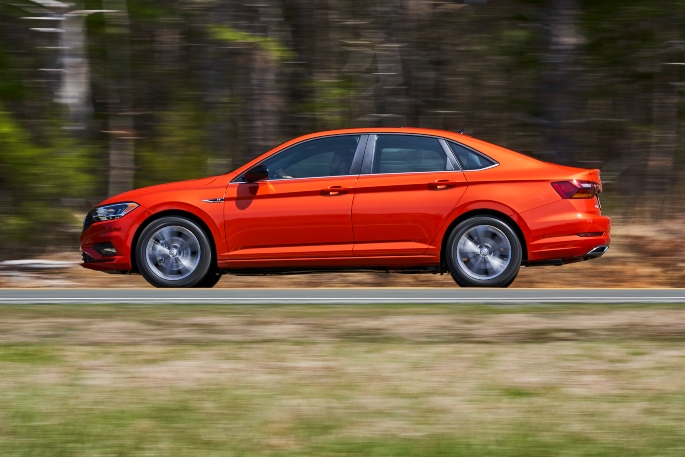 Getting in and out of the Jetta is an easy task, according to reviewers. Many note that the doors are short enough to allow for easy entry and exit in tight parking spaces, a plus for any family.
Reviewers are also pleased with the vast amount of small-item storage throughout the cabin. For additional storage or usefulness in a more adventurous setting, VW offers several accessory items to accommodate bulkier items for vacations or trips to the campground. These include roof rails with several storage systems and cargo baskets.
Visibility is noted by reviewers to be good, with small windows integrated into the C-pillar for additional blind spot assistance.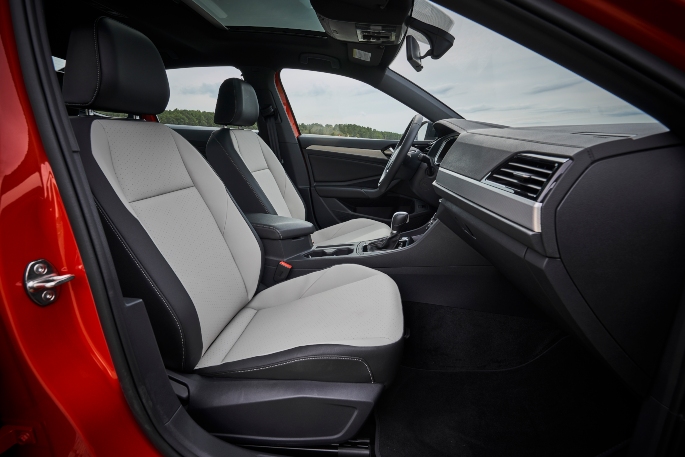 As with most other small sedans in the class, the VW Jetta is only available in front-wheel-drive, preventing it from inspiring the same levels of confidence as the Subaru Impreza in adverse weather conditions.
Technology & Infotainment
Technology and infotainment features are much improved from the previous generation Jetta.
Standard features include an infotainment system with a 6.5-inch touchscreen display and Android Auto, Apple CarPlay, and MirrorLink smartphone integration. VW's Car-Net telematics system is also standard.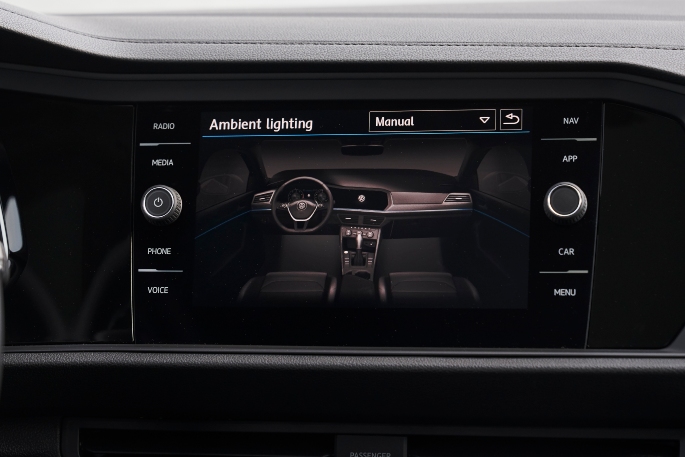 Technology upgrades depending on the model include an 8-speaker BeatsAudio sound system, an 8-inch touchscreen infotainment display, HD radio, satellite radio and VW's Digital Cockpit, with a TFT display replacing the conventional analog instruments.
Many reviewers love the infotainment system for its easy-to-use controls and interface, but most do not find the steering wheel controls helpful or easy to use. They note that the base audio system does not produce a quality sound, but that the upgraded Beats system is one of the best-in-class. Most reviewers prefer the upgraded tech features the higher-trim Jettas have to offer in favor of the base features.
Safety & Driving Assistance
Safety and driving assistance features have also been improved over the previous generation Jetta.
Standard features include electronic stability control, LATCH child seat anchors, daytime running lights, a rearview camera, and engine brake assist. Optional features include automatic emergency braking, forward collision alert, blind-spot monitoring, rear cross-traffic alert, adaptive cruise control, automatic windshield wipers, automatic high-beam headlights, and lane-keep assist.
The Insurance Institute for Highway Safety awarded the Jetta the highest score for each crash test rating, with the headlight score only earning a Marginal rating. The National Highway Safety Transportation Administration awarded the Jetta an overall rating of five out of five stars.
Driving Experience
The 2019 Jetta provides a mixed bag of driving impressions. Reviewers enjoy the overall handling characteristics of the Jetta, but they also agree that the lack of steering and braking feel detract from what the Jetta is truly capable of doing.
It is offered with the choice of two engines, with transmissions depending on the regular Jetta line of the performance-oriented GLI.
The 1.4-liter turbocharged 4-cylinder engine produces 147 horsepower and 184 lb.-ft. of torque. It can be paired with a standard 6-speed manual on the S transmission or an 8-speed automatic transmission that comes as standard on all other trim levels of the standard Jetta.
The Jetta GLI is marketed separately from the regular Jetta, having its separate trim levels. It comes standard with a 2.0-liter turbocharged 4-cylinder engine and produces 228 horsepower and 258 lb.-ft. of torque. It comes standard with a 6-speed manual transmission or an optional 7-speed dual-clutch automatic.
At baseline, reviewers of the Jetta note that its handling is competent through cornering. Most are pleased with its athleticism with some reviewers even placing it on par with Golf GTI hatchback handling characteristics. Good low-end acceleration is a direct result of typical turbocharged torque, making it feel faster than it is.
Reviewers note that the turbo four quickly runs out of steam when pushing for more high-end acceleration.
Most reviewers agree that both a lack of steering feel and uninspiring braking take away from the confidence the Jetta could potentially inspire. Though both of these characteristics aid in overall comfort and ease of driving, the Jetta limits itself to commuting and city driving for an enjoyable driving experience.
The Jetta GLI takes many steps to rectify the non-inspiring feel of its less powerful sibling. Reviewers note that the suspension upgrades, better steering feel, and the additional power provide a much more engaging driving experience than the other Jettas. A standard six-speed manual transmission and distinctive interior accents also liven up the Jetta GLI. A sub-six second 0-60 mph time provides the acceleration lacking in the Jetta's other trim levels.
Fuel Efficiency
The Jetta is a standout amongst its peers when it comes to fuel economy, even though the segment is mostly geared toward efficiency.
It returns EPA estimates of 30 mpg city and 40 mpg highway when equipped with the 1.4-liter four-cylinder engine. The Jetta GLI returns lower EPA estimates of 25 mpg city and 32 mpg in highway driving due to its larger 2.0-liter engine and higher horsepower numbers.
Just edging out the Jetta in fuel efficiency is the base model Kia Forte FE and the Honda Civic. The Forte FE earns a combined rating of 35 mpg while the Civic edges out the Jetta and Forte with a combined 36 mpg EPA rating. The Toyota Corolla LE Eco goes head to head with the Jetta by earning a 34 mpg combined rating.
Pricing & Value
The Volkswagen Jetta presents an average value to would-be buyers. Though most reviewers agree that higher trim level Jettas provide a better value than lower-trim level Jettas, the base model Jetta does not offer as many features or standard safety equipment offered on several other competitors' base models.
The Jetta excels in fuel economy, comfort, and in-town drivability. Most reviewers agree that there is ample room for passengers, enough cargo space for average trips, and is comfortable enough for a family, even on long road trips.
It is also a safe vehicle, available with many modern convenience and technology features on higher-level trims – if buyers are willing to pay to get all of it.
If the most beautiful materials, best performance, and most modern styling are priorities, the Jetta will present less of a value. Additionally, the base Jetta lags behind some competitors in feature and safety offerings.
The Jetta GLI will appeal to performance enthusiasts, but it also comes at a higher price, and the Golf GTI is generally considered to be the better performance option.
All Jettas come standard with front-wheel-drive. The base model Jetta S and Jetta GLI all come standard with a six-speed manual transmission. An eight-speed automatic transmission comes standard on all Jetta trims above the S, and all Jetta GLI models are available with a seven-speed dual-clutch automatic transmission.
The VW Jetta comes with five different trim options with the Jetta GLI containing its separate trim levels within the GLI lineup:
Volkswagen Jetta S
The base model Jetta S comes standard with a six-speed manual transmission and starts at a base price of $19,640 with a destination fee of $895 included. Opting for the eight-speed automatic transmission is an $800 option.
Standard equipment on the Jetta S includes LED headlights, LED taillights, 16-inch alloy wheels, the MIB II infotainment system with a 6.5-inch touchscreen display, VW Car-Net App-Connect, Android Auto, Apple CarPlay, Bluetooth, a rearview camera, and a four-speaker audio system.
The optional $450 Driver Assistance package adds blind-spot monitoring, rear cross-traffic alert, forward collision warning, and automatic emergency braking to the feature list.
Volkswagen Jetta SE
The Jetta SE starts at $23,290 with destination fee included.
The SE trim adds everything from the base model S and the Driver Assistance package, along with a sunroof, leatherette upholstery, dual-zone climate control, keyless entry, push-button start, a leather-wrapped steering wheel, and heated front seats.
The $495 Cold Weather package adds heated rear seats, heated windshield washers, a heated steering wheel, and remote start capability. This package is available on the SE and higher trim levels.
Volkswagen Jetta R-Line
The Jetta R-Line starts at $24,140 with destination fee included.
It is not that different from the SE in terms of features, but it does add Volkswagen's XDS electronic differential lock for better cornering performance. Distinctive exterior and interior trim are also included, along with 17-inch alloy wheels.
Volkswagen Jetta SEL
The Jetta SEL starts at $25,590 with destination fee included.
Leather upholstery, an upgraded 8-inch touchscreen infotainment system, HD radio, an 8-speaker BeatsAudio system, automatic windshield wipers, and automatic high-beam headlights are all standard on the SEL. The Digital Cockpit, a fully digital instrument cluster, also comes standard.
Additional safety features include adaptive cruise control and lane-keep assist.
Volkswagen Jetta SEL Premium
The Jetta SEL Premium trim starts at $28,090 with destination fee included.
In addition to a built-in navigation system and driver's seat memory functions, the SEL Premium adds every option available on each trim below the SEL Premium, including the Cold Weather package features.
Fully-optioned, a Volkswagen Jetta SEL Premium can cost just under $30,000.
Volkswagen Jetta GLI
The Jetta GLI is marketed almost like a separate vehicle than the other Jetta models. It has its distinct trim levels, and its upgraded 2.0-liter turbocharged engine, detail changes and suspension upgrades.
The GLI S trim starts at $26,890, the GLI 35th Anniversary trim starts at $27,890, and the GLI Autobahn starts at $30,090, all with destination fees included.
All GLI models come standard with a six-speed manual transmission and offer a seven-speed dual-clutch transmission as an $800 option. The GLI models also come with independent rear suspension, rather than the torsion beam in the standard Jetta, and more robust brakes.
Additionally, Jetta GLI models come with special exterior and interior styling such as unique trim, red-accented interior and exterior pieces, and black grilles and vents rather than chrome trim pieces.
The Jetta GLI S features 18-inch alloy wheels, keyless entry, push-button start, heated front seats, performance tires, lip spoiler, VAQ differential, dual exhaust tips, blind-spot monitoring, and automatic windshield wipers.
The Jetta GLI 35th Anniversary Edition features special badging, automatic emergency braking, XDS limited-slip differential, DCC adaptive suspension control, heated side mirrors, dual-zone climate control, remote start, and rain-sensing windshield wipers.
The GLI Autobahn is the top-of-the-line and offers everything featured on lower trims, plus a panoramic sunroof, leather seats, Digital Cockpit, driver memory seat functionality, an additional USB port, HD radio, and ambient lighting options.
More Photos
See more 2019 VW Jetta Photos.