The BMW 3 Series has comprised of seven generations so far.
2019 - Present BMW 3 Series (G20 7th Generation)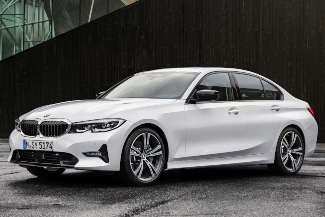 Now in its current and seventh generation, the 3 Series has grown more substantial and more sophisticated over the years. Only the sedan is available this time, as the wagon and Gran Turismo ended their run in the U.S. after 2019.
The 330i is powered by a turbocharged four-cylinder again producing 255 horsepower, while the M340i gets a turbocharged six-cylinder engine with 382 horsepower. Also, a manual transmission is no longer available as all models get an 8-speed automatic.
A plug-in hybrid is expected, though, as is a new M3.
New features include a built-in voice assistant for the infotainment system, a fully digital instrument panel and driver assistance technologies that can perform minor steering functions.
BMW, trying to be a technological leader, has injected that into the G20 3 Series. And that makes it more fascinating to see where its roots started as a compact premium car that was fun to drive.
2012 - 2019 BMW 3 Series (F30 6th Generation)
The sixth-generation 3 Series came for 2012, initially as a sedan and later in wagon form. The coupes and convertibles were rebadged the 4 Series. BMW continued to add technology, making its iDrive infotainment system standard on all models, as well as all of the engines turbocharged.
A turbocharged four-cylinder powered the base 328i (later 330i) model, while the 335i (later 340i) continued with a turbocharged six-cylinder. Diesel power returned, but this time as the four-cylinder 328d, and also available with all-wheel-drive and as a wagon.
The M3 sedan features a turbocharged six-cylinder engine with 425 horsepower and a 0-60 mph time of under 4 seconds.
Other firsts for this generation of 3 Series included the new Gran Turismo four-door hatchback model and the introduction of hybrid models: the ActiveHybrid3, later replaced by the 330e plug-in hybrid.
2006 - 2012 BMW 3 Series (E90 5th Generation)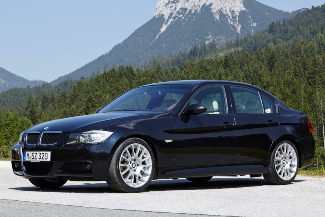 The 3 Series continued to get larger and more powerful when the fifth-generation models started to arrive for 2006. Wagons and coupes quickly joined sedans.
The convertible, which appeared in 2007, switched from a fabric roof to a folding hardtop roof as was popular in the mid-2000s. That made it significantly heavier, but all variants grew from the E46.
Again with the previous generation, only six-cylinder models were available.
For 2007, the 3 Series gained a turbocharged model for the first time in the U.S. as the 335i and 335xi.
All-wheel-drive continued to be available, this time also on coupes and convertibles. A six-cylinder diesel option arrived for 2009 on the 335d sedan, another first.
The M3 coupe, sedan, and convertible came for 2008, now with a V8 that produced 414 horsepower.
1999 - 2006 BMW 3 Series (E46 4th Generation)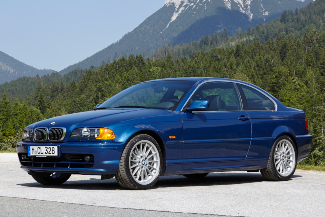 Continuing to increase performance and refinement, the E46 models began to appear for 1999. A sedan, coupe, and convertible all returned but were joined by a wagon for the first time in the U.S.
For the first time in this country, only six-cylinder engines were offered, as the 323i and the slightly more powerful 328i.
All-wheel drive returned to the options list for some models, joined by features such as satellite navigation, side, and head airbags, and six-speed transmissions.
The M3 returned in 2001 as a coupe or convertible with 333 horsepower and either a manual transmission or a new automated manual option.
1992 - 1999 BMW 3 Series (E36 3rd Generation)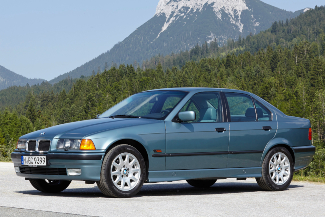 The first models of the third-generation 3 Series began appearing in 1992. The car initially launched as a four-door sedan: the four-cylinder 318i and the six-cylinder 325i. These models were significantly more substantial and more powerful than their predecessors. For the first time, some models were built in the U.S., as well as Germany.
Coupe and convertible variants followed for 1994, and the M3 returned in 1995, this time with a 240-horsepower, six-cylinder engine and available in either coupe, sedan, or convertible for the first time.
The 328i replaced the 325i in 1996.
For the first time, a hatchback was offered, called the 318ti. Introduced in 1995, it was considerably shorter than the coupe and sedan and offered only four-cylinder power, but at a substantially lower price new. It was discontinued after 1999.
1984 - 1993 BMW 3 Series (E30 2nd Generation)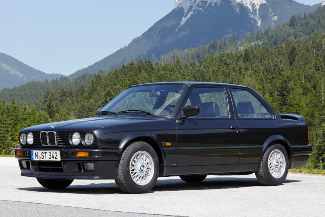 The second-generation, known as the E30, arrived for 1984 as a two-door but was quickly followed by a four-door sedan for the first time.
The 318i was powered by a 1.8-liter four-cylinder engine with 103 horsepower but was available with a five-speed manual or four-speed automatic.
The 318i was joined in 1985 by the 325e, which received a 2.5-liter six-cylinder engine with 121 horsepower, later replaced by the popular 325i model along with a convertible model.
All-wheel-drive was also available on the 325iX model for the first time.
In 1988, the M3 was introduced as a high-performance variant, with a 192-horsepower four-cylinder engine and only available with a five-speed manual. This particular M3 has since become a performance car icon among enthusiasts and is considered highly collectible.
1977 - 1983 BMW 3 Series (E21 1st Generation)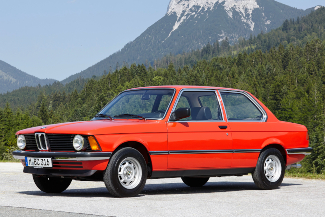 The 320i was available in the U.S. from 1977, replacing the long-running 2002 series.
Available only as a two-door, it was initially only powered by a 2.0-liter four-cylinder engine with 110 horsepower and fuel injection.
In 1980, the 320iS model arrived, with upgraded seats, suspension, and a five-speed manual transmission, among other performance enhancements.
While the 2002 was seen as a smaller vehicle, the E21 shared a similar design as the company's larger sedan and solidified BMW as a maker of premium vehicles. Its rear-wheel-drive platform and sharp driving characteristics made it popular among enthusiasts, too.
But with its small interior and relatively thin list of equipment, it's a far cry from the current 3 Series.