The first modern midsize car from Mercedes debuted in 1953. Known as the Mercedes-Benz 180 or W120, it went through five generations before a rebranding of the line in 1993 created the current E-Class. Mercedes' E-Class luxury models and their predecessors have long been among the brand's most popular models due to their quality, performance, and longevity.
---
2017 – Present Mercedes E-Class (W213 5th Generation)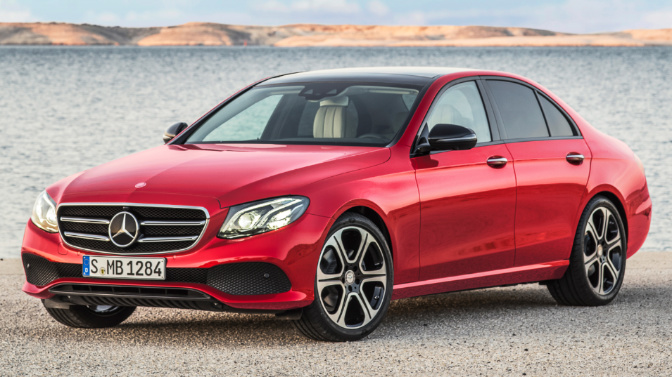 Mercedes spread the introduction of their fifth generational redesign over two years, starting with the four-door sedan and wagon styles in 2017 and then followed by the two-door coupe and convertible styles in 2018.
The new generation debuted with four trim levels: the E300, E400, E550, and AMG E43 and AMG E63 S performance variants, with numbers indicating which engine is found on each model.
Standard powertrains for are a 241-hp 2.0-liter four-cylinder, a 329-hp 3.0-Liter V6, a 402-hp 4.7-liter V8, or a 603-hp 4.0-Liter V8 (for the 300, 400 and 43, 550, and 63 S respectively).
All standard models come standard with rear-wheel-drive (AMG models are all-wheel-drive), and the standard transmission was changed from the seven-speed to a nine-speed automatic. The generational redesign brought another styling update, with the elimination of the four-headlight look entirely, opting for a more market-standard look.
For the interior, Mercedes modified the design to be similar to the S-Class. Additionally, stand tech features include PreSafe, Mbrace telematics, voice controls, a navigation system, and Apple CarPlay and Android Auto.
The 2019 model-year bumped the E400 trim to E450 with a new 362-hp 3.0-Liter V6 engine and eliminated the E550 and AMG E43 to introduce the AMG E53, a mild-hybrid variant that carries a 429-hp, turbocharged 3.0-liter six-cylinder engine.
In 2020 the E300 was bumped to the E350, gaining 15-hp on a new engine. Emergency braking is also added as a standard safety feature for 2020 models.
---
2010 – 2016 Mercedes E-Class (W212 4th Generation)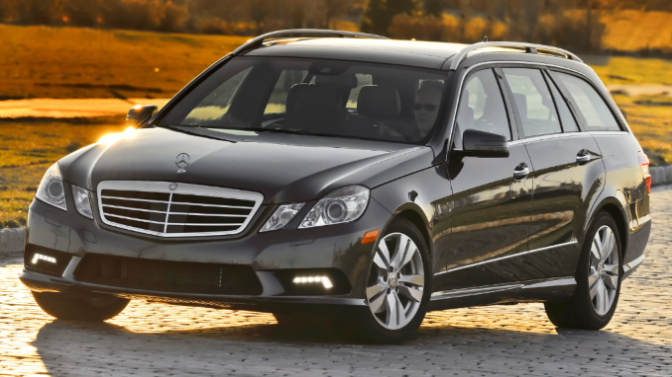 The fourth-generation E-Class debuted for the 2010 model year with a full redesign. In addition to the standard sedan body style, a coupe body style was available for the E350 and E550 trims, although not for the E63.
This new generation also received a thorough styling update that left the circular quad headlights behind in favor of a more angled and aggressive overall design. The 2010 models also cost significantly less than their 2009 counterparts, while still adding features like a seven-speed automatic transmission, auto-dimming mirrors, COMAND electronic interface system, Bluetooth, and an eight-speaker stereo as standard.
2011 saw the return of previous variants, including the wagon body style, a diesel engine option for the E350 and a new convertible option. Standard safety features for this model year include Attention Assist (drowsiness alerts) and PreSafe (crash anticipation controls).
For 2012 each model received engine upgrades for increased power and efficiency.
The 2013 lineup added an all-wheel-drive variant of the E350 and the E400 hybrid, rated at 24/31 mpg city/highway.
In 2014 the E-Class received another significant round of updates as the front end styling was again revised to be even sleeker, the E350 diesel option was rebranded as the E250, and the E63 came standard with all-wheel-drive. Possibly the most significant updates to the 2014 models, however, was Mercedes' new safety package. Front and rear collision-mitigation systems are added as standard, and an updated Driver Assistance package with adaptive cruise control and lane-departure prevention is optional, alongside Mercedes' Mbrace telematics system with smartphone integration.
In 2015 the E400 hybrid model received a new engine, boosting power output to 329-hp before being discontinued in 2016 along with the base E63 model.
---
2003 – 2009 Mercedes E-Class (W211 3rd Generation)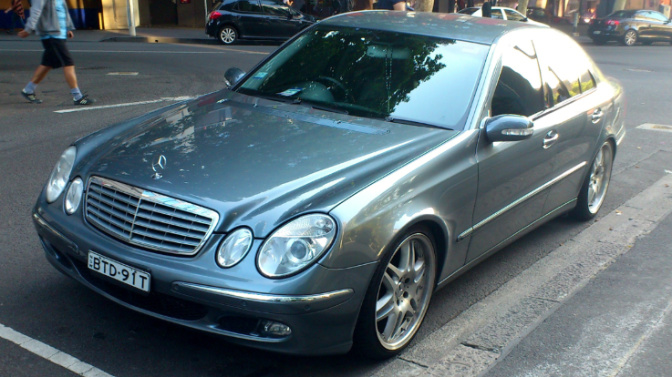 The redesign for the 2003 E-Class was focused on improving performance and technology and found little in the way of stylistic modifications.
The initial lineup included the E320 sedan and wagon with more powerful 221-hp 3.2-Liter V6 engines, the E500 sedan with a 302-hp 5.0-Liter V8 engine, and the E55 AMG with a 469-hp 5.5-Liter V8 engine.
All models come standard with five-speed transmissions and rear-wheel-drive, with the E320 wagon having an all-wheel-drive option. Standard features include keyless entry, two-stage airbags, an improved braking system and ventilation controls, and rain-sensing wipers.
In 2005 Mercedes made the wagon body-style available on all models as well as reintroducing a diesel option to the U.S. as the E320 CDI, which carries a 201-hp 3.2-Liter V6 engine.
In 2006 the E320 base model was boosted to the E350, which carries a 268-hp 3.5-Liter V6 engine, a significant increase from the previous 221-hp versions.
The 2007 model year E-Class brought the lineup a mid-life refresh with a sleek cosmetic revival while engine changes continued to occur. The E500 was replaced by the E550 and added a total of 80-hp to the previous version. The E55 AMG was replaced by the E63 AMG, which added 40-hp to the previous version. In addition to engine changes, many previously option features become standard, including a sunroof, dual-zone climate control, leather upholstery, a 10-way power driver's seat with memory settings, and a Harman Kardon surround-sound audio system.
---
1996 – 2002 Mercedes E-Class (W210 2nd Generation)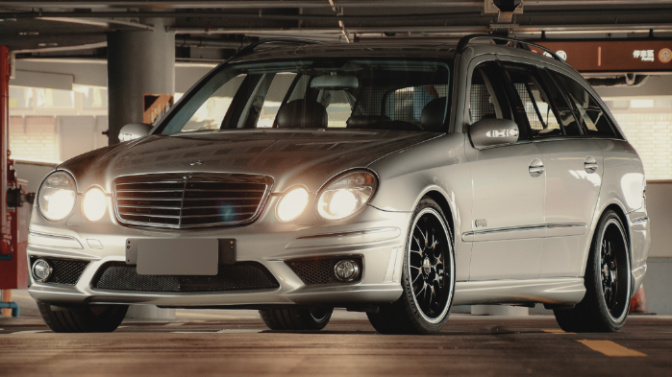 The E-Class line was fully redesigned under its new name for the 1996 model year. The most significant change is found with the body of the vehicle, which is both larger and softer and less boxy than its predecessors. The look is polished off with a split round headlamp design, providing a unique visual personality and becoming a staple for the E-Class aesthetic.
Initial offerings were the E300D and E320 with sedan body styles hosting a 134-hp E300 diesel engine or a 217-hp 3.2-liter six-cylinder engine, respectively; each of which were paired standard to a four-speed automatic transmission and rear-wheel-drive. Significant technology additions for the 1996 model included automatic climate control and air filtration, and standard traction control.
In 1997 an E420 model sedan was added to the lineup with a 275-hp 4.2-liter V8 engine mated to a new five-speed automatic transmission that became standard on all models that year.
For 1998 new variants were offered, including a wagon and an all-wheel-drive option for the E320 and a turbodiesel E300TD model to replace the previous E300D; that increased power output to 174-hp. Mercedes also made the switch from inline-six engines to V6 engines as well.
1999 introduced the E430 variant that boasted a 275-hp 4.3-Liter V8 engine.
In 2000, Mercedes gave the E Class even more technology upgrades that included stability control, touch-shift automatic transmissions, and TeleAid a cellular emergency service as standard. It also added minor cosmetic changes and eliminated the E300TD variant.
In 2001 a performance variant was introduced as the AMG-tuned E55, which carried a 349-hp 5.5-liter V8 engine catering to the thrill-seeking sedan drivers of the world.
---
1994 – 1995 Mercedes E-Class (W124 1st Generation)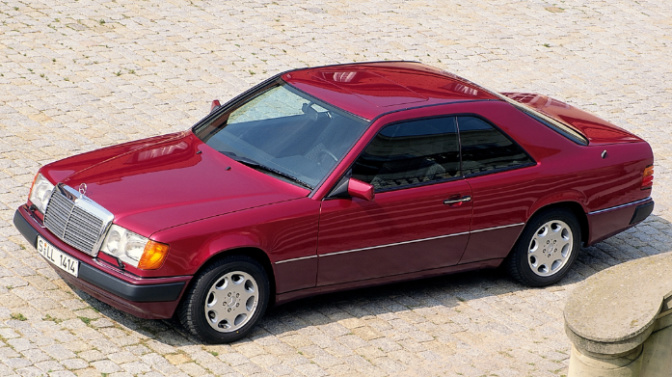 The first E-Class model for 1994 was actually a facelifted version of the W124 Mercedes had built since 1986. This first model was available in the U.S. in three powertrain variants labeled the E320, E420, and E500.
The E320 came in several different body styles: a four-door sedan and wagon body styles, and two-door convertible and coupe body styles while the E420 and E500 were both available exclusively with a sedan body style. All models came standard with four-speed automatic transmissions and rear-wheel-drive.
The modifications made to the 1994-95 models from previous years held two main focuses: aerodynamics and safety. These first E-Class models were not only the fastest standard production sedans of the time; they were also hailed as some of the safest sedans of the day. Standard safety features included ABS braking, steering-wheel and side airbags, and a seatbelt tensioning system, all of which were ahead of the market at the time.