The 2019 Chevrolet Bolt EV is an all-electric subcompact car that is aimed at budget and environment-conscious new car buyers. It competes with the Hyundai Ioniq Electric, Kia Niro EV and Tesla Model 3.
The Bolt EV is now in its third model year, first going on sale for 2017. It has been slightly updated for 2019 to include new charging features, a Low Driving Mode, new interior technology features and new colors.
The Bolt EV is one of two alternative fuel vehicles that Chevrolet offers, joining the Volt. The Volt is a plug-in vehicle that uses a small gasoline engine to supplement the electric motor. The Bolt EV has a 238-mile driving range on a single charge, one of the longest driving ranges offered on any electric vehicle available for purchase today. The Tesla Model 3 Long Range has a more extended, 325-mile range, but most others in the segment run between 125 and 250 miles on a single charge.
The Bolt EV is offered in two trims: LT and Premier and has a starting price of $37,495 before destination fee and options. Federal, state and local incentives may lower that price further, depending on where you live.
Pros/Cons
Pros
238 miles of all-electric range
Spacious, usable interior
Fun yet comfortable ride
Cons
Somewhat low-rent interior materials
High starting price
Advanced safety equipment costs extra
Exterior
TL;DR The Chevy Bolt EV's exterior is most like that of a conservative hatchback's, but the available color options venture into outlandish shades.
The Bolt EV is a small hatchback with four doors, and as such, the design is somewhat conservative. Its front end is accented by LED running lights and a closed-off grille that features a prominent Chevrolet logo. Body lines rise gently from front to back, and the rear is clean and uncluttered. The car comes standard with 17-inch wheels, body-colored door handles, HID headlights and LED taillights.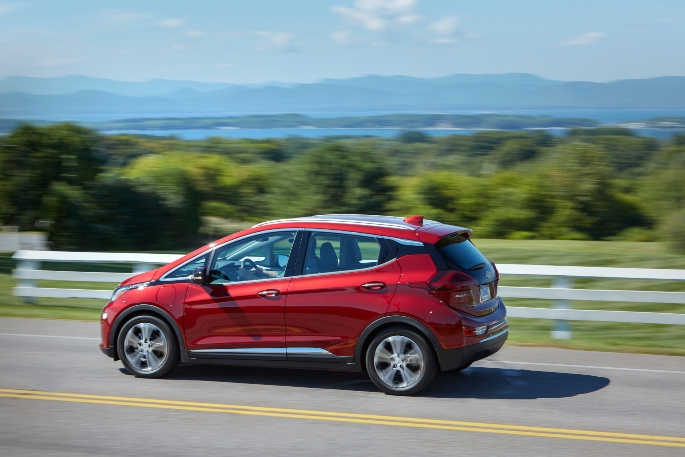 Critics praise the Bolt EV's straightforward design, but with new color names like Green Mist, Slate Gray and Shock (yellow), some of the color choices border on the outlandish.
Chevrolet Bolt EV Interior
TL;DR The Bolt EV's interior is spacious and comfortable, but the quality of the materials falls well short of what a vehicle that costs nearly $40,000 should have.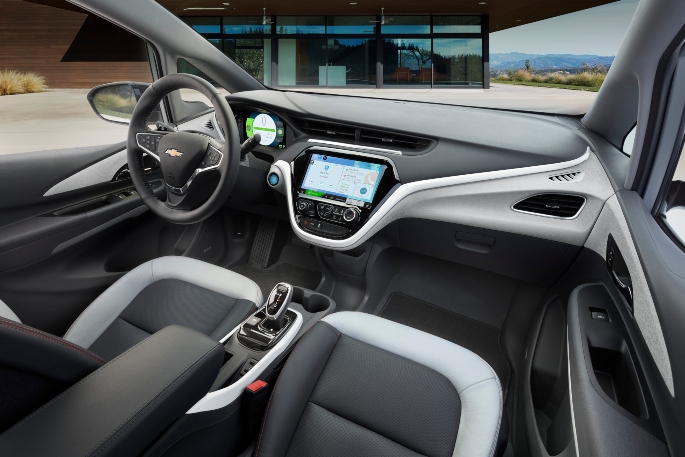 The Bolt EV is considered to be a comfortable subcompact car that can seat up to five people. Critics praise the Bolt EV for having good head- and legroom, with enough space for two adults in the rear seats without much issue. The front seats are wide enough and supportive for longer trips, but the reviewers note that the seat cushions can feel a little flat over time.
Buyers with children may find difficulty installing car seats in the rear of the Bolt EV, as it was rated as "Marginal" for LATCH ease of use by the IIHS for having anchors that are set too deeply into the seats. Additionally, reviewers note that the Bolt EV's somewhat small rear seat may make it harder to load and unload children in the car seats.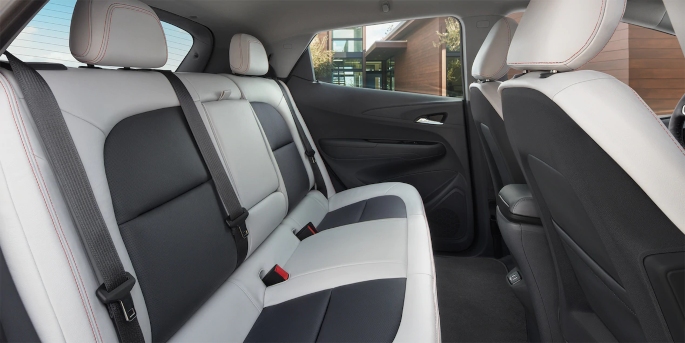 Materials quality scored just OK among critics, especially for the car's relatively high price point. Chevrolet's generous use of hard plastics and budget materials throughout the cabin cheapened the feel of the vehicle, but reviewers do state that the interior is clean and modern.
Many reviewers praise controls as being easy to use and clearly labeled, however. The 10.2-inch touchscreen is easy to use, colorful and bright. Many climate and vehicle controls can be used with both on-screen controls and physical buttons below the screen. The Chevrolet MyLink infotainment system provides information on charging and driving habits to improve range.
Critics found that the Bolt EV is nearly as practical as a small crossover and that interior storage spaces are plentiful. The front doors have large pocket storage areas, and the center console is deep enough to be useful for medium-sized items like wallets and paperwork. The cupholders, while generously sized, are placed in an awkward location under the infotainment screen that may make them difficult to access for shorter drivers and people with larger travel cups. Even so, there can be up to six cupholders in the Bolt EV: two in the front, two in each rear door, and two in the rear armrest on Premier models.
Utility & Practicality
TL;DR The Bolt EV is spacious and usable but falls short of the competition.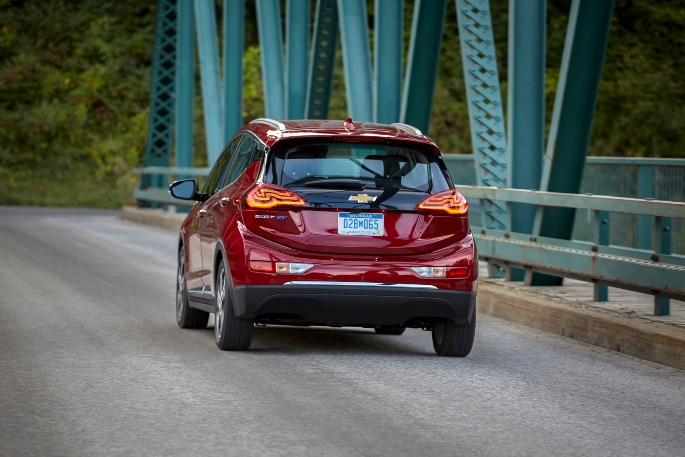 The Bolt EV is considered to be a practical subcompact car with plenty of usable space. The rear cargo area has 16.9 cubic feet of space behind the rear seats, which is suitable for such a small vehicle but is outdone by others like the Toyota Prius Prime and Volkswagen e-Golf. The rear seats fold down in a 60/40 split, which increases cargo space to up to 56.6 cubic feet.
Critics like that the Bolt EV's upright design allows for generous cargo spaces, even with the rear seats are up. Reviewers found that area is large enough to carry five carry-on bags since they can be stacked behind the seats. The Bolt EV was also awarded points for its small item storage. Critics praise the car for its ability to conveniently handle items like smartphones, with a cubby just behind the cupholders perfectly sized for most devices.
The Bolt EV comes standard with a cargo cover for the rear storage area and can be equipped with a cargo net for additional storage options. An adjustable cargo floor is also available, which allows for extra small item storage under the rear floor.
Infotainment and Technology
TL;DR Technology is a strong suit for the Bolt EV. The car's information systems provide useful stats on driving, efficiency, and vehicle performance.
The Bolt EV has many standard technology features that either supplement the electric driving modes or provide entertainment and vehicle information. All models come standard with a 10.2-inch touchscreen, OnStar telematics, a 4G LTE WiFi hotspot, Apple CarPlay and Android Auto, six speakers, two USB ports and SiriusXM satellite radio.
Optional features include an Infotainment Package for the Premier trim, which consists of a Bose Premium seven-speaker audio system, wireless device charging and two additional USB charging ports for rear-seat passengers. Universal tablet holders are also available for rear seat entertainment and wireless smartphone charging is also available for the Premier trim.
Reviewers like the Chevrolet MyLink infotainment system's colorful interface. The Bolt EV's screen is located in an easy-to-reach place on the dash and provides useful information on driving and vehicle status.
Safety
TL;DR The Bolt EV can be equipped with a long list of advanced safety equipment, but none come standard.
The Bolt EV is considered to be a relatively safe vehicle. Standard safety features include a Teen Driver Mode that allows parents to set limits on what their children can do in the car (in terms of driving speed and radio volume, at least), a rearview camera, an engine immobilizer, 10 airbags, LED daytime running lights, OnStar Connected Services, a pedestrian safety signal and stability control.
Available safety features include low speed forward automatic braking, forward collision alerts, lane keep assist with lane departure warnings, front pedestrian braking, a following distance indicator, automatic high beam headlights, rear park assist, rear cross-traffic alerts, and lane change alerts with blind spot monitors.
The Bolt EV did not earn a Top Safety Pick designation from the Insurance Institute for Highway Safety, but the agency did rate the car "Good" for front, side and roof crashworthiness. Front crash prevention was rated as "Superior" with optional equipment on board. The Bolt EV's headlights were rated as "Poor," however, and the LATCH system ease of use was rated as "Marginal."
The National Highway Traffic Safety Administration awarded the maximum 5 stars to the Bolt EV with no other safety concerns noted.
Driving Experience
TL;DR The Bolt EV has an engaging driving experience with good handling, snappy acceleration and a comfortable ride.
The Bolt EV's all-electric powertrain delivers torque on demand and immediate acceleration off the line. Reviewers like the lively acceleration and fun steering-wheel paddles that adjust braking and power regeneration settings.
The electric motor produces 200 horsepower and up to 266 lb.-ft. of torque and gets power from a 60-kWh lithium-ion battery pack and a single-speed transmission. Though it is out-paced by more expensive electric vehicles like the Tesla Model 3 Performance, the Bolt EV's 0-60 mph acceleration time of 6.5 seconds is considered by critics to be impressive for such a small car.
Critics praise the Bolt EV for a firm-but-comfortable ride that makes for an engaging and relatively fun driving experience. The battery pack's location low in the vehicle makes the center of gravity lower and improves handling. Reviewers note that the Bolt EV has responsive steering and smooth brakes that are strong and predictable. Some reviewers note that the ride can become busy on very rough roads, requiring management from the driver, but that the car never feels unpredictable or uncomfortable.
The Bolt EV comes with two driving modes: Drive and Low. Drive Mode operates like a typical vehicle, but Low Mode increases the aggressiveness of the regenerative braking, which allows for one-pedal driving in most circumstances so that you rarely need to tap the brake unless in emergencies. The car applies braking force once the driver's foot is off the gas pedal to recharge the battery and slow the vehicle. The Regen on Demand feature allows the level of braking to be set by using paddles attached to the steering wheel. It will enable the driver to avoid using the brake pedal in many slow-speed driving conditions.
Reviewers note that the Bolt EV's high driving position provides excellent outward visibility, similar to that in a small crossover or SUV. The car's small pillars allow for good views in nearly all directions, and its overall small size makes city driving and parking much more manageable.
Fuel Efficiency
TL;DR The Bolt EV's 238-mile range puts it well ahead of most of its competition.
The Bolt EV is all-electric and uses no fuel. The Bolt EV is rated 128 MPGe in the city and 110 MPGe on the highway. MPGe means miles per gallon equivalent and measures an alternative fuel vehicle's energy consumption against gas-power vehicles.
The Bolt EV has a total estimated driving range of 238 miles on a full charge. That is better than the Hyundai Ioniq Electric and the Nissan Leaf Plus but falls short of some Tesla models that reach 300 miles on a charge. It's also behind the 258-mile range from the similarly priced Hyundai Kona Electric.
With a 240-volt charger, recharging takes over nine hours, but DC fast charging can provide 90 miles of range in half an hour. Critics note that outside temperatures can affect the car's speed and ability to charge. They also found that the driving range indicator located in the vehicle's gauge cluster is exceptionally accurate and updates in real time as the vehicle moves.
Trim Levels and Pricing
TL;DR The Bolt EV comes in two trims, but the base LT model has a long list of standard features.
The Bolt EV LT has a starting price of $37,495 before destination charges and taxes and comes standard with Regen on Demand, SiriusXM Radio, Teen Driver mode, keyless push-button start, a six-speaker audio system, manual front seats, a vehicle efficiency display, a cargo cover, cargo storage for the charging cable, a 10.2-inch infotainment screen, cruise control, LED interior lighting, a leather-trimmed shift knob, location-based charging, power windows/door locks, a rearview camera, folding rear seats, remote start, automatic climate controls, a 4G LTE hotspot, and two USB ports.
The Bolt EV Premier has a starting price of $41,895 before destination charges and taxes and comes with a leather-wrapped steering wheel, an automatic heated steering wheel, a false rear cargo floor, heated front seats, lane change alerts with blind spot monitors, a rear camera mirror, rear cross-traffic alerts, rear park assist, and a surround-view camera.
Value
The Bolt EV is considered to be a good value that has generous features for the price.
In its base LT trim, critics praise the Bolt EV for having a long list of standard features that significantly increase the car's value. The nearly-$40,000 price tag is not considered to be notably budget-friendly, but for an all-electric vehicle with a 238-mile driving range, the price is reasonable. And there are also incentives that can lower the initial cost significantly if buying new.
Most of the competition falls short in range, except the Tesla Model 3 Extended Range, which costs considerably more. The Nissan Leaf, Hyundai Ioniq Electric, and Volkswagen e-Golf all have shorter driving ranges.
More Photos
See more 2019 Chevy Bolt EV Photos.