The first generation of Ford F-Series pickup trucks was introduced in 1948. Descending from the very first Ford Model TT Pickup, and later, the Model 50 Pickup, it was not until the second generation that Ford's current naming system was set in place. The F-100, F-250, and F-350 pickup trucks had been built since 1953, but the actual F-150, which eventually replaced the smaller F-100, did not make its debut until 1975 and was sold alongside the F-100 until 1983 when that model was discontinued.
2021 - present Ford F-150 (9th Generation)
The ninth-generation F-150 was introduced online on July 25, 2020.
Much of what made the previous version so popular has carried over to this generation: the wide variety of powertrains, the chisled aluminum body, and a host of trim levels to suit every need and budget.
Big changes for this generation included the addition of a new Hybrid model. It uses a 3.5-liter EcoBoost turbocharged V6 and a 35 kW electric motor and promises at least 700 miles of range (gas engine and motor combined); the Hybrid powertrain is available on all trim levels of the F-150.
Other changes include the upgrade to a 10-speed automatic transmission on all trim levels and engines, a robust suite of active safety features including an optional hands-free driving system on pre-selected freeways, an optional onboard generator, a 12-inch touchscreen infotainment system on XLT models and above, and a variety of innovative features that make using the truck easier and more functional.
2015 - 2020 Ford F-150 (8th Generation)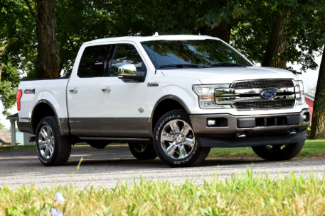 The big news for this generation was the use of aluminum for the truck's body panels, a move aimed at reducing weight and boosting fuel economy.
This version of the F-150 is larger than its predecessors and features the choice of a base V6, a 2.7-liter or 3.5-liter Ecoboost turbocharged V6, a 3.0-liter turbo diesel, or a 5.0-liter V8 engine
The regular, crew and super cabs are available, and luxury touches like LED headlights, advanced safety features, automatic start-stop, and a 10-speed automatic transmission keep it at the forefront of vehicle technology.
The Raptor was revised in 2017 and comes standard with a more powerful 3.5-liter EcoBoost V6.
2009 - 2014 Ford F-150 (7th Generation)
2009 saw another complete redesign of the F-150, including a fully boxed frame, an updated body shape, and luxury features that were previously reserved for posh cars and luxury SUVs. All-new engine options, including the 3.5-liter Ecoboost and 3.7-liter V6s, as well as the 5.0 and 6.2-liter V8s, became available as well as the iconic Ford SVT Raptor in 2010.
Continued refinement of the F-150 continued with small changes throughout the 7th generation with minor updates, including HID headlights, heated seats, and other luxury touches that continue to make the F-150 a viable family vehicle rather than a strict work truck.
2004 - 2008 Ford F-150 (6th Generation)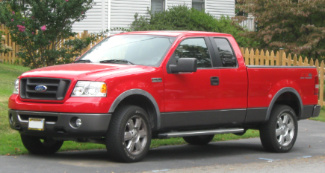 The 2004 model year brought another exterior redesign that featured more squared design cues in the headlights, taillights, and other design elements. The regular cab and super crew both featured four doors while interior comfort reached new levels, making the F-150 even larger and more family-friendly than its predecessors. The V6 engine remained the base engine with a five-speed manual remaining standard while the 5.4-liter V8 remained optional, only available in an automatic transmission.
With the choice of a 6.5 or 8-foot bed, a five-star safety rating, and the redesign that came with the 6th generation truck, the F-150 won multiple awards. It cemented itself further as not only a work truck but a family vehicle as well.
1997 - 2003 Ford F-150 (5th Generation)
1997 saw a complete makeover of the F-150 design with both regular and super cab layouts. It was more rounded and more oriented to being a passenger vehicle as well as a hauler. The inline six-cylinder was replaced with a 4.2-liter V6, and the V8 options changed to 4.6 and 5.4-liter units, producing well over 200 horsepower. A five-speed manual transmission remained standard.
The SVT Lightning performance F-150 was re-introduced for 1999 as a performance version of the truck, and the Super Cab introduced a rear-hinged suicide door layout to allow for better overall practicality. Additionally, the 5.4-liter V8 got a power upgrade to 250 horsepower. The Super Crew Cab, a true four-door cab layout, and the top-of-the-line King Ranch trim were both introduced.
1992 - 1996 Ford F-150 (4th Generation)
The 1992 F-150 was introduced with more aerodynamic styling and a choice of a base inline six-cylinder or the same V8 engine options as before: A 5.0-liter or 5.8-liter. These were mated to a three-speed automatic, four-speed manual, four-speed automatic, or five-speed manual transmission.
The Nite package, which offered black paint and came standard with the 5.8 liter V8, was available through the 1991 model year, but the SVT Lightning came in and took its place in 1993. It was mainly a sport version of the F-150 with the upgraded performance from the 5.8-liter powertrain. Driver airbags came standard in 1994, and 1995 marked the last year of the inline six-cylinder engine.
1987 - 1991 Ford F-150 (3rd Generation)
1987 saw a slightly more rounded design than the previous generation F-150 while engine options remained the same with additional horsepower gains. The four-speed manual transmission became standard, and the four-speed automatic was optional. Further improvements in ride dynamics made the F-150 more livable as a daily driver and even as a family vehicle.
Regular and super cab models were still standard, and a five-speed manual transmission was made standard for the 1988 model year with a three or four-speed automatic as options.
1980 - 1986 Ford F-150 (2nd Generation)
The 2nd generation Ford F-150, the seventh of the F-Series pickup, was introduced for 1980 with the same wheelbase and cargo capacity, yet with less weight. Improved styling, including an egg-crate grille, a more refined ride, and regular and super cab options were made available to the consumer.
The inline six-cylinder engine was still standard, and two V8 engine options – a 5.0 liter and 5.8 liter – were available, both with over 130 horsepower and over 230 lb-ft of torque. A four-speed manual transmission and four-speed automatic transmission were introduced for 1981. Additionally, fuel injection was launched in 1985 to the inline-six-cylinder and base V8 powerplants.
1975 - 1979 Ford F-150 (1st Generation)
The F-150 was introduced in 1975, right in the middle of the sixth generation of Ford F-Series trucks. It was larger than the F-100 but smaller than the F-250 and was offered in both regular and super cab options. The base engine was an inline six-cylinder producing just 113 horsepower. Two V8 engine options provided 145 and 160 horsepower, respectively. Its signature round headlights and large rectangular grille continue to be very recognizable today.
An additional V8 engine option in 1976 and subsequent other V8 offerings with much-needed horsepower boosts in 1977 were welcomed by the public. Rectangular headlights replaced circular ones in 1978, but otherwise, significant styling changes were minimal. A three-speed manual transmission came standard with an optional automatic transmission.