Summary
The 2019 Ford Mustang is a new car and part of the 6th generation which was originally unveiled in 2013. Known as a pony car, the Mustang is an American made muscle car popular around the world.
In 2018, Ford reported selling 125,809 Mustang coupes and convertibles in 146 countries across 2017. The company called the Mustang the world's best selling sports coupe for three years in a row.
The highlights of the new 2019 Ford Mustang are the release of a long awaited Bullitt inspired trim, new California Special customization package, and continued performance upgrades to the Mustang Shelby GT trims.
Exterior
The Ford Mustang is a legendary American made muscle car.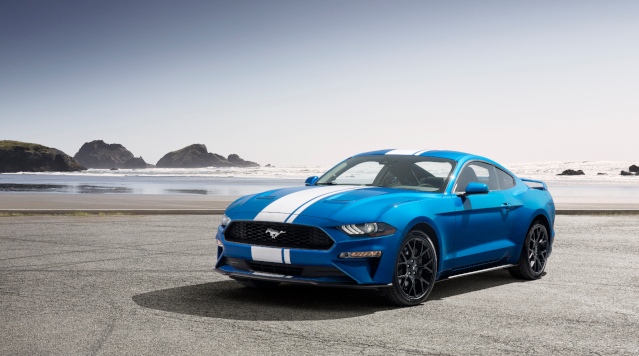 With nearly endless customization options and an athletic exterior design, the 2019 Mustang features some unique trims such as the Ford Mustang Bullitt and Ford Mustang Shelby GT350 which offer an impressive mix of style and performance.
The 2019 Mustang is available in the following colors:
B5 Dark Highland Green*
AJ Need For Green*
E7 Velocity Blue*
G1 Shadow Black
J7 Magnetic Metallic
L6 Kona Blue
NL Orange Fury
PQ Race Red
RR Ruby Red Tint
UX Ingot Silver
YZ Oxford White
* new for 2019
Interior Quality and Comfort
While most 2019 Ford Mustangs can seat up to four people, race inspired versions such as the Shelby GT350 are only designed for a driver and passenger.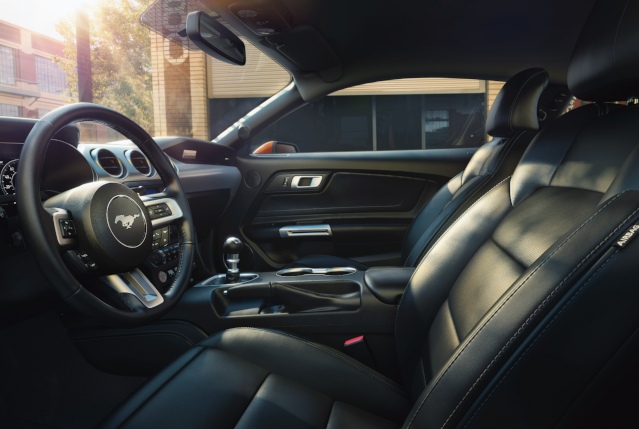 Most reviewers found the front seats of the Mustang to be quite comfortable though those seated in the back may feel a bit tight and cramped.
Both rear seats feature two sets of LATCH car-seat connectors. Some reviewers found these connectors a bit difficult to use when compared to other cars. Additionally, the Insurance Institute for Highway Safety gave the Mustang a lower than average rating of marginal for the LATCH system's ease of use.
Utility & Practicality
With a two door design, limited backseat space and a sporty, performance oriented design, the Ford Mustang might not be as practical as sedans or SUVs but is very functional for a muscle car.
The Ford Mustang features one of the largest cargo capacities of a muscle car at 13.5 cubic feet. This is enough storage space to comfortably fit a large number of shopping bags or up to two sets of golf clubs.
With the addition of a more fuel efficient Ecoboost trim, the 2019 Ford Mustang is one of the more practical muscle cars to use as a daily driver.
Technology & Infotainment
2019 Mustang includes a SYNC infotainment system with 4.2-inch infotainment display, six speaker audio system, rearview camera, proximity key with push button start. Reviewers found the Mustang to include a good combination of modern technologies and classic designs which remain true to the history of this car.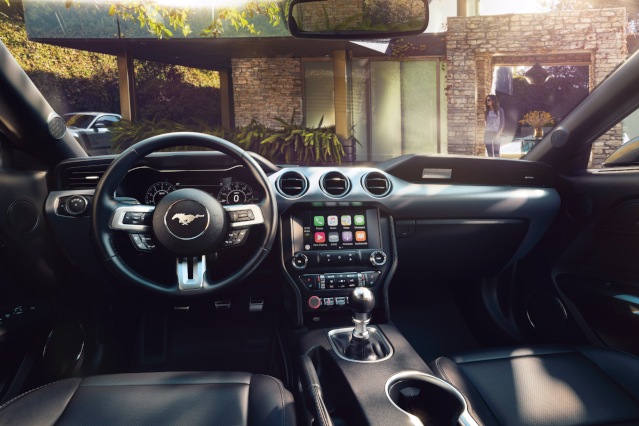 The Mustang can be upgraded to include a SYNC 3 infotainment system, 8-inch touch screen, nine speaker audio system, satellite radio, Wi-Fi hotspot, dual-zone climate control ambient lighting, pony projection lamps, voice activated navigation system and a Shaker 12 speaker audio system.
Safety & Driving Assistance
The Ford Mustang earned a perfect five star rating from the National Highway Traffic Safety Administration. This rating includes an overall, frontal crash, side crash and rollover test.
The Mustang is equipped with the following safety features:
Driver Air Bag
Passenger Air Bag
Front Head Air Bag
Rear Head Air Bag
Front Side Air Bag
4-Wheel ABS
4-Wheel Disc Brakes
Brake Assist
Electronic Stability Control
Traction Control
Lane Departure Warning
Driving Experience
The Ford Mustang wins praise from reviewers for the wealth of options available across the car's various trim levels. Known for good reason as a muscle car, the 2019 Mustang offers everything from the more fuel efficient, 2.3-liter Ecoboost four-cylinder engine up to the 5.2 liter V8 engine in the Shelby GT350.
Most reviewers found the Mustang to be a fun and lively car to drive, whether across town to pick up groceries or out on the track in an ultra high performance setting.
A rear wheel drive sports car, upper level trims of the Mustang feature the following driving modes: Normal, Sport+, Track, Drag Strip, and Snow/Wet.
Reviewers found this car to handle well without being overly challenging to manuever making it a good choice for everyday use.
Fuel efficiency
The 2019 Ford Mustang Ecoboost trims come with a 2.3-liter Ecoboost four cylinder engine. Reviewers cited this trim level as an adequate compromise between the high performance race track variants and a more fuel efficient car for everyday commutes and drives around town.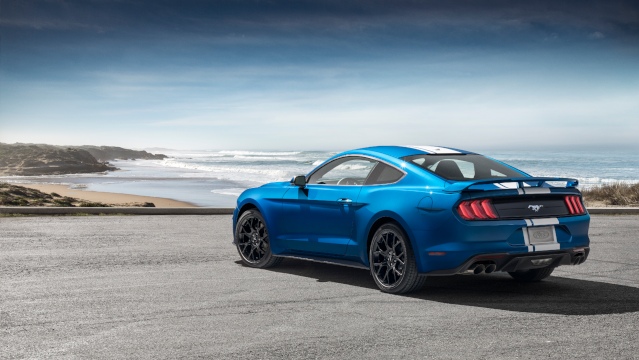 While still able to deliver 310 horsepower, the fuel economy rating of 21 miles per gallon in the city and 32 miles per gallon on the highway are more efficient than many other muscle cars.
The Mustang GT will get about 16 miles per gallon in the city and 25 miles per gallon on the highway.The 5.2-liter V8 driving the Shelby GT350 and GT350R offers 526 horsepower.
Pricing and Value
The 2019 Ford Mustang begins at about $25,845. Choosing to upgrade to a Mustang GT could bring that price up to $40,000 or more depending on how the vehicle is customized.
While that is much less expensive than competitors such as the Dodge Challenger Hellcat and Chevrolet Camaro ZL1, it is far more than cars like the Mazda MX-5 Miata and Toyota 86.
The Mustang is available in 7 different trim levels with many different options available for customization. As the most popular sports car in America in 2018 according to national sales numbers, many reviewers found this car to be a great value for those interested in an American made muscle car.
The Mustang is protected with a three-year/36,000-mile basic warranty and a five-year/60,000-mile powertrain warranty. J.D. Power and Associates awarded the Mustang a predicted reliability rating of three out of five, which is an average score for reliability and longevity.
Ford offers a variety of pricing incentives targeted towards though who have served in the United States military, first responders, students and recent graduates as well as for those with disabilities who might require special adaptations to their vehicles.
Each of these special pricing incentives with the exception of the discount for those with disabilities is worth $500 off the leasing or purchase of a new 2019 Ford Mustang.
Those with disabilities may be able to qualify for up to a $1,000 reimbursement for the installation of adaptive technologies.
Ford Mustang EcoBoost
The 2019 Ford Mustang EcoBoost is available as a hardtop fastback for $25,845 or convertible for $31,345. It has a 2.3-liter EcoBoost four-cylinder engine and six-speed manual transmission standard; a 10-speed automatic transmission is optional. This car's standard features include: a SYNC infotainment system, 4.2 inch display, two USB ports, six speakers, a rearview camera, push-button start, proximity key, manual adjustable seats with cloth upholstery throughout the interior.
Ford Mustang EcoBoost Premium
The Ford Mustang Ecoboost Premium starts at $30,860 as a hard top, fastback. A convertible option is available for an additional $5,500. The premium trim includes an upgraded SYNC 3 infotainment system, 8 inch touch screen, Apple CarPlay, Android Auto, nine speaker audio system, and satellite radio system. It also features leather trimmed seats with heat, ventilation and power adjustment settings in the front. This trim level also features rear parking sensors, dual-zone automatic climate control, aluminum foot pedals, ambient lighting, and pony projection lamps. This last feature allows an adjustable light to shine a mustang logo on the ground near the car.
Ford Mustang GT
Starting at $35,355 for a GT Fastback, $39,366 for a GT Premium Fastback, or $44,855 for a GT Premium Convertible, the 5.0-liter V8 engine is the main upgrade of this trim level. This trim includes a standard six-speed transmission with rev matching with the option of switching to a 10 speed manual transmission. Standard features of the GT trims include dual exhaust with quad tips, a limited slip rear axle, six way power adjusted front seats and rear parking sensors. This trim can be upgraded to the California Special package for an additional $2,000. This upgrade includes unique badges, style details as well as 19-inch wheels, a pedestal style rear spoiler, suede interior and a modified front grille.
Ford Mustang Bullitt
Designed to commemorate the 50th anniversary of Steve McQueen's iconic role as Frank Bullitt in the 1968 movie "Bullitt", this trim level is based around the GT Fastback. This trim level features a more powerful V8 engine, less exterior branding badging, an improved suspension, leather trimmed seats with dark green accents and a 12 inch all digital instrument cluster. It is only available in green paint to match the version seen on screen in the movie. The Ford Mustang Bullitt is available for an MSRP of about $59,500.
Ford Mustang Shelby GT350
The Ford Mustang GT350 is available for an MSRP of about $60,235. This race track inspired trim features a 526-horsepower 5.2-liter V8 engine. New in the 2019 model year, the GT350 features performance improvements such as changes to the body shape to improve aerodynamics and a new spoiler offering better grip at high speeds.
More Photos
See more 2019 Ford Mustang Photos