Autolist rating: 3/5
But would we buy it? Gladly
Price range: $25,495 - $41,055, including destination but before options
Key takeaways
The midsize Ford Ranger returns to the U.S. market after an eight-year hiatus.
Comes exclusively with a turbocharged four-cylinder engine.
Offers a lot of refinement for a midsize truck, making it an easy daily driver.
Gets expensive quickly.
Despite the price concerns, it's now our favorite midsize truck. For now.
---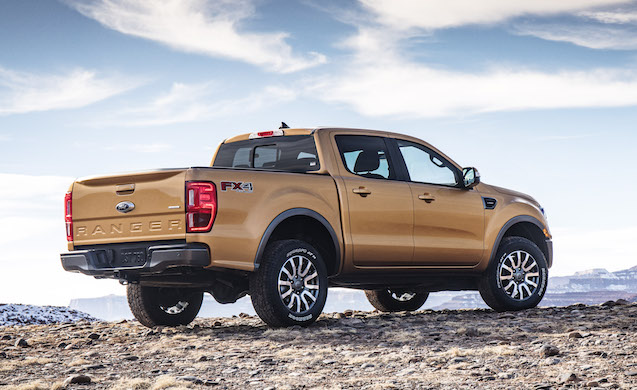 What is it?
The Ranger is Ford's midsize pickup truck. It returned to the U.S. market for the 2019 model year after an eight-year hiatus, during which Ford was adamant truck buyers would gravitate towards a cheap full-size F-150. The market proved otherwise, as rivals like the Toyota Tacoma, Chevrolet Colorado, GMC Canyon and even the aging Nissan Frontier all continued to be extremely popular with buyers.
This new Ford Ranger isn't actually completely new, as the basic platform has been on sale in other global markets for several years. But Ford did make significant improvements to ready it for the American market. Thus, despite its age, it vaulted to the top of our midsize truck wishlist with a heady mix of refinement and capability.
All Rangers in the U.S. come with a 2.3-liter turbocharged EcoBoost four-cylinder engine that makes 270 horsepower and 310 pound-feet of torque. It's paired with a 10-speed automatic transmission and standard rear-wheel-drive.
All-wheel-drive is a $4,000 option on all trim levels.
There are three main trim levels for the Ranger: base XL, XLT and high-end Lariat.
The Ranger comes in one of two bed/cab configurations. The base setup is the SuperCab with a six-foot bed (the SuperCab is basically an extended cab setup with one full set of doors for front passengers and one set of rear-hinged partial doors for rear-seat access). For around $2,200 more, you can choose the SuperCrew setup, which gives you four full, standard doors and a five-foot bed.
An optional $1,295 FX4 package can be added to any of the three trims that have four-wheel-drive. It ups the Ranger's off-road chops with goodies like an off-road specific suspension, unique 17- or 18-inch wheels, an electronic locking rear differential, skid plates, unique display in instrument panel and a terrain management system.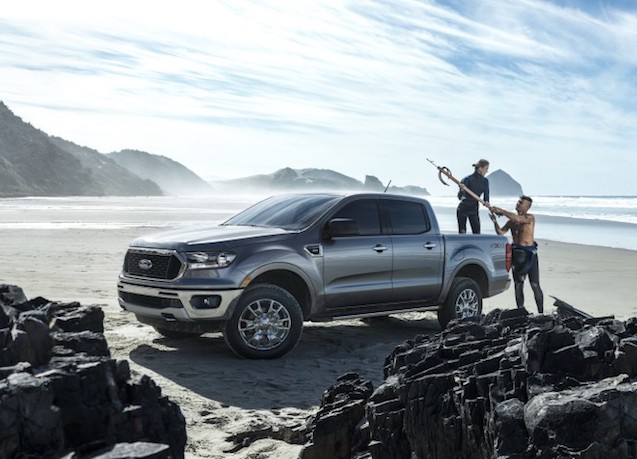 ---
What's good
TLDR: Efficiency, refinement and visibility
Fuel efficient. On paper, the new Ranger's fuel efficiency shines. The EPA rates it at 20/24/22 MPG city/highway/combined for the 4x4 model we tested. That's significantly better than all of its competitors (thank the turbo four versus its rivals' V6 engines). And while real-world driving usually doesn't match EPA figures, we hit 21.3 mpg in our week of testing.
Refined. Despite the fact that this isn't entirely a new model (globally), it's certainly the most refined of any of the midsize trucks on the market (with the exception of the Honda Ridgeline truck thing). Road and wind noise were virtually non-existent and the ride quality was composed and comfortable. It would be an easy pick as a comfortable daily-driver that's on par with a crossover or SUV, something we're not sure we'd say about the Tacoma or Colorado.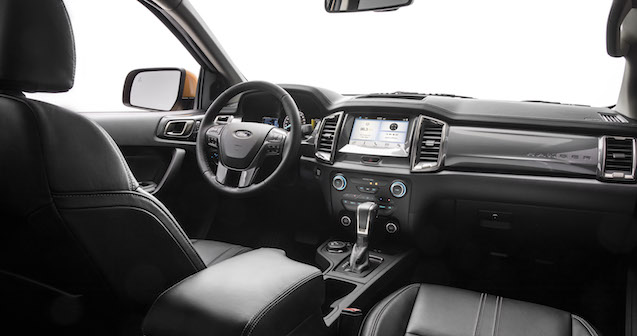 Good visibility. Unlike its rivals (again, with the exception of Honda's Ridgeline), the Ranger's cabin has great outward visibility and doesn't feel like you're hunkered down in a cramped, dark bunker. As with its refinement, this helped the Ranger feel like an easy pick to use on a daily basis...not just when you need to do truck stuff.
---
What's bad
TLDR: Small rear seats, no V6, too much plastic
Useless rear seats in SuperCab. The model we tested was the SuperCab with the six-foot bed. We found the bed length to be perfect (the shorter five-foot setup cuts down the truck's practicality). But the rear seats in the SuperCab model aren't that useful to sit on. The seatbacks are straight upright and legroom for adults back there is practically non-existent. It's a shame the Ranger doesn't offer BOTH the six-foot bed AND the larger SuperCrew cab pairing like its rivals do.
No V6. Though the EcoBoost turbo four has plenty of power relative to its rivals, it just can't match the pure grunt that a larger, naturally-aspirated engine can promise. This wasn't a reason to avoid the Ranger but buyers who are used to the acceleration, sound and behavior of a larger engine will definitely notice the difference.
Cheapo interior bits. This was a minor gripe but there were portions of the Ranger's interior that relied too heavily on cheap plastic construction, especially for a vehicle that can top $43,000.
---
5 stars of execution
Safety Features? NO
Neither NHTSA nor IIHS has crash-tested the new Ranger.
But we were disappointed that all trims of the Ranger didn't come standard with active safety features like its rival Toyota Tacoma offered standard. These include pre-collision alerts and braking, lane-keep assist and adaptive cruise control.
Ford does offer a suite of a few systems -- called CoPilot360 -- as standard on the XLT and Lariat trims and optional on the XL. It includes cross-traffic alerts, blind-spot monitoring and pre-collision alerts.
Value? NO
The Ranger we tested -- a 4x2 XLT SuperCab -- had a window sticker of just over $38,000. That's too much money for this setup.
For that kind of cash we'd at least expect 4x4 and or the full four-door setup of the SuperCrew.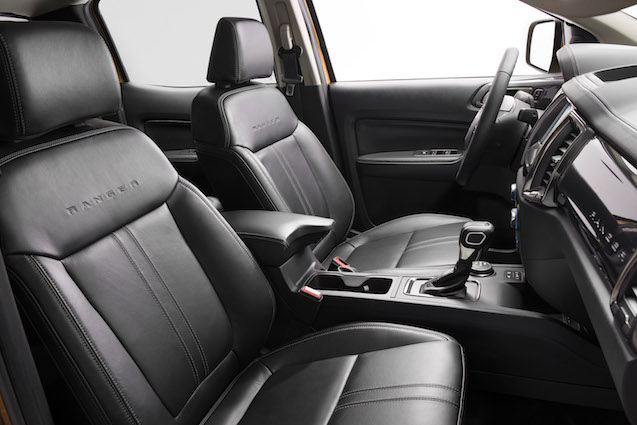 Efficiency? YES
As we mentioned, the Ranger easily beats its V6 rivals in fuel economy.
This win applies both to its on-paper EPA ratings as well as its real-world results.
Driving experience? YES
The Ranger is an excellent daily driver, whether you need the bed in the back or not.
Its interior refinement, ride quality and healthy (albeit turbocharged) engine power all add up to an experience that's enjoyable and -- at times -- non-truck-like.
Execution? YES
Ford knows trucks; it sells more of the larger F-Series in the U.S. each year than any other vehicle -- by a large margin. So it's no surprise that even though this Ranger was designed in and for other markets, it shines here in the U.S.
Though we were put off by the sticker price, nearly every other attribute of this truck beats its rivals, no small feat considering how accomplished the Tacoma and Colorado are.
Total Rating: 3 stars
---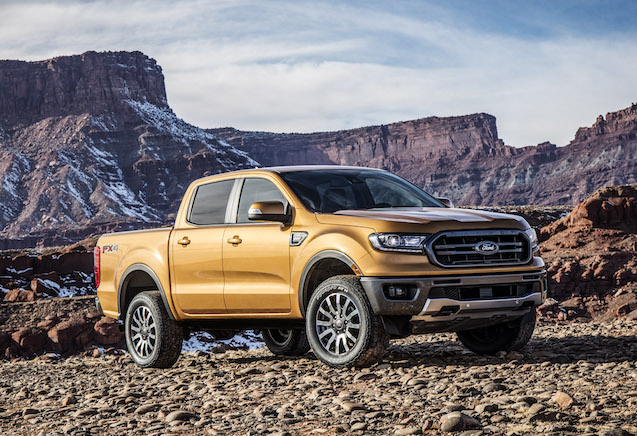 What's it gonna cost me?
The Ranger starts at $25,495 for a base XL model with a 4x2 powertrain, SuperCab setup (smaller rear seats and doors) and a six-foot bed.
Standard features include a wifi hotspot, Ford's Sync infotainment system (minus navigation) pre-collision assist and automatic emergency braking, and 16-inch steel wheels.
The Ranger XLT starts at $29,315 for the 4x2 and the SuperCab setup. This trim adds color-keyed bumpers, 17-inch alloy wheels, parking sensors, fog lights, a power locking tailgate, 4.2-inch digital instrument panel, keyless entry, and the aforementioned active safety tech (blind-spot monitoring, cross-traffic alert, lane-keep assist and pre-collision alerts and braking).
The top-end Lariat starts at $33,585 for the 4x2 and SuperCab. It adds leather seats, LED headlights and taillights, Ford's newer Sync 3 infotainment system with an eight-inch touchscreen, unique exterior trim, larger 18-inch alloy wheels and eight-way power front seats that are heated.
The 4x4 system adds $4,000 to all models while the SuperCrew upgrade runs between $2,100 and $2,400 more than the SuperCab, depending on the trim level.
The FX4 off-road package can be added to any 4x4 model and costs $1,295. It upgrades the suspension, 17- or 18-inch wheels, and adds an electronic locking rear differential, skid plates, unique display in instrument panel and a terrain management system.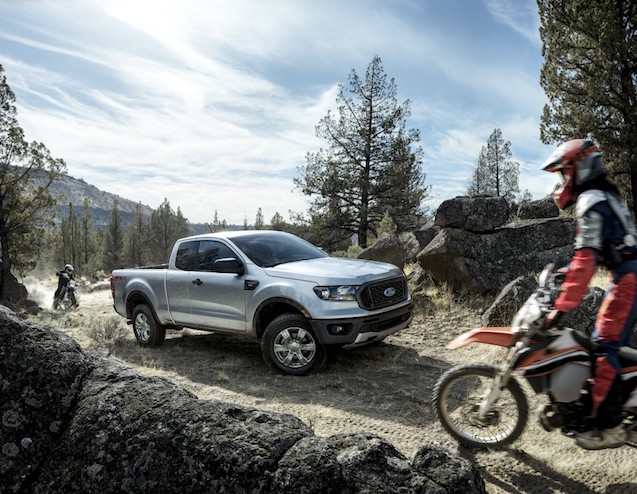 If it were our money on the line, we'd opt for the base XL 4x4 SuperCrew model and then we'd add the FX4 package and the STX package. For $35,480, it gives you a handsome, capable truck with all the refinement that we love on the Ranger and none of the expensive fluff.
---
Also consider
The Ranger is in a small but competitive class of midsize trucks that really has no losers.
The Toyota Tacoma is an excellent all-arounder, mixing capability, iconic reliability and comfort; no wonder it's the segment's top seller. We'd gladly buy one.
The Chevy Colorado is also a strong contender, doing everything the Toyota does, just not as well. The GMC Canyon is its slightly upscale cousin.
Finally, Nissan's Frontier is the oldest of the group, soldiering on in its general configuration for more than a decade. Despite this age, it still represents a strong value in the midsize truck space that buyers should consider.