Quick Facts:
Pros:
Highly fuel-efficient hybrid powertrain.
Aces crash tests and comes standard with lots of driver assistance tech.
Responsive handling and reasonably sprightly acceleration.
Cons:
Hybrid system works hard under hard acceleration.
Sedan bodystyle limits versatility.
Touchscreen controls are convoluted.
Would we buy one? Yes.
Vehicle Type: Four-door, five-seat compact gas-electric hybrid sedan
Price Range: From $23,885 to $29,295 MSRP, including $955 destination charge.
Powertrain: A 1.5-liter four-cylinder engine and 96-kW electric motor, with a total output of 151 horsepower and 197 lb-ft of torque, a CVT, and front-wheel-drive.
Competitors: Ford Fusion Hybrid, Honda Accord Hybrid, Hyundai Ioniq, Hyundai Sonata Hybrid, Kia Niro, Kia Optima Hybrid, Toyota Camry Hybrid, Toyota Corolla Hybrid, Toyota Prius.
More Photos
See more 2020 Honda Insight Photos.
---
Overall Score: 7.4/10
Safety Features: 8/10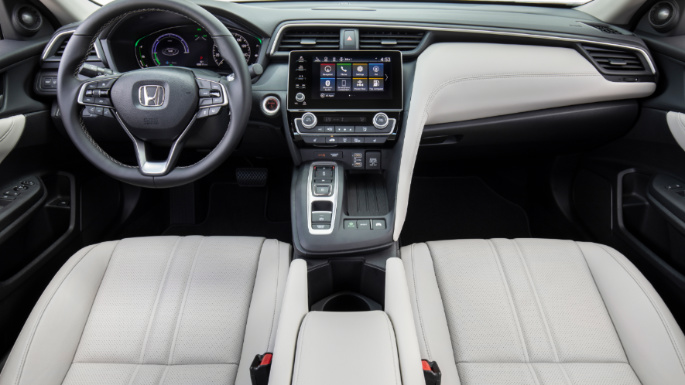 The Insurance Institute for Highway Safety (IIHS) gave the 2020 Honda Insight its Top Safety Pick + rating, its highest honor. The National Highway Transportation Safety Administration (NHTSA) awarded the Insight its top five-star rating in the overall evaluation, and it achieved a maximum rating in front, side, and rollover tests.
Every Insight comes with the Honda Sensing suite of driver assistance systems, including adaptive cruise control, automatic emergency braking with pedestrian detection and forward collision warning, Collision Mitigating Braking System, and lane departure warning with lane-keeping assist. And the IIHS found the Insight's standard LED headlamps performed well enough to earn the highest Good rating. The main demerit is that there is no conventional blind-spot monitoring system on the Insight. Instead, EX and Touring models get the Honda LaneWatch camera system, which projects an image of what's along the car's right side when the right turn signal goes on. LX models do without anything.
---
Value: 8/10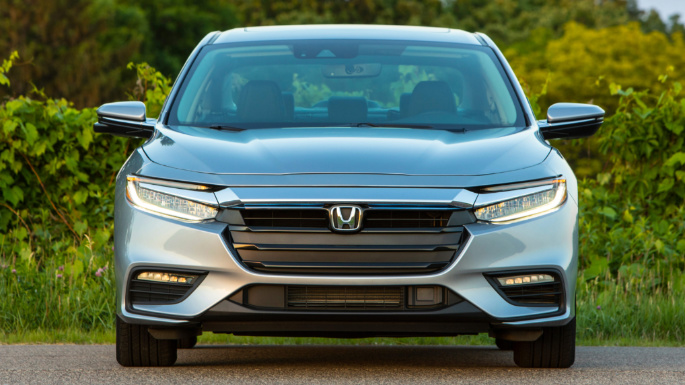 The Insight comes in three trim levels: LX, EX, and Touring. Pricing for the base LX starts just under $24,000 and is very well equipped. Standard equipment includes 16-inch alloy wheels, traffic sign recognition, LED headlights and taillights, automatic climate control, push-button start, and a height-adjustable driver's seat. EX models get a few more useful items such as keyless entry, 60/40 split-folding rear seat, and Apple CarPlay and Android Auto compatibility to go with an 8-inch touchscreen.
The Touring trim comes in at about $29,000, which is slightly more than the corresponding Civic Touring sedan. It comes with a dual-zone climate control system, power moonroof, leather upholstery, an 8-way power driver's seat, auto-dimming rearview mirror, and a built-in navigation system.
The Insight LX is about the same price as the Toyota Corolla Hybrid but has a few more features. It's also more than $1,000 less expensive than the Toyota Prius. But the Hyundai Ioniq slightly undercuts them all.
---
Tech Features: 6/10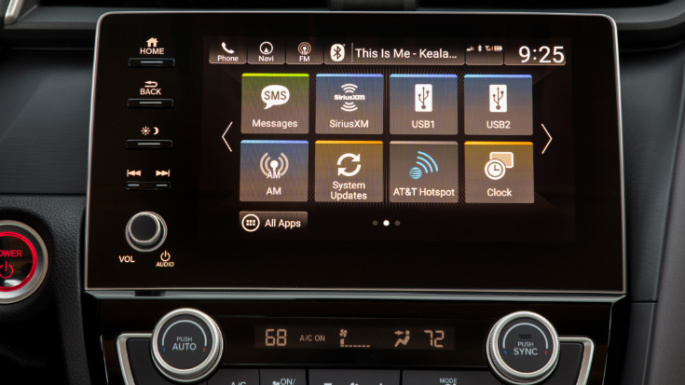 The Insight LX comes standard with a 5-inch monochromatic LCD screen for its six-speaker audio system. Bluetooth phone and streaming audio is standard, along with one USB port. Honda Insight EX models upgrade to an 8-inch touchscreen with Apple CarPlay and Android Auto connectivity and satellite radio, an 8-speaker audio system, and two USB ports. The Honda Insight Touring goes a step further with a 10-speaker audio system, built-in navigation system, and mobile wi-fi hotspot tethering.
While it's extensively covered in the tech area, the Insight's execution of it all is dated. The Honda infotainment system is cumbersome to use, and the screen itself is slow to respond. Systems from Hyundai and Kia are far better in this regard. There are other functions in the instrument panel, but Honda's in-car tech doesn't feel integrated well in the Insight.
---
Practicality: 7/10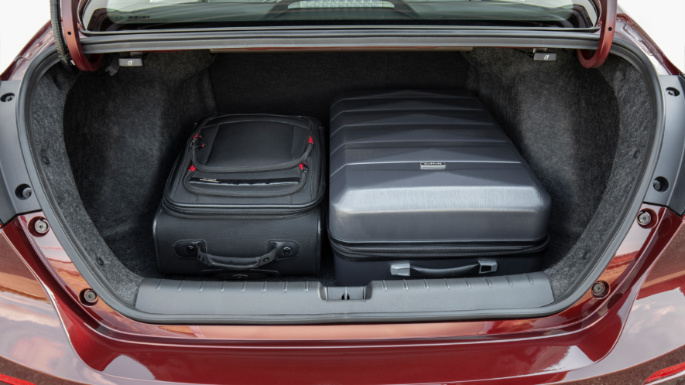 All Insight models are four-door sedan models in the same vein as the Honda Civic sedan. And the addition of the hybrid powertrain hasn't robbed any meaningful interior space, which means the Insight is relatively spacious for a compact sedan. Rear legroom is especially good, but it's hampered by a dramatically sloping roofline that makes life more difficult for tall passengers. But the Insight feels more spacious inside than the relatively narrow and short Hyundai Ioniq.
That means the more upright and equally spacious Corolla Hybrid is better for rear passengers than the Insight. However, the Prius is even better because of its hatchback versatility, which has split-folding rear seats and vast cargo space. The Insight's 15 cubic-foot trunk is spacious, but the opening is small. And folding rear seats come only on EX trim and Touring models, which seems like cost-cutting. And the low roof and lack of a hatch mean the Kia Niro is the largest vehicle with similar fuel economy if SUV-like proportions are essential.
---
Styling & Design: 7/10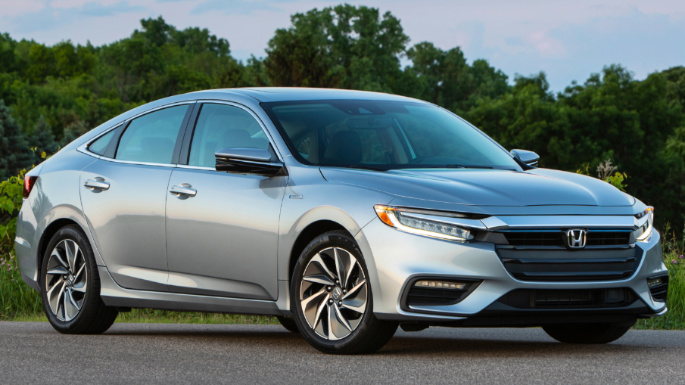 While heavily based on the Civic, the Insight has its own front end styling that cuts a more distinctive impression than Honda's ubiquitous compact sedan. Otherwise, it's standard Honda fare, which is no bad thing. LED exterior lighting and alloy wheels across the line make the Insight look a little elevated from typical compact sedans, too.
But the dramatic roofline on the outside makes getting in and out of the Insight harder for tall drivers. Worse, the whole car is relatively low to the ground, and it feels more like a sports car than a compact sedan should in terms of access. The low-mounted front seats make the center console feel higher than it is. But one in, there are numerous cubbies and trays for small items. And tedious infotainment controls aside, all of the other essential functions are easy to use.
---
Driving Experience: 7/10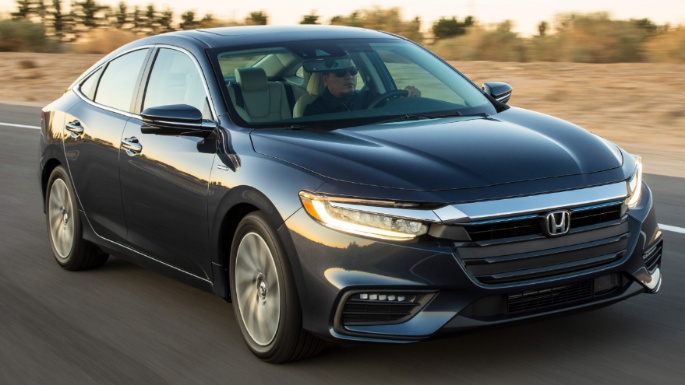 In many ways, the Insight is hard to discern from a Civic once behind the wheel. And that's reflected most in the way it handles and steers. There are more exciting compact sedans to drive, but there aren't more exciting hybrids at this price and efficiency. The battery pack and electric motor's added weight also seems to balance the Insight a little more, making it feel more substantial.
While the 151-horsepower hybrid powertrain doesn't excite, it's adequate. But the gasoline engine strains when highway passing power is needed, and the Insight groans unpleasantly at speed. Its electronic CVT transmission lacks the manual override that the Hyundai and Kia dual-clutch transmissions have, too. That's too bad because it performs nearly silently at city speeds when the electric motor is doing all the work and can make the driver forget there's a gas engine at all.
---
Fuel Efficiency: 9/10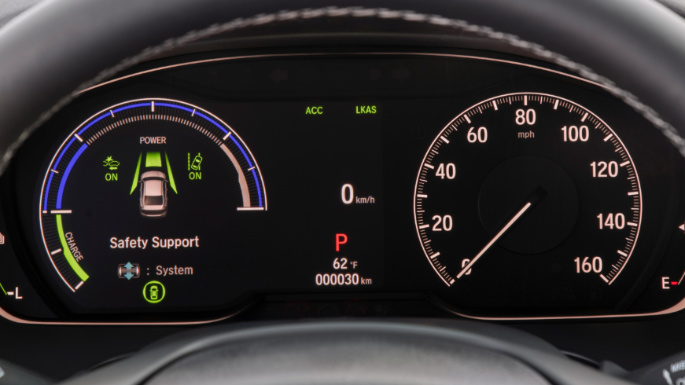 The 2020 Honda Insight LX and EX models are rated by the Environmental Protection Agency (EPA) at 55 mpg city, 49 highway, and 52 combined. Touring models have slightly lower ratings at 51 mpg city, 45 highway, and 48 combined.
While the Hyundai Ioniq and Toyota Prius eke out a few more MPGs in the combined ratings than the Insight (the Ioniq reaches as high as 58 mpg), the Honda is far from a slacker for fuel-efficiency. It's rated at nearly 20 mpg higher than some versions of the Civic and slightly higher than archrival Toyota Corolla Hybrid and the most efficient versions of the Hyundai Sonata Hybrid and Kia Niro.
---
More Photos
See more 2020 Honda Insight Photos.