Pros:
A supremely capable daily driver.
Exceptional handling in any situation.
Consistently impressive reliability and owner satisfaction scores.
Cons:
Ala carte pricing gets out of hand quickly.
Cramped back seats.
A few minor interior design flaws.
---
More Photos:
See more 2021 Porsche 911 Photos.
---
Overview: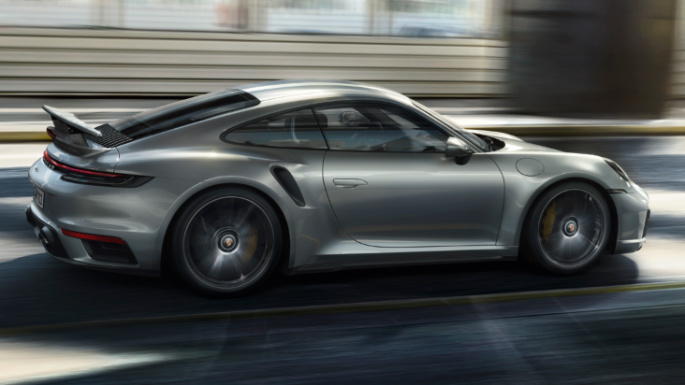 The 2021 Porsche 911 is known internally at the automaker and to gearheads around the world as the 992; it's now in the second year of its eighth generation or production.
The base configuration is a rear-engine, rear-wheel-drive vehicle that seats up to four passengers (two up front and two small children in the back); the 2021 911 comes in coupe, cabriolet and Targa (power-folding hardtop) body styles.
It's also available in the following trim levels: Carrera, Carrera S, Carrera 4, Carrera 4S, Turbo, and Turbo S. Along with an eight-speed dual-clutch automatic transmission (a seven-speed manual can be optioned on some models), the base 2021 Porsche 911 that we tested comes standard with a twin-turbocharged 3.0-liter engine with 379 horsepower and 332 pound-feet of torque. The Carrera S bumps those figures up to 443 horsepower and 390 pound-feet of torque.
On the Turbo side of things, the standard 911 Turbo has 572 horsepower and 553 pound-feet of torque while the fully bonkers 911 Turbo S has 640 horsepower and 590 pound-feet of torque.
Although this latest generation of 911 looks much like its predecessors from the front, the rear end is now more sculpted and sleek, with an uninterrupted panel of slim taillights running horizontally across the car's flank.
Meanwhile, the interior is brand new and features a treasure trove of amenities, including the Porsche Communication Management infotainment system. This vehicle is more expensive than some of its rivals, but it has a smoother ride and greater fuel efficiency than many of its competitors, including the Mercedes-AMG GT and Audi R8.
---
Exterior
TLDR: The new Porsche 911 is sleeker than the previous one, despite inheriting a similar design.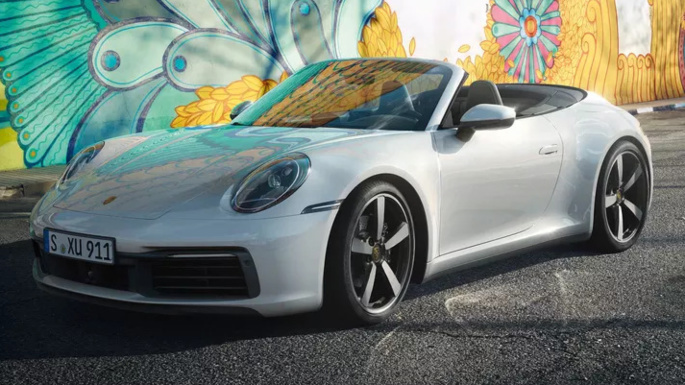 The Porsche 911 is 177.9 inches long, 72.9 inches wide and 51.1 inches high. It has a wheelbase of 96.5 inches.
Available as a two-door coupe, cabriolet, or Targa, this vehicle inherits most of the styling cues of previous model years along with some evolutionary tweaks, such as new character lines and a much larger rear wing that stretches over the rear. The front and rear fascia are more streamlined, allowing for better cooling and more aerodynamic driving, and the panels are made of lightweight aluminum. This Porsche is the first to feature a wide-body design for both rear-wheel-drive and all-wheel-drive versions.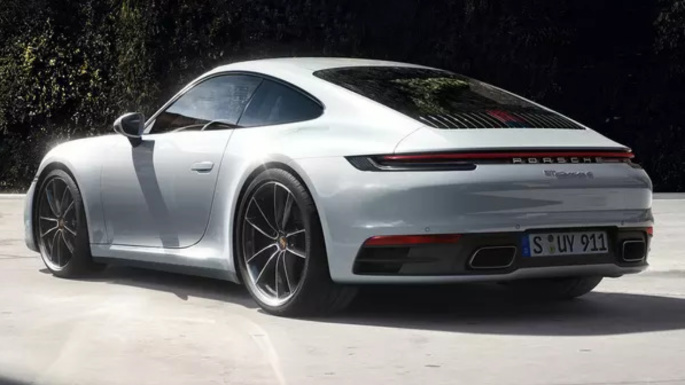 The vehicle's wheels are 2 inches further apart than in the 2019 Porsche 911, and the fenders are flared. A thin reflector bar now connects the lights at the back of the vehicle, and the rear spoiler stretches into the fenders. Car and Driver thinks that the center rear taillight extends from the engine intake grille clumsily.
---
Interior Quality and Comfort
TLDR: Comfortable and stylish, this vehicle provides a fun, relaxing ride with plenty of amenities.
The 911 has a stylish, modern interior made with high-quality materials, albeit some plastic as well.
The plastic trim ranges from high-gloss piano black to textured diamond-print. Though the black plastic trim atop the console as visually underwhelming, the horizontal ledge treatment of the dash looks good, especially with the carbon-fiber trim option. It's worth noting that the new 911's interior draws inspiration from the Porsche Panamera and Cayenne.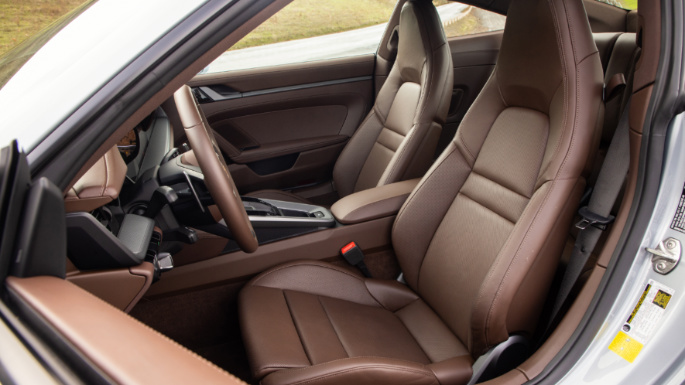 Although the new Porsche 911 has seating for four people, the rear seats are too cramped for adult passengers. The front seats, on the other hand, are supportive and comfortable. The gauge cluster features mostly digital controls compared to the primarily analog controls of earlier models, though the central analog tachometer retains a physical, easy-to-see needle. Flanking the tachometer are two frameless, high-resolution digital displays, though the steering wheel partially blocks the driver's view of these.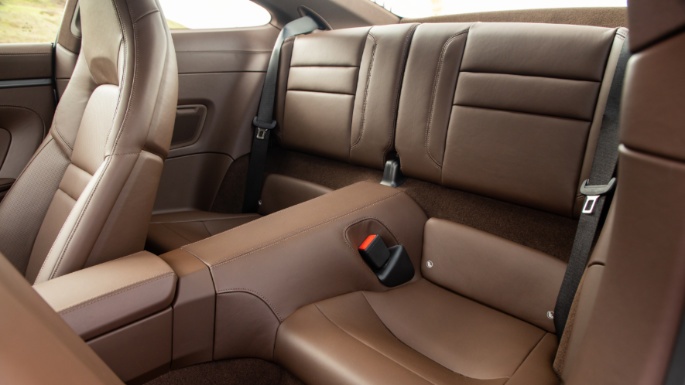 At 10.9 inches, the 911's Communication Management infotainment system touchscreen, which sits at the top of the center console, is more expansive than in previous-generation models.
While we liked some aspects of the Porsche 911's interior, some have found the window and mirror controls are awkwardly placed on the armrest, requiring the driver to contort their wrist to toggle them. Buyers have endless customization options for the vehicle's interior, including leather colors, painted trim and real wood. Heated and power-adjustable front seats are available, as well as a leather-wrapped steering wheel and a combination of leather and simulated suede upholstery.
---
Utility and Practicality
TLDR: Cargo space in the vehicle is lacking.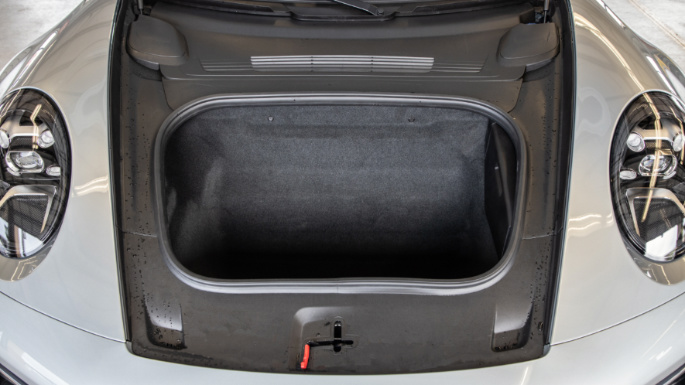 Like many high-performance sports cars, the 2020 Porsche 911 doesn't have much cargo space. The 4.5 cubic feet of cargo space in the car's front-mounted trunk is good but not great.
Consider the 9.3 cubic feet of space in the rear seats as another source of much-needed cargo room since this car should be considered a two-seater for most practical applications.
---
Technology and Infotainment
TLDR: A treasure trove of standard and optional technological perks are available.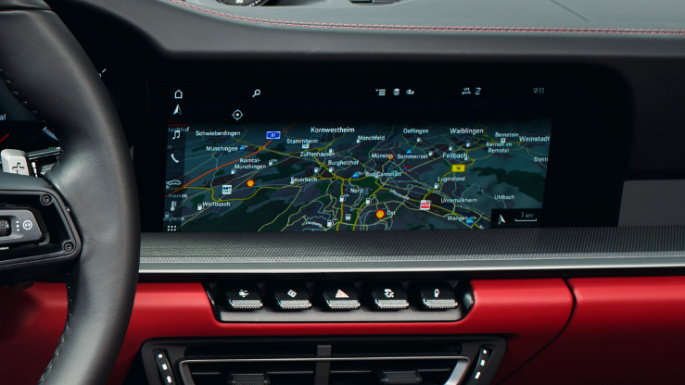 The new Porsche 911 comes with a wealth of technological features. The base model comes with Apple CarPlay, an eight-speaker sound system, satellite radio, a pair of USB ports, a navigation system, a Wi-Fi hotspot, dual-zone automatic climate control and the Porsche Communication Management infotainment touchscreen. If you don't want to touch the 10.9-inch touchscreen, you can still control it via voice commands and physical buttons. The base 911 also comes with Radio Plus technology, which blends your radio system with internet radio for continuous access to stations even when you're out of range.
Additional options include a power-operated sunroof, a sport exhaust, upgraded audio systems, night vision assist, carbon ceramic brakes, adaptive pivoting headlights, and a front axle lift system to make clearing speed bumps easier. The Sport Chrono Package includes even more features, such as launch control and enhanced sports settings for the suspension, engine and transmission. The Track Precision app for the Sport Chrono pack measures lap times via GPS and records and shares driving data via your smartphone.
---
Safety and Driving Assistance
TLDR: This vehicle hasn't been crash-tested, but it comes with a lot of safety technology.
Although the new model of Porsche 911 hasn't been crash-tested by the Insurance Institute for Highway Safety or National Highway Traffic Safety Administration, it comes with a wide range of safety and driver assistance features to give you peace of mind. At the standard trim level, these features include forward collision warning, pedestrian detection, automatic emergency braking, a rearview camera, and front and rear parking sensors.
Higher trim levels come with lane keep assist, blind-spot monitoring, traffic sign recognition, adaptive headlights, night vision assist and a surround-view parking camera. An optional adaptive cruise control system comes with a stop-and-go feature for seamless maneuvering in heavy traffic. Also, Porsche covers the vehicle with a four-year/50,000-mile standard warranty. The vehicle's side-door handles retract when the car is locked for extra safety.
---
Driving Experience
TLDR: The 2020 Porsche 911 handles like a dream and adapts to driving conditions automatically.
Base models of the 2020 Porsche 911 come with a twin-turbo 3.0-liter flat-six engine, though higher trim levels have a more powerful version of the engine. This 992 model's engines have many improvements over previous models, such as shorter intake runs due to repositioned intercoolers and electronically controlled wastegate valves.
The 992 Carrera gets 14 more horsepower than the 2019 model (known as the 991). With its lighter turbochargers and slightly smaller wheels, the base model has a curb weight of just 3,354 pounds compared to the 3,382-pound curb weight of S. The base model also reaches peak torque 400 rpm earlier than other models. The automated dual-clutch transmission is exceptionally smooth and precise and the gearbox's shifts are almost prescient in their timing.
Although the base trim level only has rear-wheel-drive, the Carrera 4S has all-wheel-drive. In keeping with its prestigious sports-car reputation, the 2020 Porsche 911 deftly balances everyday comfort with phenomenal handling, communication between the driver and the road, and grip in any situation.
This is a vehicle that can reach 60 mph in less than four seconds and 100 mph in about eight seconds. Porsche claims that these acceleration rates for the 2020 911 are a couple of tenths faster than the 2019 version, but Car and Driver argues that its instrument tests of previous models got better results than the new 911 can match. Porsche states that the new 911 can hit a top speed of 180 to 182 mph.
The 2021 911 comes with Porsche Active Suspension Management (PASM) technology that alters the damping force on each wheel continuously to match road conditions and driving styles. The Carrera S comes with a torque-vectoring rear differential, as well. You can toggle between several drive modes: Normal, Sport, Sport Plus and Wet. Normal Mode has a loose feel that's perfect for everyday driving, while Sport Mode has a tighter feel for more precise driving. Sport Plus Mode is fast enough for the racetrack, while Wet Mode calibrates the vehicle's traction in response to slippery surfaces.
---
Fuel Efficiency
TLDR: Despite its powerful engine, this vehicle has an impressive fuel economy.
According to the EPA, the twin-turbocharged engine for the base-model Carrera gets 22 mpg on city roads and 28 mpg on highways for a combined 24 mpg, which is on par with other cutting-edge Porsches, such as Cayman.
The engines for the Carrera 4S and Carrera S models both get 22 mpg on city roads and 30 mpg on highways for a combined 25 mpg.
The new Porsche 911 has a more impressive fuel economy than earlier models, due in part to its upgrade from a seven-speed dual-clutch gearbox to an eight-speed gearbox with new ratios. It also has greater fuel efficiency than many of its rivals. For example, the Mercedes-Benz AMG GT Coupe with an eight-cylinder, 4-liter engine gets 16 mpg on city roads and 22 mpg on highways for a combined 18 mpg. Similarly, the Porsche Cayenne Turbo with an eight-cylinder, 4-liter engine has a combined 17 mpg, and the Audi R8 AWD with a 5.2-liter V10 engine has a combined 16 mpg.
---
Trim Levels and Pricing
TLDR: Two body styles and four trim levels are available, with prices ranging from $97,000 to $133,400.
This new eighth-generation Porsche 911 comes in three body styles: coupe, cabriolet, and Targa. Both the coupe and cab styles have four trim levels: Carrera, Carrera S, Carrera 4 and Carrera 4S; the Targa is 4 or 4S only.
The Carrera trim level, which is the base-price model, has an MSRP of 100,500 in coupe form and $113,350 in cabriolet form (both prices include the $1,350 destination fee). Like all other trim levels, Carrera has an eight-speed PDK transmission and a twin-turbo six-cylinder engine, though the engine has a more robust powertrain at higher levels. These base 911 models come with an eight-speaker sound system, a pair of USB ports, satellite radio, powered and heated front seats, dual-zone climate control and much more. Staggered 19- and 20-inch alloy wheels are standard for this trim level. The Sport Chrono Package, which is available for $2,750, provides launch control and other perks.
The Carrera S coupe starts at $116,450, while the Carrera S cabriolet costs $129,250 (incuding the $1,350 destination fee). Along with most of the Carrera's features and the increase in power, the Carrera S comes with larger brakes and a torque-vectoring differential. All-wheel steering is available for the Carrera S for $2,090, while active roll stabilization is available for $3,170. You can buy the Sport Package for $5,460 to get all the perks of the Sport Chrono Package plus extra features such as a lowered suspension.
Both the Carrera 4 and Carrera 4S add all-wheel-drive rather than rear-wheel-drive.
---
Value
Though it's not cheap by any stretch of the imagination, the 911 is hard to beat in terms of performance, comfort, style, and reliability.
Even for a luxury grand tourer, however, the new Porsche 911 is expensive. By comparison, the Porsche Boxster costs $38,000 less than the 911.
---
More Photos
See more 2021 Porsche 911 Photos.